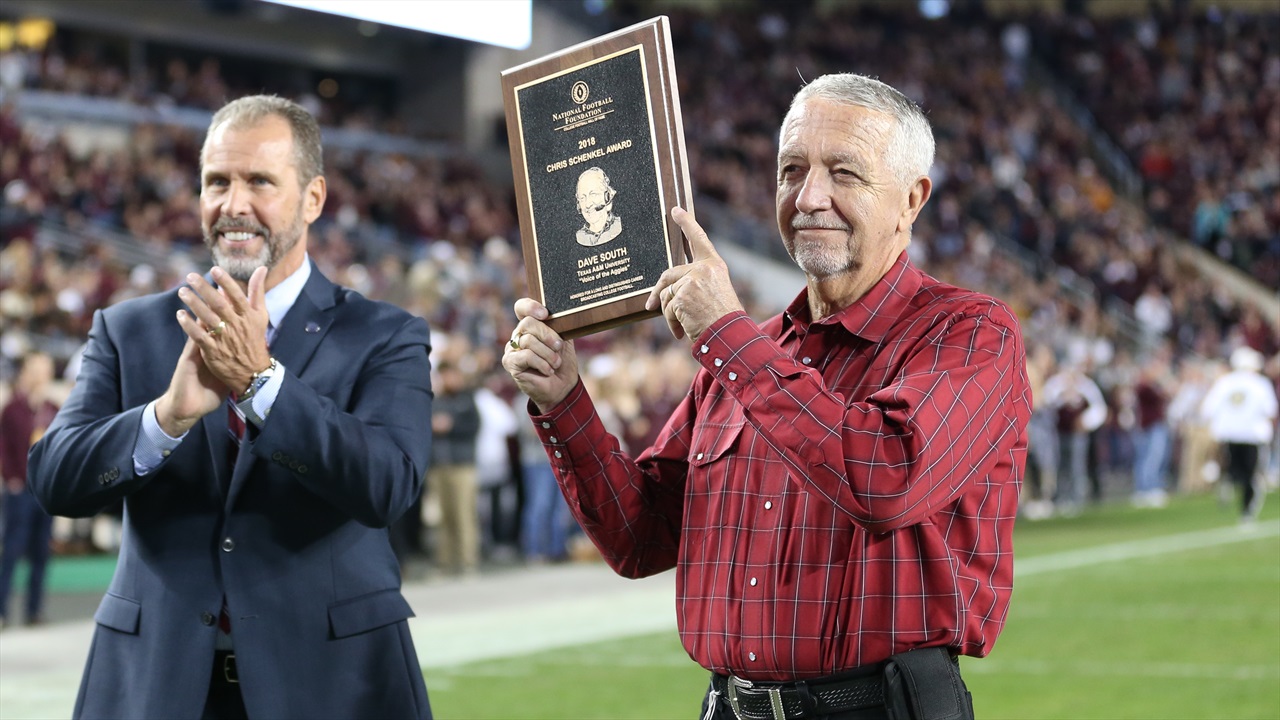 Photo by Matt Sachs, TexAgs
Texas A&M Football
Legendary A&M play-by-play man Dave South ready for his retirement
---
Key notes from Dave South interview
I haven't been thinking about my career ending because of this coronavirus. I just hope that everybody is following the rules. Situations like this will bring out the best in some and the worst in others. Hopefully, we have more of the good ones here in the Brazos Valley. I had a business trip to Austin yesterday, and I was nervous about getting there and back without getting sick. I'm following the rules about washing my hands and all of that. That's what I'm more focused on right now.

I was ready to be done. The whole point of this last year was to give me 50 years. It's been 50 years of collegiate broadcasting, but it goes back even further than that. I was talking to the newspapers and told them that 50 years sounds a lot better than 49 years. I was ready for it, and I'm looking forward to what God has next for me.

When I did first start - back in 1985 - there wasn't a whole lot of TV. I think that's where I built my following because if you wanted to follow the game, you had to listen to the radio.

The other day, a friend of mine - who is a big St. Louis Cardinals fan - sent me a link to radio broadcasts from way back. I listened to Game Seven of the 1955 World Series when Johnny Podres beat the Yankees and Game Four in 1963 with Sandy Koufax. It's been fun to listen to those because you can see they had a different approach to the broadcasts. Baseball really is better on the radio.

I've enjoyed working with Scott Clendenin because he is just an encyclopedia of Aggie baseball.

Anytime that we clinched going to the College World Series, those calls were pretty amazing. I'll never forget - and it's funny, and I hope I don't embarrass the player - but when we clinched at Florida State, the bus ride was so exciting. The bus was screaming and yelling. I remember Tyler Naquin - in his t-shirt and baseball pants with his shoes off - walking on the armrests of the seats on the bus. I'll never forget that. I'll always remember getting beat pretty bad in game two of that series, and Jason Hutchins looked up at me, and he told Rob Childress, "I wonder what Dave is talking about." Clinching over there was very special to me, but going to the College World Series - twice with Mark Johnson and twice with Childress - is what college baseball is all about.

One of the nicest emails or text I've ever gotten came from Trevor Werner's dad, who said he was sorry he never got to meet me this year. Trevor grew up listening to me with his dad, and I told them that I hope we get the chance to sit down and talk. When I introduced myself to Trevor, I said, "Hello, my name is Dave South." He responded, "I know. I grew up on you." Something I included in my book is that you've never known how many times you've helped father and son bond. And that's not just exclusive to me. That's anybody, whether it's Dave South or Vin Scully.

It's incredible how many people consider you a friend even though you've never met them. It's truly special.
Never miss the latest news from TexAgs!
Join our free email list