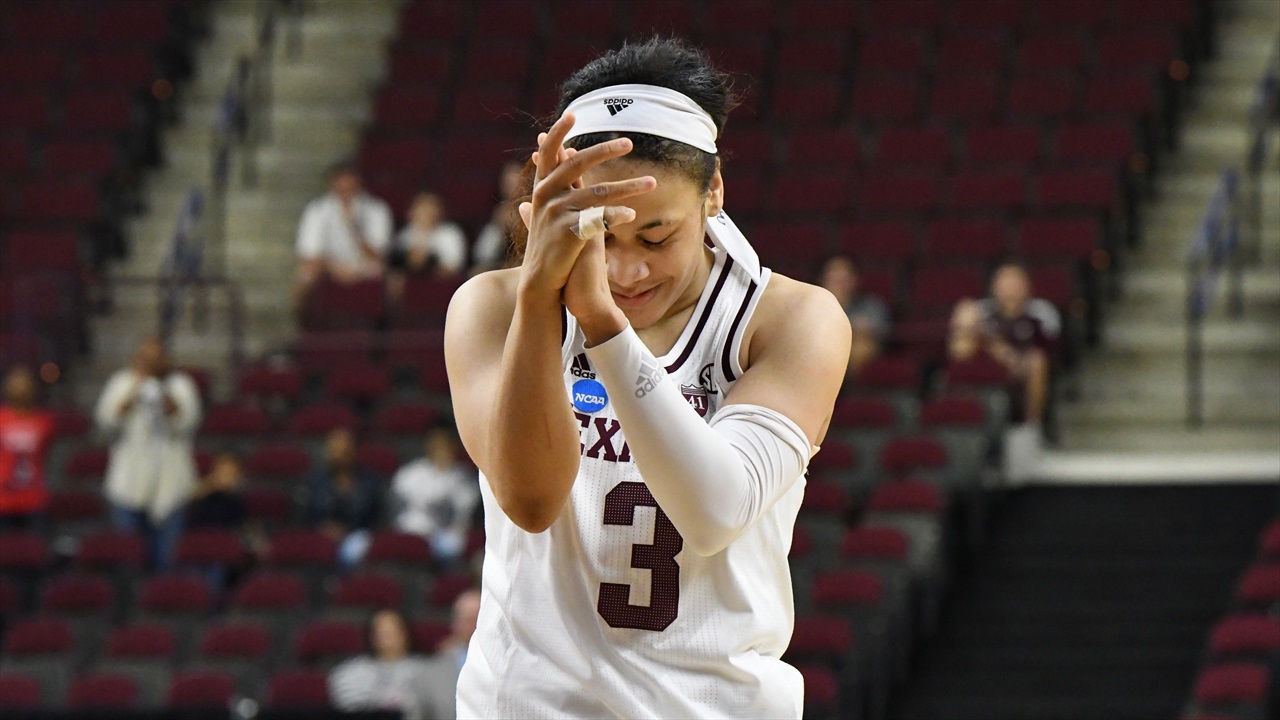 Photo by Lia Musgrave, TexAgs
Texas A&M Women's Basketball
Chennedy Carter named second-team All-American by the Associated Press
---
Chennedy Carter: All-American.
Again.
On Thursday, Carter was named to the Associated Press' second-team All-American squad for the 2019-2020 season. This marks the third time the junior guard has received All-American honors from the AP.
In her third campaign in Aggieland, Carter averaged 21.3 points per game and shot 45.2 percent from the field. She led the Aggies in scoring average for a third consecutive year. Carter shot 25.3 percent from behind the arc.
Carter's 21.3 PPG is the second-highest average of any player on either the first-team or second-team lists, behind Kentucky's Rhyne Howard, who posted 23.4 PPG.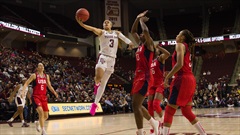 Angelina Alcantar, TexAgs
Early in the January 9 contest with LSU, Carter sprained her ankle. The Aggies would go on to lose the game, 57-54. A&M would go 4-3 in the seven other games the dynamic guard missed with the injury. However, in her second contest after returning from injury, Carter posted a season-high 37 points in a nail-biting road victory over Tennessee.
In a November exhibition against Team USA Basketball at Reed Arena, Carter posted 34 to set the record for points scored against the national team by a collegiate player.
Texas A&M's season came to a disappointing and abrupt ending as a result of the coronavirus pandemic. A&M was, without a doubt, an NCAA Tournament team with the potential to host the first and second rounds at Reed Arena. The Aggies finished the season on a three-game losing streak with their final game being a 67-66 loss to Arkansas in the SEC Tournament. In that stretch, Carter posted 33 points against Alabama, 26 points at then-ranked No. 1 South Carolina, and 34 points in the SEC Tournament defeat.
Carter's future in Aggieland is uncertain as the guard would likely be a high draft choice in the upcoming WNBA draft. Should 2019-2020 be the end of her A&M career, Carter would undoubtedly go down as one of the greatest to ever play for the Maroon & White. She is currently Texas A&M's all-time leader in 20-point games (62) and 30-point games (12). Carter sits just seven points away from passing Courtney Walker (1,989) for the program's all-time scoring record. She is also 17 points shy of reaching the 2,000 points plateau for her career.
The full All-American lists of both the first and second teams can be found at apnews.com.
Never miss the latest news from TexAgs!
Join our free email list