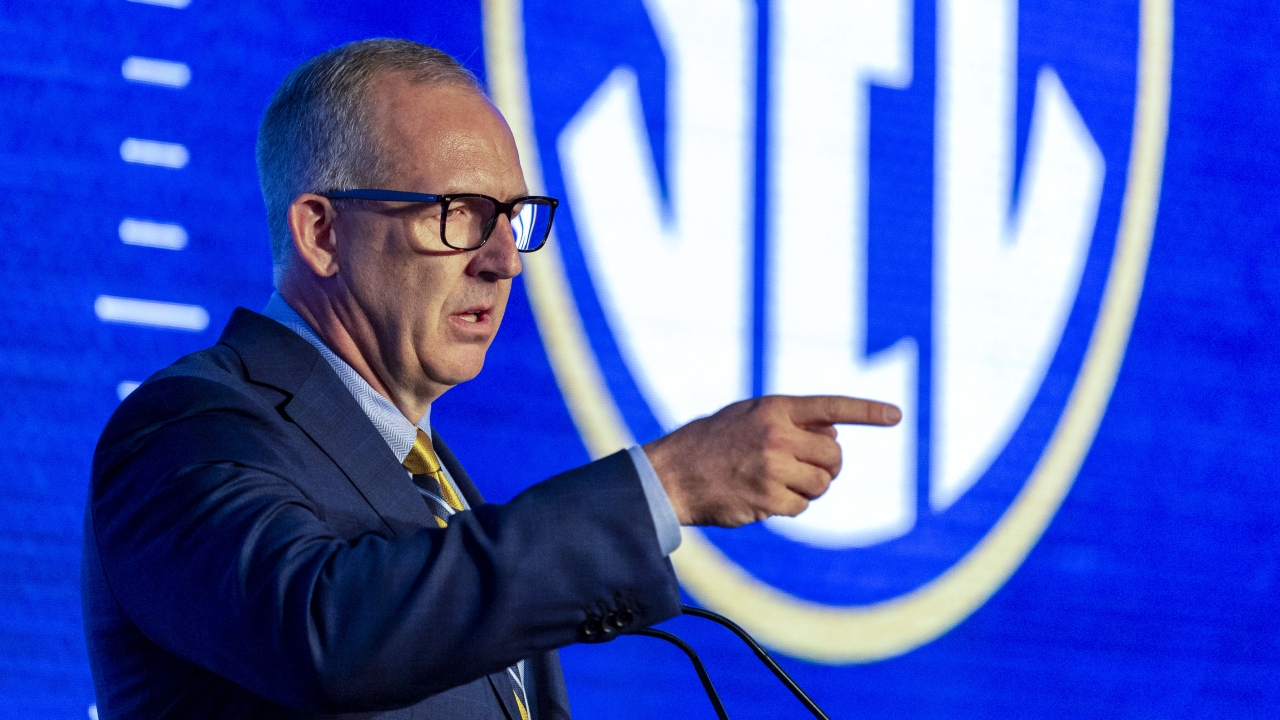 Photo by Vasha Hunt-USA TODAY Sports
Texas A&M Football
Sankey: SEC will prepare to begin the 2020 football season on schedule
---
Press play above to hear complete audio of Sankey's teleconference.
Southeastern Conference Commissioner Greg Sankey is preparing for the 2020 football season to begin on schedule, but acknowledged contingency plans must be made.
Speaking on a Wednesday afternoon conference call about the continued reaction to the coronavirus — which has already forced the cancellation spring sports — Sankey said he remains cautiously optimistic fall sports, particularly football, would begin on schedule.
Texas A&M is slated to begin its football season on September 5 against Abilene Christian at Kyle Field.
"That's my focus," Sankey said. "I'm a half-full perspective person."
However, any decisions about the start of football season and other fall sports figures to be determined by medical experts.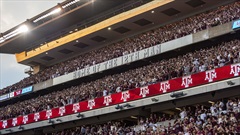 Lia Musgrave, TexAgs
"We'll see what our health leaders say in a period of time to see what happens with growth of the cases," Sankey said. "We'll make decisions down the road. We have categorized everything. One, focus on the work we have to do now. Second, make sure to prepare for next year as planned. Third, big picture planning and contingency planning."
Sankey did not say what contingency plans, if any, have been made.
Thus far, the remaining seasons for men's basketball, women's basketball, gymnastics, equestrian, men's and women's tennis, men's and women's golf, men's and women's track & field, softball and baseball have been canceled in an attempt to help slow the spread of the virus.
Currently, there are 7,568 confirmed cases of the coronavirus and 117 related deaths in the United States.
Last Thursday, the SEC initially suspended athletic competition until March 30. The next day, that suspension was extended until April 15. On Tuesday, the SEC canceled all athletic events and practices for the remainder of the 2019-20 academic year.
When possible, the SEC is making changes in its processes. For example, an annual football officiating training session was done via video.
"I use that as a reference to indicate we are adjusting rapidly," Sankey said.
The SEC has not yet canceled its annual spring meetings that are held in May in Destin, Florida. SEC Media Days that are scheduled for mid-July in Atlanta are still on the offseason agenda, though Sankey acknowledged that could change.
He noted the SEC men's basketball tournament was proceeding on schedule last Wednesday but was canceled the next day.
"I'm going to be half-full and say full steam ahead," Sankey said. "Last Thursday morning, I was full steam ahead of playing a basketball tournament, and that was disrupted. We'll plan for disruption, but plan we'll have media days as scheduled."
Sankey, who was questioned on several other topics, indicated he favored giving an extra year of eligibility to spring athletes whose seasons were cut short.
"I'm going to be half-full and say full steam ahead. ...We'll plan for disruption, but plan we'll have media days as scheduled."
"I don't think this is simply a senior issue," he said. "My encouragement is we take a broad look at what type of opportunities we offer going forward."
Sankey also indicated that he'd consider offering an additional year for seniors in winter sports whose postseason and championship meets were canceled.
For example, the women's basketball team would have been in the NCAA Tournament. The indoor track & field teams were on the track at the NCAA Championships in Albuquerque when the meet was canceled.
"There does need to be conversion about disrupted winter sports," Sankey said. "I don't have the answer to that right now, even in my mind. Some sports played their entire regular seasons. Some completed in (conference) championship tournaments.
"I know that's an agenda item, nationally. I don't have a prediction."
There have also been suggestions that baseball and softball teams be allowed to play a fall schedule.
"I have not seen those ideas at this point," Sankey said. "I would reserve judgment of that at this point."
Of course, the most pressing questions remains whether football, which produces the revenue to fund most of the other sports, can proceed as usual.
It already isn't. Spring football has been canceled. Athletes are currently not allowed to train with Strength & Conditioning coaches. August camps are held to prepare for the season.
If August camps are delayed, that could also mean the regular season would be delayed, too.
"I'm confident if we're not able to practice this spring, we'll be seeking opportunities to make sure our teams are adequately prepared for this season," Sankey said.
But again, that figures to be decided by medical experts rather than conference officials.
"Our focus is on preparing for 2020-21 academic year as its currently scheduled," Sankey said. "Obviously, we'll think about everything forward. We'll be guided by public health information. The hope is we'll return to normal experiences and be part of that celebration around (the start) of soccer, volleyball, cross country and football. We'll have to wait and see."
---
NOTE: The audio of Greg Sankey was provided to TexAgs courtesy of WTAW's Zach Taylor.
Never miss the latest news from TexAgs!
Join our free email list