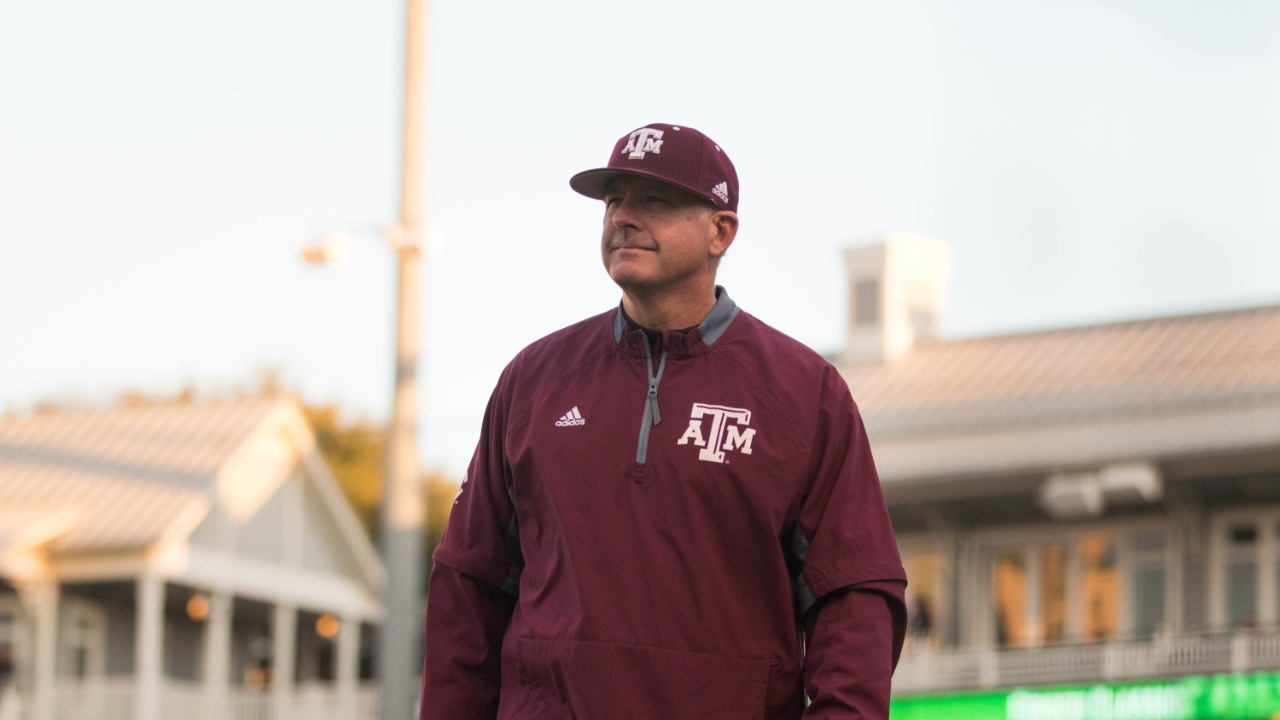 Photo by Angelina Alcantar, TexAgs
Texas A&M Baseball
Rob Childress on the 'surreal' suspension of 2020 season due to COVID-19
---
Key notes from Rob Childress interview
It's been incredibly surreal. That's the only way to describe it. Ultimately, the most important thing is the health and well-being of our student-athletes, our community, the community, and the world. It shows how insignificant our game really is.

Thursday was kind of crazy. We got up. Chris Weber threw a bullpen. We were getting ready to load up and get on the plane. We got the phone call that told us no. I met with the team and we told them that we were going to work out and practice the next day. By 2:30 Friday afternoon, everything was canceled. All of the communication has been through phone calls and text messages with our kids. It's a real awkward time.

You're seeing high schools, gyms are shutting down. The opportunities to find places to work out are becoming few and far between. It's an incredibly fluid time. The health of our kids is of the utmost importance.

Asa Lacy is not going to shut down. He's going to continue to work out and throw. Through four weeks, he was the best pitcher in the country. It's disappointing that we don't get to see him every seven days. Right now, there is no endgame for him or for us because everything is on hold until April 15. We don't know if the season is going to shut down like so many other power leagues. Will the draft move back or will it stay in June? Nobody really has a plan right now.

Greg Sankey is the best in the business. Ross Bjork has earned his way in his short time at Texas A&M. He's an excellent communicator and makes sure there are no questions with what he's telling us. In these trying times, this is his wheelhouse. He's a fantastic communicator and answers all of our questions.

No decisions about eligibility have been written in stone, but I think everyone is going to get relieved. Aside from that, what does our scholarship standpoint look like? Two, three years out, things will change. The NCAA is going to have to give us some roster relief. This is not a one-year fix.

How will the roster relief affect the draft-eligibility? There are going to be some interesting opportunities for guys to leverage their final years. A super talented guy like Logan Britt comes to mind. With others, there will be family decisions to be made for those guys that come back for the fifth year.

There is no direction whatsoever right now. We don't know about summer ball. We don't know about the draft. There are so many questions and we're just trying to communicate with our guys. My hope is that we get to come back on April 15 just to be together again.
Never miss the latest news from TexAgs!
Join our free email list