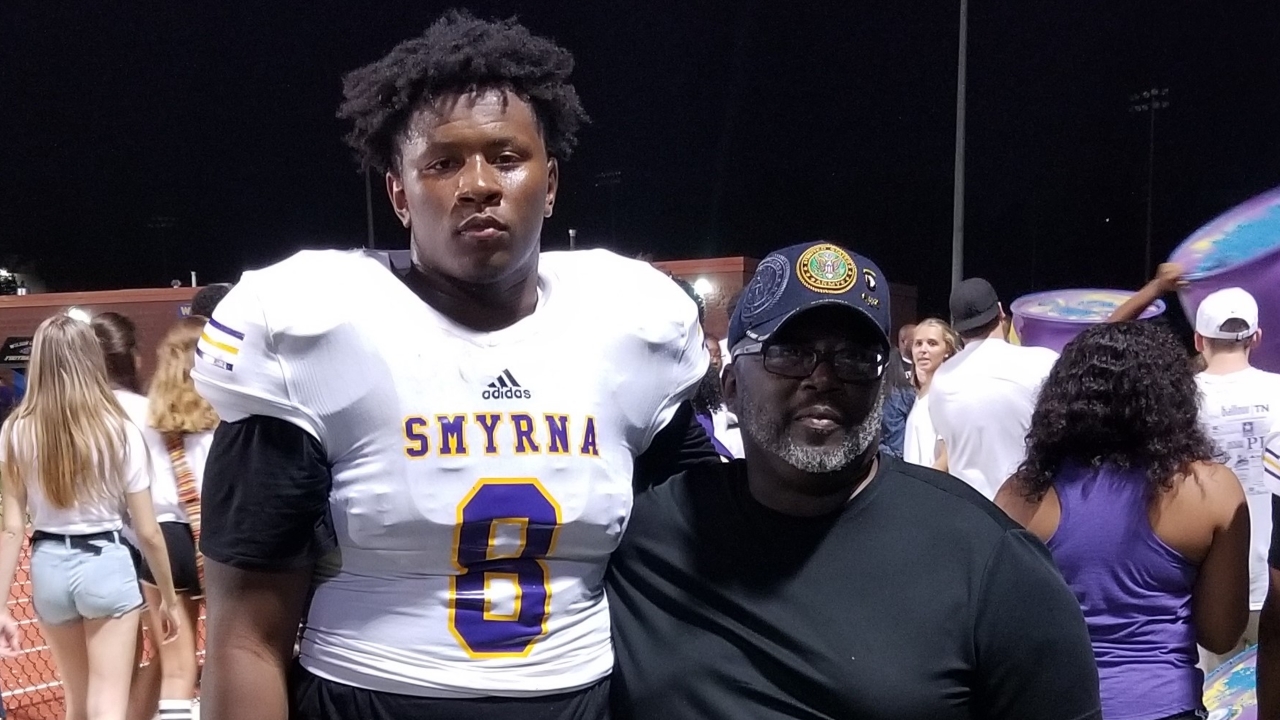 Photo by Dallas Walker III
Texas A&M Football Recruiting
For Dallas Walker IV and his father, Texas A&M is more than a destination
---
The road is long. It is not too far.
The disabled Army veteran lives in Fort Worth with his wife Denise and stepdaughter Skylar. His son, a football star who shares his name, lives in Smyrna, Tennessee. Seven hundred and 18 miles separate them.
The distance prevented Dallas Walker III from seeing all of Dallas Walker IV's football games. But when opportunity came — or duty called — the 55-year-old man with a shunt in his brain would make the drive northeast to watch his son play.
It was the perfect stopover on the way to Wyoming Avenue Church of Christ in Detroit where Dallas A. Walker Jr. has served as minister for the last 46 years.
"When I'd go to see my dad, I timed it so I came through Smyrna on Friday," Walker III said. "I'd come back through the next Friday and catch another game.
"He got some honors on the football field a couple of months back. I'd make every sacrifice I can to be there with him."
The father estimates he's seen eight of his son's football games over the last three years. College scouts beat that mark just last season.
During the long drives, Walker would pass the time listening to Gospel music, praying or recalling beautiful memories with his son.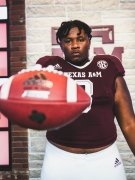 Dallas Walker IV/Twitter
A father's pride never ends. But maybe it has a starting point.
For Walker III, the starting point was June 6, 2002 at 1:40 p.m. That's when then-wife, Sandra, delivered a 12-pound, 4-ounce son at Baptist Hospital in Nashville.
"He came in with a bang," dad recently recalled with a laugh. "People would come to Sandra's hospital room just to see the woman who gave birth to the 12-pound baby."
That wouldn't be the last time people were fascinated with the son's size.
Seventeen years later, people — college scouts, among them — would come to Smyrna football games to see what that 12-pound baby had become — a 6-foot-3, 321-pound havoc-wreaking powerhouse.
"They were playing Goodlettsville one Friday," dad said. "They (Goodlettsville) were in the 'I' formation. They sent the fullback around and Dallas caught him and … I'm talking about ending the progress of the ball. Flat put him on the ground. Not another inch.
"That big crack … my bones would've been aching to death. He's always made big hits and he's not afraid to mix it up. I love to see that."
College recruiters do, too. The younger Walker wished he could've shown more, though. He's surprisingly nimble for a man his size.
"I would say my skill set is pretty evenly divided out," the son said. "Growing up, and even now, I loved having the ball in my hands. I have athletic twitch in me even though I've always been big. I would love to play offense. But I'm just a football player in general. Put me anywhere and I'll play as hard as I can."
He'll play defensive tackle for Texas A&M. Last December he chose to sign a national letter of intent with A&M over offers from Auburn and Kentucky.
Two weeks ago his dad posted this tweet:
That bond between father and son has always been strong. Divorce didn't weaken it.
"We talk on a weekly basis," the son said. "We're always making sure each other is okay. It's pretty good."
Any time spent together is good. And a blessing, especially for the father.
Upon graduating high school in Detroit, Walker III joined the Army. Eventually, he was stationed at Fort McClellan in Anniston, Alabama where he was a Nuclear Biological Chemical Specialist. Duties included transporting toxic chemicals from Fort McClellan to Redstone Arsenal in Huntsville, Alabama.
He was among 600,000 troops from 1927 to 1999 who were exposed to contaminants at Fort McClellan.
His body started producing too much spinal fluid. Surgeries were required to install and replace shunts in his brain and lower spine to drain fluid. He's had 38 surgical procedures. Sixteen were brain surgeries.
"I should be dead," said Walker III, who now serves a couple of days a week as a chaplain in the jail system in Fort Worth. "The Lord kept me here. That's that."
Yes, he's very much alive. And very much celebrating his son's success.
Recruiting services rated Walker IV as a 3-star prospect. His offer list, which also included Georgia, Penn State, Oklahoma and Tennessee, suggests he's underrated.
"I told him to his face, '(A&M) is where you belong. You're not going to find a place that cares more about you.' He took one more trip to Auburn, came back and echoed the same thing."
"I'm not really too worried about rankings," the son said. "I could have gotten five stars if I had gone to the camps. I wasn't into camp life. I went to a few camps. I wasn't trying hard to get five stars. At the end of the day that doesn't mean anything. I'd just go out on Friday and play."
His play was obviously good enough to convince Texas A&M coach Jimbo Fisher and defensive line coach Elijah Robinson to recruit him.
And they were able to convince him he belonged at A&M. His father, who accompanied him on the recruiting visit, helped, too.
"I told him to his face, 'This is where you belong,'" dad said. "'You're not going to find a place that cares more about you.' He took one more trip to Auburn, came back and echoed the same thing."
The father couldn't have been happier. After all, the road to his son is getting a lot shorter.
"He'll just be two hours away," the dad said. "We'll be down the road in a minute."
Never miss the latest news from TexAgs!
Join our free email list
PRESENTED BY