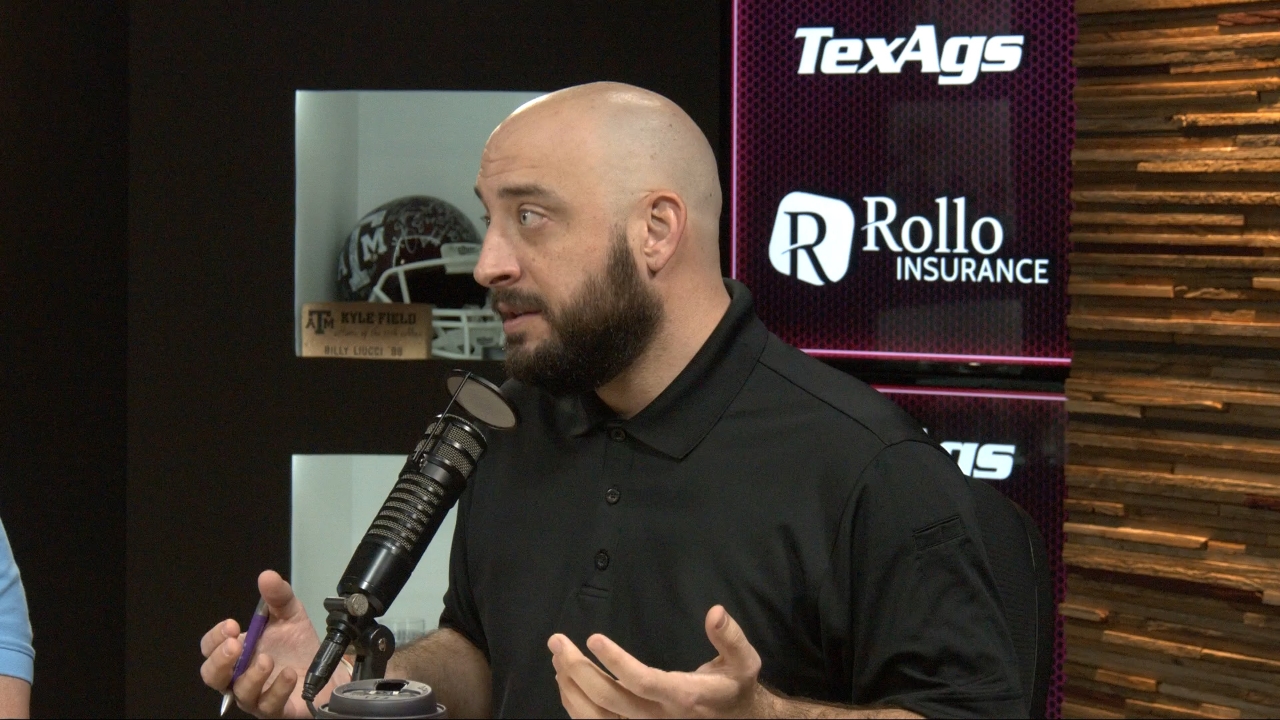 Texas A&M Basketball
The Madness Begins: John Pugliese discusses start of postseason hoops
---
Key notes from John Pugliese interview
I think the SEC has a few duos that are good. Guz Malzahn/Bruce Pearl is high up there. I really like Pearl as a coach. It's a "what have you done for me lately" conversation. Wisconsin has a great duo in Gard and Cryst. I was also thinking about Baylor, but they just hired a new football coach. Scott Drew has done a great job at Baylor. Wisconsin is the big one for me because Greg Gard is so underappreciated for what he had done.

When looking at the Missouri game in the SEC Tournament, it's tough to beat the same team three times in a year. I think A&M is up against it because they had to shoot so many free throws to win and guarded the three well. I think it's a good matchup. A&M is playing their best basketball right now, and they're in good shape.

Anytime you have a tournament with multiple byes, it is going to make it harder for those teams that don't have those byes to make a run. If there is a team that is built to make a run through that, I think it's A&M because they force teams to shoot at such a high clip from three. They control the pace in every single game, and it's very tough for other teams to play against that. You're in a situation where teams will want to play quick, and it will be tough for them to gameplan in a short amount of time to play that slow.

I'm not sure that A&M gets a first-team guy. Nebo has been good, but he's had his issues at times. Mitchell should make the all-defensive team - Nebo maybe as well. I think they'll both be second-team guys. I think Buzz is the Coach of the Year in the league. I don't know how you can look at what A&M has done and not give it to him.

A&M has dominated teams on the defensive end. It's hard to believe that whoever is voting looks at what they've done defensively and decides they haven't earned some votes for what they've done defensively.

If they don't go to Orlando, they could be in the running for an NCAA Tournament bid. I was skeptical at times, but it was all building up so that Buzz could have his team competing in conference play. He knows what he's doing! Everything is going to change over time, but I think this type of rock-solid group is going to be around at Texas A&M for some time.

I think you have to beat Auburn and might need to win another game to get into the NIT just because it's a numbers game in that tournament these days.

I always move Florida State into the Sweet Sixteen, Elite Eight and Final Four in my bracket. They usually disappoint me, so I'm not doing that this year. Still, I really like this Florida State team.

I don't know if any other SEC teams are trending up. A&M is probably the hottest team right now. Two teams that can help their case in a big way because of their draws are South Carolina and Mississippi State. If Mississippi State could beat Florida and Kentucky, they're in. Their resume is not awful. They're the SEC's best chance to get a fifth team in. South Carolina would have to win the tournament to get in.

Auburn scares me as an opponent. They're licking their wounds a little bit. They are a team that is not build to make a conference tournament run because they have to play so fast. The double-bye helps them so much. I wouldn't bet on either Auburn or LSU to make a run.

I think Missouri is probably happy they drew A&M in the SEC Tournament. It's hard to beat a team three times, and now scouting comes into play more than ever. I'm curious to see how this game flows.

I was planning on going to bed early last night, but then I flipped on the Gonzaga-San Francisco game and stayed up until 10:30. I'm staying up again with the WCC championship game. That's a three bid league right now Gonzaga, BYU and St. Mary's.

Buzz has been very honest with what he wants and believes as a coach. He's been very honest about that. I love his honesty and openness. He did not do this at Marquette. He has grown and matured since he's been there.

I pick Kentucky to win the SEC. They're the best team in the conference and have the best players.

Baylor has to make a run in the Big 12 tournament and probably reach the championship game to be a one-seed. I think Kansas will probably win, but I'll bet on Baylor because Scott Drew is an outstanding coach.

I'll pick Virginia to win the ACC. They're the hottest team maybe in all of college basketball right now.

Wisconsin is playing the best basketball and has won 12 in a row, but I'll go with Michigan State in the Big Ten.

I don't think UCLA has enough talent to win the Pac-12. I think a sleeper to win that conference is USC. They have one of the best bigs in the nation, and they can run through him. They have to win some games to get into the NCAA Tournament.

The Big East is going to be interesting. I think Creighton has a chance, so does Butler. Providence is hot right now. I'll pick Seton Hall to win that tournament. It's a lot of fun. Watch that because it's going to be great basketball.

If Baylor can get to the Big 12 Championship game, two teams from that conference will get one-seeds with Baylor and Kansas. Other than that, I'll pick Dayton and Gonzaga to be one seeds. Gonzaga is going to have to win to be a one-seed, but with SDSU losing in the Mountain West title game, that opened the door. If Creighton wins the Big East, my two-seeds will be Creighton, SDSU, Florida State and Kentucky.

The biggest team in the country that needs to go on a run is Texas. They need to win some games here. I like Texas Tech as well. Marquette is 26 in the NET, 18-12 and has one of the best players in the country. I'm not so sure that they should be out.

I don't think that NC State should be in. I believe Indiana should be in, and Purdue should be out. I think Xavier has to win some games here as well.
Never miss the latest news from TexAgs!
Join our free email list