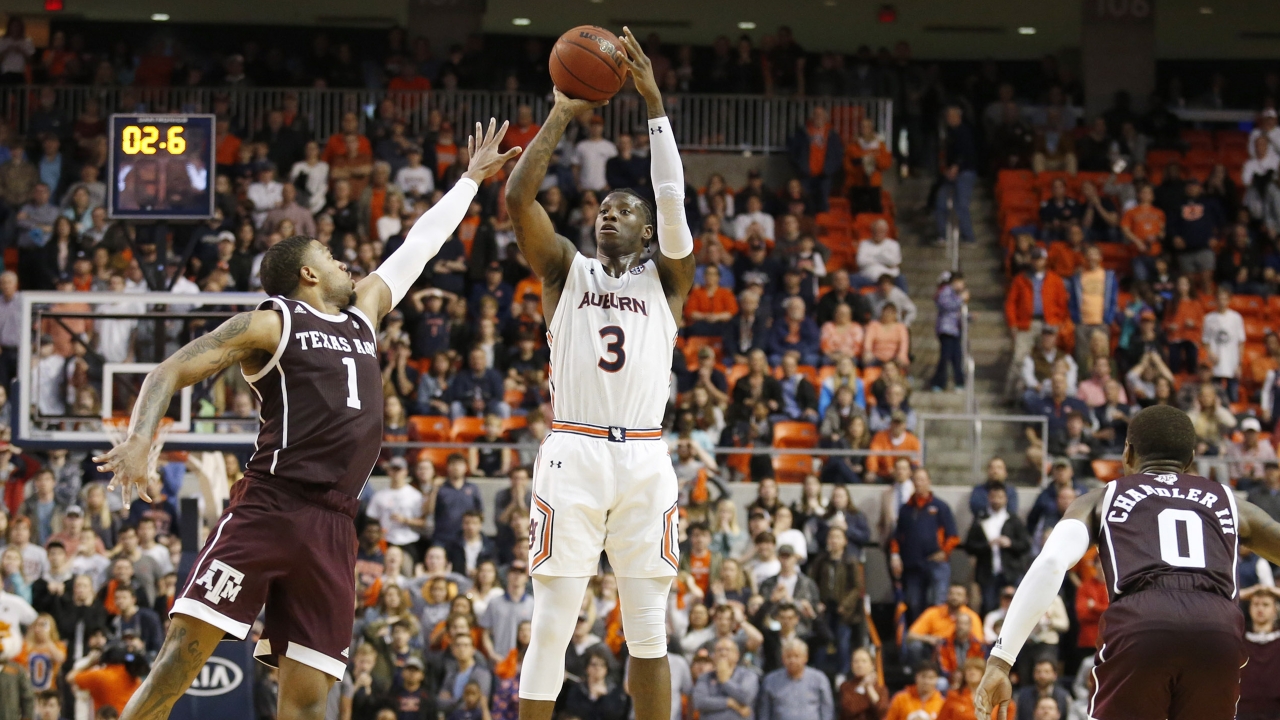 Photo by John Reed-USA TODAY Sports
Texas A&M Basketball
Aggies upset No. 17 Auburn in season's most impressive victory
---
No Texas A&M lead was comfortable, but the Aggies could finally rest easy with a 78-75 Southeastern Conference basketball victory after No. 17 Auburn misfired on a last-gasp 3-point attempt on Wednesday night in Auburn.
The Aggies (15-14, 9-8) held a precarious three-point lead after Savion Flagg hit one of two free throw attempts with seven seconds remaining.
Auburn (24-6, 11-6) rushed down court for Danjel Purifoy's potential-tying shot that ricocheted off the back iron.
The missed shot clinched A&M's fifth conference road win and enhances the Aggies' chances for postseason play.
It was Auburn's only home loss of the season.
"Every game that it seems like we've won has been one or two possession games," A&M coach Buzz Williams said. "I guess because we've had so many reps at that, there's maybe a little bit more calmness than you'd think.
"Still a lot of anxiety. We didn't execute real well. They did some really good things. Without sounding arrogant, those are the games that we've been able to be in."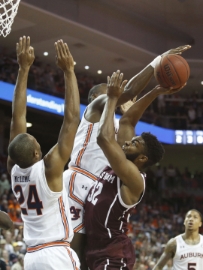 John Reed-USA TODAY Sports
Josh Nebo scored 17 of his team-high 19 points in the second half. Wendell Mitchell had 10 of his 14 points in the second half. Flagg and Jay Jay Chandler also scored 14 points for the Aggies.
That group helped A&M take a nine-point lead in the final minute. Nebo scored a dunk with 2:01 remaining. Mitchell followed with a 3-pointer from the right wing.
Then Flagg hit a free throw for a seemingly-comfortable 76-67 advantage with 46.5 seconds remaining.
But very little has come easily or comfortably for the Aggies in their first season under Williams. This game would be no different.
Purifoy drilled a 3-pointer from the top of the key with 31 seconds left. A turnover on A&M's ensuing inbounds pass led to a pair of Savir Doughty free throws that cut the margin to 76-72 with 19.5 seconds remaining.
After Mitchell made just one of two free throws, Auburn's Anfernee McLemore hit a 3-pointer to bring the Tigers within two points, 77-75.
Auburn still had a chance after Flagg made just one free throw. The A&M defense forced the Tigers to waste precious time in the backcourt after the inbounds pass. That led to a rushed shot from about 25 feet out.
Auburn, which was led by Doughty with 25 points and Isaac Okoro and Austin Wiley with 15 each, entered the game next to last in the SEC in 3-point shooting percentage. The Tigers compensate by averaging more than 13 offensive rebounds.
The Tigers hit 10 of 30 attempts from 3-point range, but managed only 10 offensive rebounds and 11 second chance points.
Meanwhile, A&M shot 47.5 percent (28 of 59) from the field and 38.1 percent (8 of 21) from 3-point range. There was no indication in the early going that the Aggies would be that accurate. A&M needed almost five minutes before sinking its first field goal and fell behind 12-1 at the first media timeout.
"Every game that it seems like we've won has been one or two possession games. I guess because we've had so many reps at that, there's maybe a little bit more calmness than you'd think."
From that point, though, the Aggies dominated the rest of the half. Chandler came off the bench to lead the rally with 11 points.
Doughty hit a pair of early 3-pointers, but the Tigers converted just 1 of 13 attempted treys the remainder of the half. They also committed 13 turnovers. A&M capitalized on Auburn's miscues to build a 33-24 lead on Flagg's dunk with 16 seconds showing. The Aggies had a chance to add to the margin, but Mitchell misfired and was called for a foul on the rebound.
Okoro hit a pair of free throws with less than a second to go, but the Aggies still managed a 33-26 lead at the break.
That lead evaporated less than three minutes into the second half. Auburn opened with half with a 9-0 run. However, momentum swung back to A&M after a pair of technical fouls on Auburn's bench and coach Bruce Pearl.
Mitchell converted all four free throws to give A&M a 41-38 lead. The Aggies never trailed again, though there were many anxious moments.
They were clinging to a 62-60 lead following an Okoro layup with 6:04 remaining. But with Nebo leading the way and Mitchell and Jonathan Aku getting clutch baskets, the Aggies were able to increase their lead to nine points in the final minute.
The Aggies then did just enough to hang on to their most impressive victory of the season.
Never miss the latest news from TexAgs!
Join our free email list