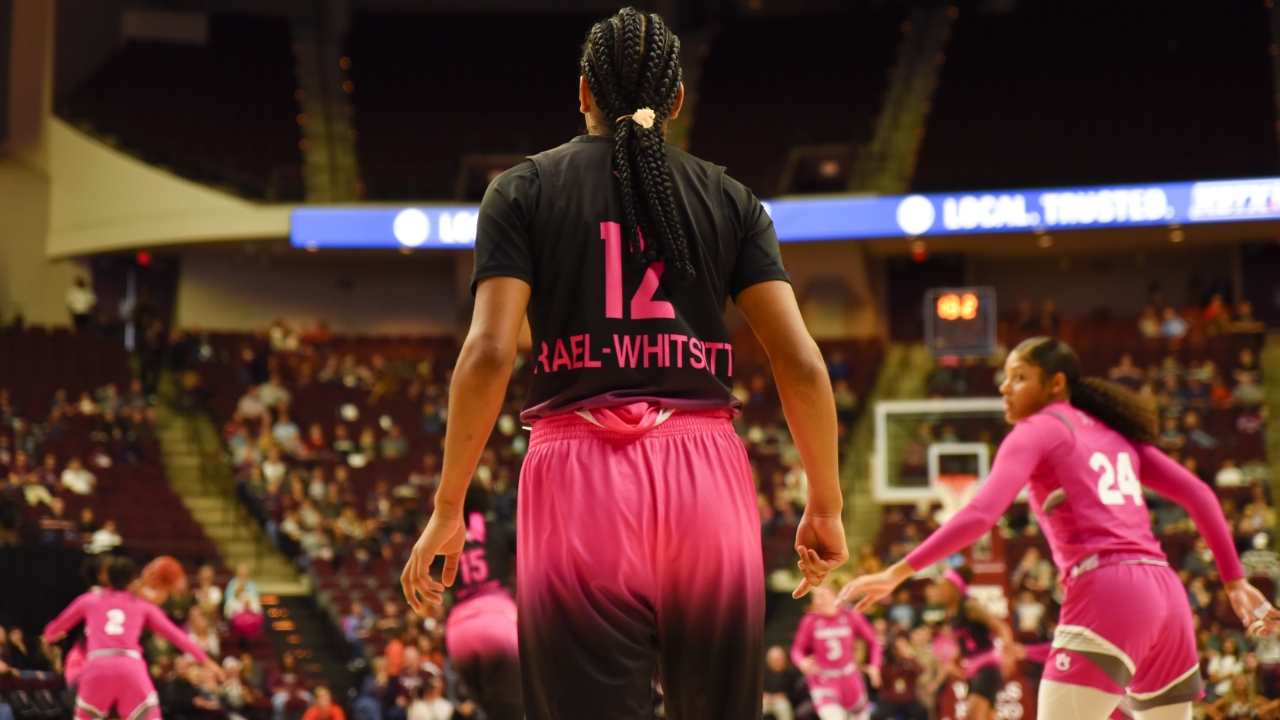 Gary Blair
Texas A&M Players
Texas A&M Women's Basketball
Aggies move to 14-0 all-time against Auburn with 84-54 win on Senior Day
---
The No. 16 Texas A&M Aggies (22-5, 10-4) took care of Auburn (9-16, 3-11) and notched a 30-point victory, 84-54. The Aggies remain undefeated against the Tigers and improve their record against Auburn to 14-0.
The Aggies made it tough on the Auburn defense, as they had almost six players in double-digits in the game.
"We are a team that has multiple strengths. We have the two best posts in the SEC, in my opinion. Shambria [Washington] is shooting the ball well and Kayla Wells -- awfully hot tonight and Alliyah Wilson coming off the bench with double figures. I mean, we are a team that has multiple strengths. So hey, pick your poison" said Chennedy Carter.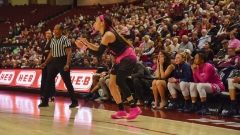 Jamie Maury, TexAgs
Chennedy Carter was a lethal dose of poison tonight with 23 points, 5 assists, and no turnovers.
The Aggies distributed the ball exceptionally well, with an assist/turnover ratio of 29-11.
Shambria Washington led the way by dishing out 8 assists. Chennedy Carter had 5 and N'dea Jones and Aaliyah Wilson each had 4.
Coach Gary Blair remarked at Shambria Washington's leadership as a senior and point guard.
"She's just eyeing the field like a quarterback and playing the west coast offense. She is the quarterback and she is so unselfish with the basketball. She wasn't going into her Senior Day thinking, I've got to put up x amount of shots, she hit the ball reversal 3 and that probably made her feel good."
Double-double machine N'dea Jones got off to a slow start, not scoring until the second quarter, but still managed to put up 8 points and came alive in the paint with 12 rebounds. Ciera Johnson also neared a double-double with 11 points and 8 rebounds. Aaliyah Wilson and Jasmine Williams both contributed heavily on offense, each going 2 for 3 on 3-point shooting.
Coach Starkey presented a $7,000 check to the Kay Yow Cancer Fund for Breast Cancer Awareness and the players and fans wore pink to show their support for the cause. The Aggies also recognized their seniors prior to tip-off for Senior Day.
Senior veteran Cheah Rael-Whitsitt spoke on what the senior class provides to the team.
"I mean, we are a team that has multiple strengths. So hey, pick your poison"
"I feel like we give energy, power, motivation and our all. Each one of us gives everything we have at every moment. Sham [Shambria Washington] on the court keeps us level-headed and mindful. Sharing the ball is an attribute that a lot of people don't have, and she has that. Jazz [Jasmine Williams] has spirit. Without her, I would have difficulty being spirited as well. I'm proud of our little class. I think we make a huge difference on and off the court."
With Arkansas losing to Florida and Kentucky losing to South Carolina, the Aggies have now secured the 3rd place spot in the Southeastern Conference standings and a double-bye at the SEC tournament.
The Aggies will return to Reed Arena Thursday, February 27th to play the Crimson Tide at 6:00 p.m. in their last regular-season home game.
MESSAGE FROM OUR SPONSOR
Special thanks to 12th Man Technology for their sponsorship of all women's basketball content produced throughout the season at TexAgs.com! For the eighth consecutive year, all WBB content will be available to you for free!
Never miss the latest news from TexAgs!
Join our free email list