Photo by Rey Romo, TexAgs
Texas A&M Basketball
Aggies surprise Mississippi State in comfortable 87-75 home win
---
The future and present of Texas A&M basketball seemed to collide at Reed Arena on Saturday afternoon.
Then and there, thoughts of what first-year coach Buzz Williams' team could become transformed from speculation to illustration with a stunning 87-75 Southeastern Conference victory over Mississippi State.
In posting their third consecutive victory — A&M's first three-game winning streak since defeating Texas A&M-Corpus Christi, Oregon State and Texas Southern in December — the Aggies (14-12, 8-6) suddenly and unexpectedly resembled an offensive juggernaut.
Texas A&M accumulated a bundle of season-highs, including:
Points (87)
Field goal percentage (59.6)
Three-point percentage (52.9)
Free throw percentage (88.9)
Assists (18).
A&M's shooting percentage was its highest since 2017.
"I thought we did a good job taking shots," Williams said. "Obviously, it looks better when the ball goes in. Our guys have been very receptive to having a low percentage of bad shots. I think we've become more accustomed to shooting the types of shots that fit what we're trying to accomplish."

That's a far cry from a team that is ranked dead last in the SEC in scoring, field goal percentage, 3-point shooting percentage and assists. It was as if the roster was infiltrated by imposters.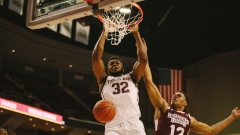 Rey Romo, TexAgs
"We're just figuring out everything. Everything is coming together," said Mitchell, who in the final four-and-a-half minutes hit two key 3-pointers and converted five clutch free throws. "We're understanding each other. We're understanding that when we get the ball to Nebo and Eman (Emanuel Miller) it makes the game a lot easier to draw double teams and push teams in rotations."
Whatever the reason, Nebo equaled his A&M career-high 21 points. Mitchell had 20 — all in the second half. Quenton Jackson had 18, Savion Flagg notched a double-double with 15 and 10 rebounds and Emanuel Miller had 10.
The Aggies were out-rebounded 31-22, but limited Mississippi State to 10 second-chance points. Williams gave Flagg and Jackson much of the credit for that.
"I thought he (Flagg) was the difference-maker today," Williams said. "Josh Nebo had one rebound. That's not very good. Sav's six defensive rebounds were game-changing. Q's four defensive rebounds were game-changing."
Mississippi State (17-10, 8-6) was led by Tyson Carter with 19 points, Robert Woodard with 18 and Reggie Perry with 14. The Bulldogs shot a healthy 48.3 percent from the field and 44.4 percent from 3-point range but still couldn't keep up with the surprising Aggies.
"They shot 59 percent in the first half, 60 percent in the second half, all five starters in double figures," Mississippi State coach Ben Howland said. "I thought Nebo was terrific tonight. Mitchell scored 20 in the second half. They're over 50 percent from three. Our turnovers hurt us. That's really the story of the game."
"I give great respect for Buzz and what a great job he does and how this team has developed from the beginning of the year to where they are right now. They're a problem for everybody."
"I give great respect for Buzz and what a great job he does and how this team has developed from the beginning of the year to where they are right now. They're a problem for everybody."
The Aggies were certainly problematic for the Bulldogs with a second-half run in which they outscored Mississippi State 14-5 over a four-and-a-half-minute span to take a 65-51 lead with 8:08 remaining.
However, Carter converted three consecutive treys from the right wing to cut the A&M lead to 68-62. That prompted Williams to call time out.
"I think coach (Howland) would tell you it wasn't the most complex play possible," Williams said. "It was basket, basket, basket … nine points. We were all out of sorts. I drew up all three possessions and we relived them."
Williams was looking to bolster the defense, but the Aggies staved off the Bulldogs on the offensive end.
Coming out of the timeout, Mitchell hit a 3-pointer just left of the top of the key. On the next possession, Mitchell drilled a deep trey from the right-wing and drew a foul. He converted the four-point play for a 75-65 lead with 3:35 left.
From there Mississippi State could get no closer than six points. The Aggies were money from the line late, converting 11 of 11 free throws in the final 3:35.
It was a clutch way to cap off their season-best offensive showing.
"It's nice to see us finding our rhythm offensively in a year where we've struggled to score," Nebo said. "It's nice to see all the guys are finding their shots and seeing the ball go through the hoop again."
Never miss the latest news from TexAgs!
Join our free email list