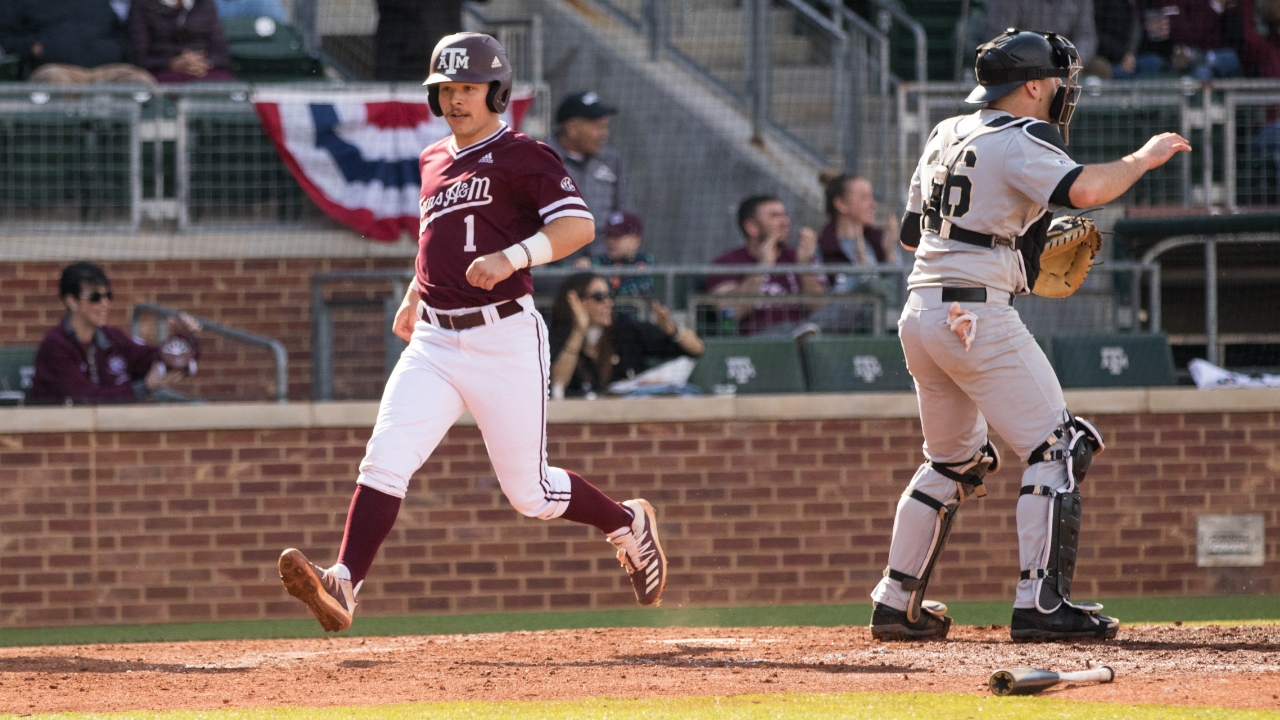 Christian Roa
Bryce Miller
Bryce Blaum
Rob Childress
Texas A&M Baseball
Aggies hold on down the stretch to take second game over Army, 6-5
---
Game #7: No. 20 Texas A&M 6, Army 5
Record: Texas A&M (7-0), Army (1-4)
WP: Christian Roa (2-0)
LP: Logan Smith (1-1)
Save: Bryce Miller (1)
Box Score
---
Despite holding a 6-2 lead through five innings, the No. 20 A&M baseball team needed all hands on deck to stave off a furious late push by Army and defeat the Black Knights, 6-5, on Saturday afternoon at Olsen Field.
"I told our team after the game that we needed that. As we continue to grow as a team, we have to play with pressure on us late and we certainly answered," Childress said. "We needed to play that game and feel that pressure in the dugout and defensively and I thought we did a nice job in the ninth to close it out."
After Christian Roa allowed just two runs in five innings pitched, A&M relief pitchers Dustin Saenz and Moo Menefee found themselves in jams, allowing one and two earned runs, respectively.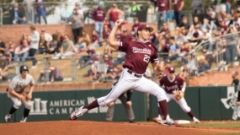 Angelina Alcantar, TexAgs
Bryce Miller took the mound in the seventh inning with a 6-3 lead and allowed just two hits, no runs and fanned three. Miller quickly found himself with runners on second and third with one out in the top of the ninth after hitting the first batter and allowing a second to reach base. Miller then retired the last two batters, leaning on his fastball which topped out at 97 mph. The junior pitcher earned his first save of the season in the Aggies' first narrow victory of the season.
"It's big, especially for some of the new guys who have only been used to winning big so far. It's good to get a tight game in and get everyone to see what it's like for a full nine-inning fight," Miller said. "My fastball was working well, I had good fastball command today. I feel really good all-around right now."
Christian Roa earned the win for the Aggies after allowing just three hits, two earned runs and fanning 10 in five innings pitched. The junior pitcher struck out the last eight batters he saw, but his day was cut short due to an elevated pitch count stemming from a 30-pitch first inning.
"It was great getting us through five innings, it definitely sucked a lot of pitches out of me in the first inning," Christian Roa said. "But after that, I hit a little groove and am just really happy we were able to grab the win."
Army RHP Logan Smith was very efficient in the first four innings and gave the Aggie bats some difficulty early in the game, striking out five and allowing just two earned runs. The Aggies were able to drive his pitch count up, thanks in part to three defensive errors that helped the maroon and white plate five runs in the fifth.
The bigger issue for the A&M offense, however, may have been their inability to drive runners home. The maroon and white stranded 11 runners on base and ended three innings with the bases loaded.
"It's good to get a tight game in and get everyone to see what it's like for a full nine-inning fight"
"[Leaving runners on base] is just a part of the game, I thought we had great at-bats, we just weren't able to cash in at times today as a unit," Blaum said. "It's part of baseball, the pitching staff picked us up today and as an offensive unit we're going to come out tomorrow and pick our end up."
Ty Coleman and Will Frizzell paced the maroon and white in hits, each contributing two knocks on the Aggies' 10-hit afternoon. Though it wasn't the offensive explosion we had seen from A&M in their first six games, the offensive performance was enough for the Aggies to move to 7-0 on the young season.
The Aggies and Black Knights will square off on Sunday afternoon with the first pitch coming at 12:02 p.m. at Olsen Field. Chandler Jozwiak will look to build off of his seven-strikeout performance from last weekend as he takes the bump.
Never miss the latest news from TexAgs!
Join our free email list