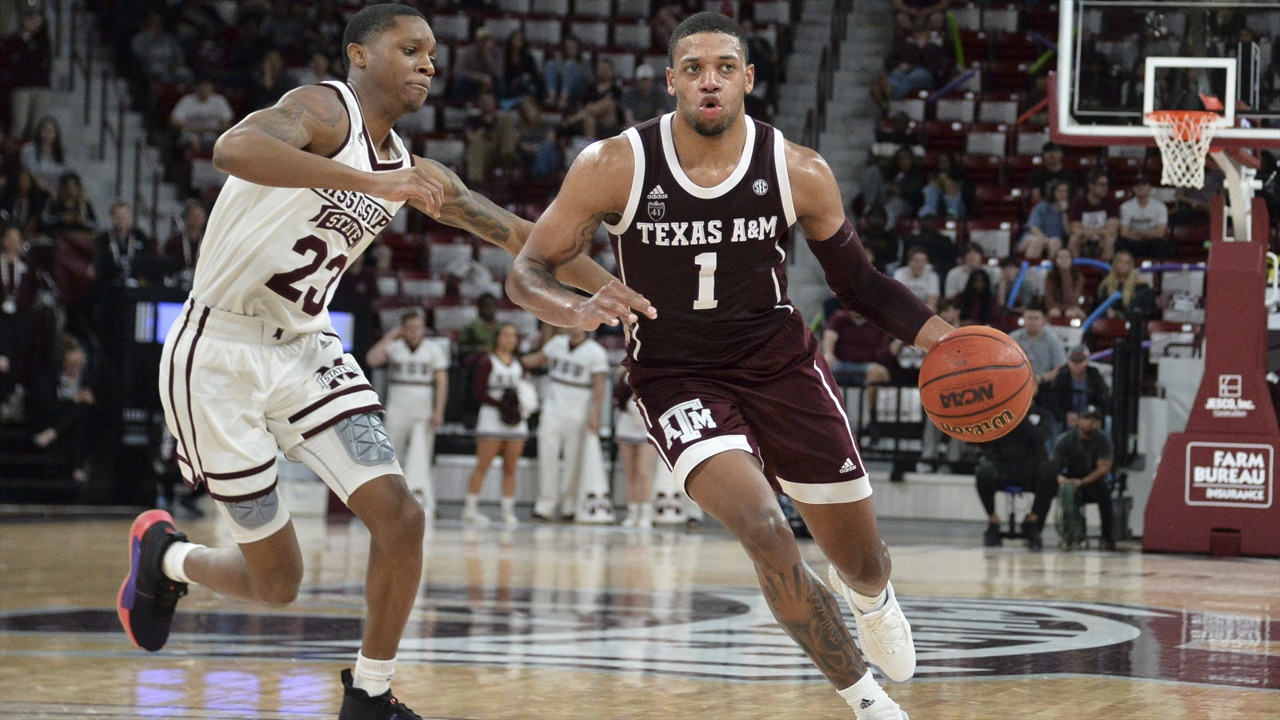 Photo by Matt Bush/USA Today Sports
Texas A&M Basketball
Finding rhythm on offense key for Aggies against Mississippi State
---
Sixty-three points aren't much for college basketball teams. In fact, a 63-point scoring average would rank a dismal 332nd out of 350 teams in the nation.
However, Texas A&M is 10-2 when scoring at least 63 points.
Therefore, 63 would seem like a magic number for the Aggies (13-12, 7-6) when they face surging Mississippi State (17-9, 8-5) Saturday at 2:30 p.m. in a Southeastern Conference basketball clash at Reed Arena.
A&M remains the SEC's lowest-scoring team with a paltry 61.7 average. But through relentless defense, controlled tempo and perhaps good old-fashioned obstinance, the Aggies have had surprising success in conference play.
"I feel like we play harder than everybody else," A&M senior guard Wendell Mitchell said. "Offensively, defensively, rebounding … We just tend to outwork people. Fight harder."
"I feel like we play harder than everybody else."
Coach Buzz Williams won't argue. He's frequently acknowledged A&M's offensive limitations. Yet, after consecutive victories over Georgia and Alabama, he suggested the Aggies have been highly motivated to answer doubters, skeptics and critics.
"I think they fight with an edge to prove maybe we're not quite as bad as the (lack of) support says we are or the people say we are or the smart people that tweet about us say we are," Williams said. "I think that's kind of cool for 20-year-olds to get together and say, 'Let's change some opinions.'"
The Aggies have certainly changed their offensive output of late.
Mitchell has averaged 13.4 points over the last seven games. Junior guard Quenton Jackson has averaged 13.8 over the last five. Jackson had 21 in the victory over Alabama.
"I'm a lot more comfortable," Jackson said. "I've adjusted to the game and the physicality level of how they play. I figured out how hard I have to play to be successful on the floor."
Meanwhile, Savion Flagg has been in double figures in each of the last three games. He's also hit nine 3-point goals in that span. He had converted just nine in the previous 10 SEC games.
"We're starving to generate points," Williams said. "We're thankful for any player that scores four baskets, not necessarily four 3s."
Also, forward Josh Nebo has scored in double figures in four of the last five games.
"We're definitely working it (scoring problems) out," Mitchell said. "The attention Nebo is drawing is allowing us to get more in a rhythm."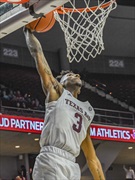 Lia Musgrave, TexAgs
The Aggies will need to be in a good rhythm to topple Mississippi State, which has won three of its last four.
The Bulldogs are led by 6-foot-10 sophomore forward Reggie Perry, a leading candidate for SEC Player of the Year. Perry is averaging 17.4 points and 9.8 rebounds.
He also has a strong supporting cast. Guards Tyson Carter, Nick Weatherspoon and Robert Woodard all average more than 11 points.
Mississippi State is ranked second in the SEC in field goal percentage at 46.6. The Bulldogs don't miss much, which makes rebounding even that much more important. The Aggies must limit second chances.
"They're second in the league in defensive rebounding percentage. They're third in the league in offensive rebounding percentage," Williams said. "That's a big part of their success.
"In order or us to have a chance, we're not going to be able to allow them to get their normal percentages on both sides of the ball off the glass."
That will require the Aggies to give their typical tenacious effort.
"We'll have to play with a very — almost elite, perfect — competitive spirit," Williams said. "The real game will start on the rise of the shot."
Never miss the latest news from TexAgs!
Join our free email list
PRESENTED BY