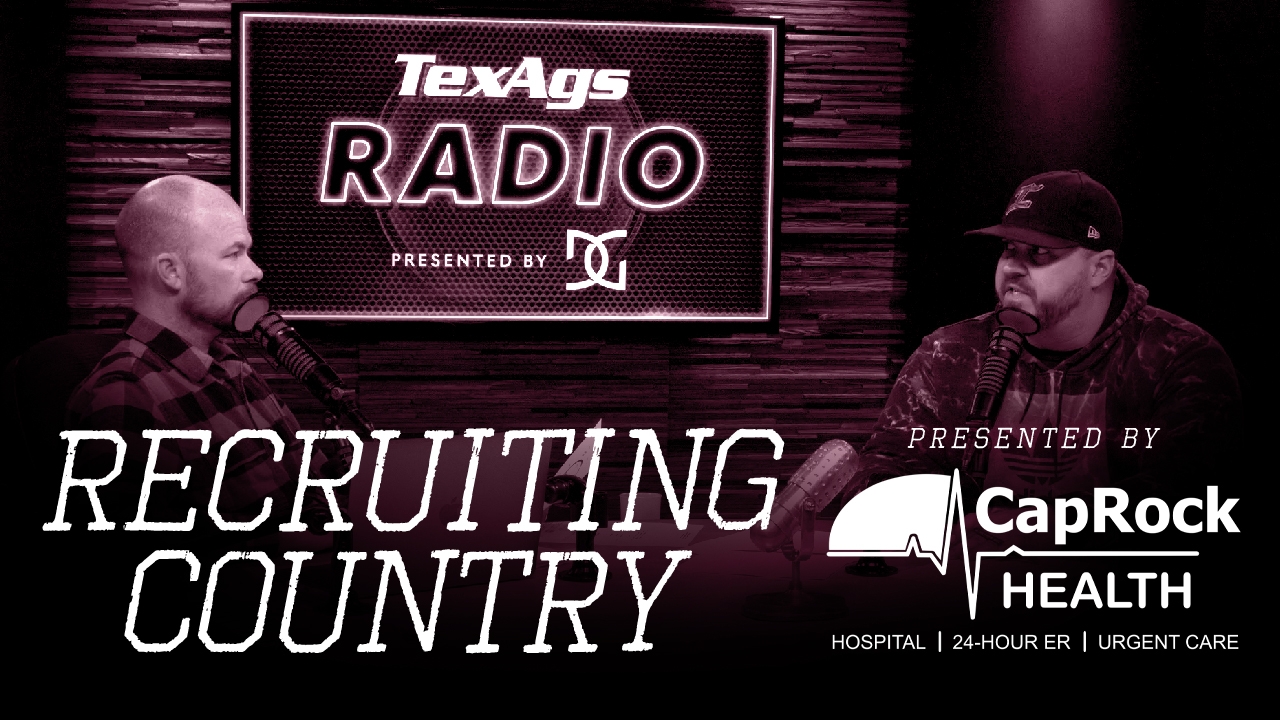 Texas A&M Football Recruiting
Recruiting Country: The latest recruiting news surrounding the Maroon & White
---
Key notes from Recruiting Country
We're in the first prolonged dead period for the class of 2021, so there's not a lot of movement right now. A&M offered Juan Davis‍ last night. He's committed to Texas as a tight end, but I'm not sure A&M is recruiting him as a tight end.

It's pretty slow. There's this transition period. I think Jason and I are happy about the lull, but we've got stuff coming up. Seven on seven tournaments start soon - there is one in The Woodlands in a couple of weeks. There will be kids who drive up to College Station and take a visit for that as well. There's starting to have a better governing body for the seven on seven tournaments. This one in The Woodlands is really nice, and they have a thing for the media as well. If A&M has some kids going there that are being recruited, I think they'll also make their way up.

I think A&M might have another Junior Day, but the next big event looks to be that spring game. They'll have some guys trickle in for visits.

I sent some questions over to Victory Vaka‍. He's a big interior defensive lineman that the Aggies are bringing in for an official visit.

Bryce Foster‍ hasn't come out and said that the spring game is when his official visit will be, but he hinted at it pretty hard. I think that's when A&M will make their next big push for their 2021 class.

I think A&M had seven commitments going into last summer. That summer was when everything blew up and took hold to what it ended up being. It looks like the same recipe again. They might add one or two before that spring game, but I think that's when it will really take off.

Amari Daniels‍ is a legitimate target out of Miami Central. He sounds like one of these guys that Jimbo is going to be on for a while. We've seen how that works in these classes. It seems like Jimbo wants to get this guy. He's a compact, tough to tackle and thick back.

Between LJ Johnson Jr‍ and Camar Wheaton‍, they're two different backs. Johnson's tape has a lot of Cam Akers in it; downhill, one cut and get to the second level and blow by you. He was in a pro-style offense at Cy Fair. His highlight tape translates so easily.

Brandon Campbell‍ and Darius Hale‍ are some guys that A&M has had on campus recently as well. A&M hasn't offered those guys yet. At running back, Daniels, Johnson, and Wheaton are guys to way.

Shadrach Banks‍ reminds me of a more refined Jalen Preston. I think Banks is the best football player in this class. Remember, it took JP some time to translate to the college game. I don't think it will take Shadrach that long. The big thing for him is getting him healthy. That's a great start at receiver.

John Paul Richardson‍ is starting to gain some steam with offers. It looks like if a big school makes an offer, four or five other ones are going to make some offers as well. I think A&M wants to continue to see his growth. He was kind of a late bloomer, but he's over 6-foot. He runs away from guys. He's a talented kid. You see that DNA roll out of him. He's competitive, and his hair is on fire, trying to find the endzone. His dad was much of the same way. If A&M offers, they'll have a tremendous chance of landing him. The only problem is the receiver room is pretty crowded, and numbers could be an issue.

Underrated factors for recruits? Maybe the relationships of the current players and the vibe with the current players. A&M does an outstanding job of opening up that communication. Food is also a big deal. We get a lot of comments about how well A&M does with the food on visits. When TP cooks, that really hits home.

Terrence Lewis‍ out of Miami already won MVP of a camp. It seems like A&M will have a good chance to land him. Terrence Cooks‍ is really taking off as well.

Derrick Harris Jr‍ is committed to Texas. A&M might make another pass at him, but we will see how it goes.

Dematrius Davis‍ committing to Virginia Tech wasn't super surprising. They have a guy on staff from Houston that has been recruiting Houston pretty hard. Hayden Conner‍ coming off the board so soon surprised everybody so soon. People on the Texas side didn't see it coming either. It caught everybody in the industry off guard.

The top-end talent in DFW is really good. There is plenty of talent there. I think the talent will be pretty split between DFW and Houston kids. There aren't a ton of prospects out west. A&M will split pretty evenly and then mix in some out-of-state players.
Never miss the latest news from TexAgs!
Join our free email list