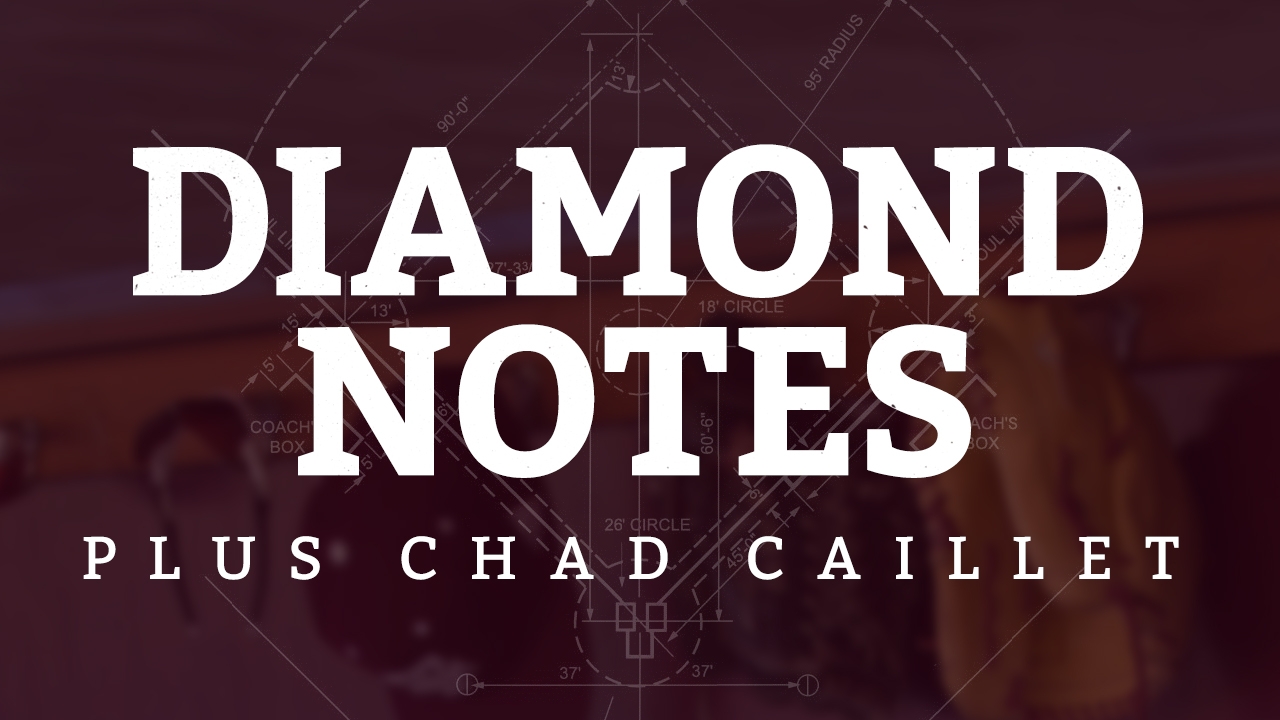 Texas A&M Baseball
Diamond Notes: Aggies open up 2020 season with decisive sweep over Miami (OH)
---
"It makes me feel so good!"
It's an expression sung in unison from the student section at Olsen Field at Blue Bell Park after each A&M strikeout. I think all of the Aggies who packed the stadium over the weekend would apply that line when thinking how great it feels to have baseball back. The weather was incredible, the crowds were out of sight and the Aggie baseball team could not have gotten off to a better start, going 3-0 in a series sweep over Miami (OH). A&M hit .340/.470/.602 in the series, including 13 extra-base hits and seven home runs. The Aggies also stole six bags in six attempts. Only one defensive starter committed an error. The pitching was lights out, as expected, allowing just four earned runs on nine hits in 27 innings. That included 32 strikeouts and just eight walks. Yes, it's just three games. Yes, it's just a northern school from Ohio. But what an encouraging start in all phases. Here is this week's edition of Diamond Notes, which will go out every Monday afternoon throughout the '20 Aggie Baseball season.
Hitter of the Week
OF Zach DeLoach
The junior hit .778/.786/1.556 (7-for-9) with a pair of homers and five RBI. He reached safely in 11 of 14 plate appearances, and one of the three PAs that he didn't reach safety was a sacrifice fly that drove in a run. DeLoach scored seven runs on the weekend and didn't strike out all weekend. How about the most ridiculous OPS I've maybe ever seen after one weekend in college baseball – 2.342 (.786 OBP; 1.556 SLG). We spent a lot of time last week on the radio discussing Zach's importance entering his junior year as a top 3-4 round MLB Draft prospect. If he hits in '20, it would do wonders for the entire offense and change the entire outlook on the Aggies this season. Well so far, so very good for #9. Now a word of caution: We've seen hot stretches before from DeLoach, and he can get just as cold as he can get white-hot. The key is consistency, but it was a very encouraging start for Zach.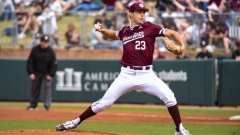 TexAgs
Pitcher of the Week
RHP Christian Roa
The junior right-hander allowed two runs (both on wind-aided solo home runs) on three hits in six innings of work, walking just one and punching out 12. It would have been very easy to go with either Asa Lacy or Chandler Jozwiak here, but I thought Roa was a tick better than either of those guys, despite allowing the two round-trippers. Christian had his fastball running into the mid-90s, even touching 97 MPH. He allowed just one free pass and pumped in strike after strike throughout his start – 62 strikes in 88 pitches (70.5% strike rate), to be exact – making it very difficult for Miami to get anything going against him. He was the same Christian Roa that dominated the Aggie hitters throughout the fall and during pre-season intrasquad action. I believe there is a clearly defined "ace" on this pitching staff in Asa Lacy, but I also think the Aggies are fortunate to feature a fellow junior in Roa that has a real shot to emerge as one of the top #2 starters in the SEC. He's that good.
Who's Hot?
DH Will Frizzell – The junior hit .417/.500/1.083 (5-for-12) with two doubles, two home runs, six RBI and four runs scored. Per Ryan Brauninger, Frizzell's Saturday rocket that landed near the railroad tracks just to the right of straightaway center field traveled an estimated 497 feet with an exit velocity of 111 MPH. What a start for Frizzell and DeLoach, who hit .215 and .200 respectively last season with a combined five dingers. They already have four long balls between them just three games into this season. With Will, it's all about just getting his knee back to full health. That plus a new, more upright stance is allowing him to better turn on the inside ball and drive it to right and right-center with power. He's always had the ability to hit to all fields and has a real mind for hitting. We're finally seeing the fullness of Frizzell's talent coming to fruition in year three.
SS Trevor Werner – The freshman hit .417/.500/.417 (5-for-12) with a pair of RBI and two runs scored. All five of his hits were singles, but he only struck out one time in his first three college games. Werner also flashed some real speed in his ability to get down the line and take the extra base as a runner in this pressure-oriented offense. Perhaps most impressively, Trevor played an eye-catching shortstop in his first series and didn't make an error in six weekend chances. Not bad for a pitcher. Werner didn't throw against Miami but figures to be a key cog in the mid-to-late innings moving forward.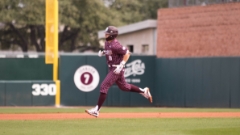 Angelina Alcantar, TexAgs
3B Logan Sartori – The junior transfer from Hutchinson CC hit .400/.462/1.100 (4-for-10) with a double, two home runs, four RBI and three runs scored. That's right, three of his four weekend hits went for extra bases. He also reached twice via hit batsman and struck out just once in the series. Sartori hit over .400 against A&M pitching in the fall and validated that consistent effort with a strong January and February leading into the season, locking up the starting third base position and swinging a very hot bat leading into the season. That continued with a couple of first-inning, tone-setting bombs to open games two and three. He figures to be a mainstay at the top of the A&M lineup and looks like a plus defender at third in the early going.
LHP Asa Lacy – The junior got the Opening Day start and delivered a typical Lacy-type performance, allowing just a run on three hits over six innings of work. He punched out eight, but the only lingering negative is the same thing that kept him from going deep into games as a sophomore last year: walks and hit batsmen. Lacy hit two Redhawk batters and walked two more, often forcing him into the stretch early in the inning. But overall, it was a near shutdown start for the College Station native and Kerrville Tivy product. There's a reason why Lacy has a shot at going No. 1 overall in the MLB Draft this June, and he flashed all of that ability in start number one on Friday night.
LHP Chandler Jozwiak – The junior allowed just one unearned run on just one hit over six strong innings of work, fanning seven with just one walk. Joz pumped in 51 strikes in 82 pitches (62.2%) with a low-90s heater that was consistently well placed to his arm side and glove side and a plus-plus slider and changeup combination that got a ton of swing and miss. Certainly a continuation of what we saw from Jozwiak leading into the season, which allowed the Brenham product to beat out Chris Weber for the Sunday spot to open the year.
Who's Cold?
2B Bryce Blaum – The junior hit just .167/.353/.167 (2-for-12) on opening weekend. That included five strikeouts from the leadoff spot. That's not what you want. Now, it wasn't all bad, as Blaum reached base four times via a walk or a hit by pitch, drove in three runs and swiped two bases. He will continue to get ample at-bats at the top of the Aggie lineup moving forward due to his ability to get on base, put a charge into the baseball and provide a real spark.
The Aggies hit over .400 with two outs, got the leadoff man on base exactly half the time, had 21 hits with runners on base and drove in 15 runs with two outs.
5 Key Factors on Offense:
Every week, we're going to look at how the Aggies did in what I feel are the five most important situational stats in all of baseball. They are as follows: two-out hitting, hitting with runners on base, hitting with runners in scoring position, percentage getting the leadoff man on base and two-out RBI. We'll look at them from an offensive and pitching perspective and update you as to the season totals in all five categories. Here's how the Aggies faired on opening weekend offensively:
Two outs: .405 (17-42)
Runners on: .333 (21-63)
Runners in scoring position: .256 (11-43)
Leadoff OBP: .500 (12-24)
Two-out RBI: 5.0 PG (15 total)
That's some strong numbers right there. The Aggies hit over .400 with two outs, got the leadoff man on base exactly half the time, had 21 hits with runners on base and drove in 15 runs with two outs. The numbers with RISP could have been much better, but A&M went 0-for-8 in that category on Sunday. It'll be very intriguing to keep up with these trends throughout the course of the '20 campaign.
5 Key Factors on the Mound:
Here's how the Aggies handled the five key situational stat categories as a pitching staff. To call this weekend's showing in these areas overpowering would be a gross understatement.
Two outs: .097 (3-31)
Runners on: .071 (2-28)
Runners in scoring position: .000 (0-19)
Leadoff OBP: .259 (7-27)
Two-out RBI: 0.3 PG (1 total)
Completely ridiculous numbers here. A&M used 11 guys on the mound and allowed a total of three hits with two outs and just one two-out RBI. One. ONE. The leadoff man got on base just 25.9% of the time, and the Redhawks managed just two hits with runners on base and zero hits – ZERO – with runners in scoring position. I don't care who you're playing, that is a wild stat. And Miami had eight starters back off of a 37-win team. Just a silly weekend performance all in all by the Aggie pitchers.
By the Numbers:
1.072 – Team OPS on the weekend (.470 OBP; .602 SLG). That included 35 hits, 19 walks, 9 hit batsmen, 6 doubles and 7 home runs.
1.33 – Team ERA on opening weekend. A total of 11 pitchers combined to allow just four earned runs and five total runs in 27 innings.
2 – Hits allowed by the A&M bullpen in nine innings. The eight-man group of relievers gave up just one run in the series, walking four and striking out five.
4:1 – Strikeout-to-walk ratio for the A&M pitching staff. The Aggies struck out 32 hitters and walked just eight on the weekend. The three A&M starters (Lacy, Roa and Jozwiak) combined for 27 Ks and just four walks in 18 innings, allowing only seven hits.
6 – Stolen bases vs. Miami on six attempts. That's a pace of two stolen bases per game for a regular season pace of 112 steals. A&M swiped just 46 bags in '19.
7 – Home runs on opening weekend. A&M hit one long ball in the opening series last year vs. Fordham and did not get to 7 home runs until the 15th game of the season in '19.
9 – Total hits allowed in the series in 27 innings of work. That's a minuscule 0.3 hits per inning and an opponent average of .102.
What else?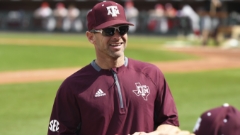 Jamie Maury, TexAgs
• I hope you take a little time to check out the interview that we did this morning on radio with new third base coach Chad Caillet (included at the top of this story with key notes below). You have to love his energy, confidence and positivity that he displayed in the box all weekend and during this conversation on the air. You can tell that Caillet is thrilled to be in Aggieland and is fired up to take this offense to the next level. He's the key to A&M becoming a true contender in the SEC and is off to a great start in his new role.
• Ray Alejo didn't have an eye-catching weekend, but he was much better than his .250 average would indicate. The fifth-year senior transfer from UCF enjoyed a .500 on-base percentage due in large part to his ability to draw two walks and reach twice via hit batsman. He also stole two bags and scored three runs while playing a very good center field. I like what this young man is about and could absolutely see him get some action in the leadoff spot (where he starred at the top of the order during two All-AAC seasons in Orlando) this week just to give Caillet and Justin Seely a look.
• It was a great weekend on the mound and we still haven't seen several key arms, including two-way guy Trevor Werner, JUCO transfer Cam Wynne who threw triple digits last year and lefty Jonathan Childress who is coming off of Tommy John surgery. Childress is likely to start one of the midweek games but will be on a strict pitch count early on in the season. This pitching staff is elite in the front end, nasty in the back end and very deep and balanced in the middle. Every bit as good as it was a year ago and maybe better, quite frankly.
• Look for more at-bats in the coming games from Logan Britt, Rody Barker and Ty Coleman, among others. That trio only got three at-bats vs. Miami. The offense has a chance to be much deeper than it was a year ago. The younger Coleman started 51 games and got 191 at-bats as a true freshman last year and is fighting to get an at-bat right now. That's a good problem to have.
• Here's an interesting little game. How long can the Aggies go with more home runs than stolen bases? You don't think that trend will last deep into the season, do you? The Aggies have seven homers and six stolen bases through three games. Last year, the offense produced 46 steals and 42 homers. After just one weekend, I'm confident that both of those numbers will rise significantly this season, but I honestly believe that A&M will finish with just about twice as many steals as bombs when all is said and done. It'll be fun to follow how long the long ball can keep pace with the steals category.
• Not an overly challenging week ahead for the Aggies, who host SFA on Tuesday, PVAMU on Wednesday and welcome Army to Olsen for a three-game series starting Friday. The Black Knights did win a game at Duke on opening weekend and have been in the NCAA Tournament the last two years as Patriot League Champions. The Aggies have a great chance at keeping the successful start flowing against inferior competition and get a ton of innings in for their deep stable of arms and at-bats for this new-look offensive attack.
"It makes me feel so good" to have baseball back on the corner of George Bush and Olsen Blvd. Five games this week, and the weather is supposed to cooperate. See you at the ballpark!
---
Key Notes from Chad Caillet Interview
It was an exciting weekend, perfect weather and a terrific outcome. On the top of the list obviously for me because I coach the hitters is the offense. It was great to see the confidence level because we've been working so hard these past six months.

Zach Deloach had a terrific weekend; the numbers speak for themselves. He put in a ton of time. Just to get off to a great start is great and hopefully will pave the way for him to have the great season that we all want him to have.

With Will Frizzell, what a great story, an unbelievable kid and an unbelievable player. He was hanging around all fall and couldn't do anything baseball-related other than rehab. He didn't even jog to second before we kicked off the season. His bat speaks for itself, and it was a much-needed presence. For him to get off to that start, I couldn't be more proud of him with that effort, and I expect him to have a great season.

I didn't know what I was getting with these two juniors (Frizzell & DeLoach). I was trying to find the positives. I knew the mark I was going to make was to get these guys to understand how to play team offense. I didn't know what they did in the past, and I really didn't care. It's not about one of two guys, it's about the offense and the flow it creates. This weekend it was Deloach and Frizzell. We aren't going to rely on one or two guys, and we embrace that every day. We are going to do it collectively.

I'm proud of both Logan Sartori and Trevor Werner. This environment is electric. Trevor got his feet wet and made the most of his opportunities. Logan is just a different animal because he's a JUCO transfer. Proud for how he settled in at third. We're going to settle him at third. Offensively, he picked up where he left off in the fall. He had an excellent season for us in the fall.

Bryce Blaum didn't have the greatest weekend. He did have some key at-bats; he leads off with a walk. He finds ways to contribute even though it wasn't his best. We're going to make some adjustments on his end and hopefully get back into it.

With this pitching staff, if we limit our errors, we're going to have the chance to win a lot of games. With this pitching staff, you never have to panic offensively. You feel like you have to score every inning, but here you have a comfort level, with [Christian] Roa [Asa] Lacy, these guys are going to put up a lot of zeros. We don't have to panic as an offense.
Never miss the latest news from TexAgs!
Join our free email list