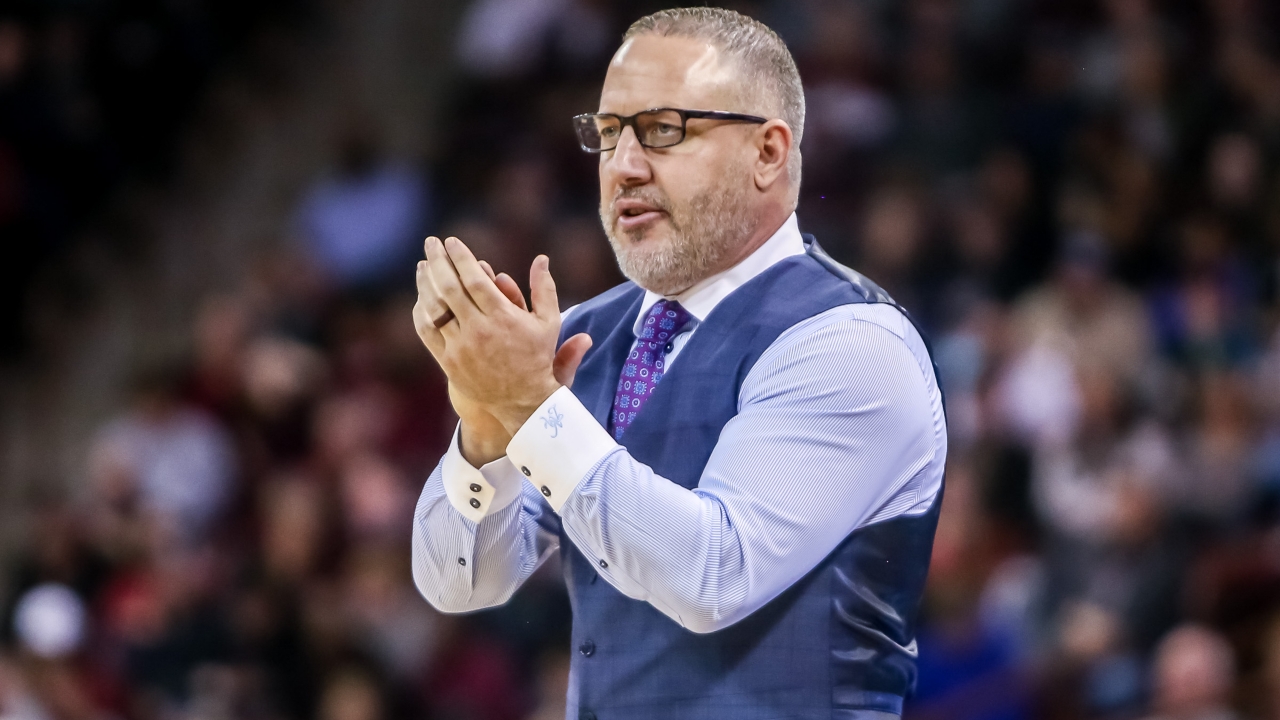 Photo by Jeff Blake-USA TODAY Sports
Texas A&M Basketball
Buzz Williams discusses comeback win over Georgia at Reed Arena
---
Key notes from Buzz Williams interview
I don't know if the t-shirt had anything to do with it! As far as that goes, I guess I'm willing to do anything, whether it's act like an idiot or apparel; I'm willing to try.

I think there are so many things to learn from these guys this season, and their effort has continued. Kind of with each passing game, you've almost seen our effort rise at a rate that is hard to argue with, regardless of the stats of the game. I don't think our effort was good in either game against South Carolina. Generally speaking, I think our guys try very hard. They understand how thin the margin is in what we have to do relative for us to have a chance to be in the game. I think to continue to have the effort needed to have a chance, that speaks on so many levels to who they are, what they're trying to do, and I have the utmost respect for them.

If we score off of one pass or less than two dribbles in transition, it's like we've found gold. It's groundbreaking with respect to what we usually have to do to get baskets. It's good to see our guys have the discipline not to give up the possessions. It's manna from heaven to score in transition, but to not turn it over is even better. It's almost unseen until you study it after the game – if we have the ball from a time of possession standpoint, it helps us on the other end because the opponent can't.

Our press, if that's what you want to call it, is trying to grind you down and slow you down. We will take the turnover if you throw it literally to our hands. The zone press is keeping us in the play, not trying to force something to go the other way. It's gearing you down, winding you down, taking five seconds more off the clock. We are trying to get late in the shot clock - something we call "fire," and that's the last ten seconds of the shot clock. The zone press is where those turnovers came from that led to our transition game.

Coach Crean said Anthony Edwards was sick. This time of year, guys are worn down – not just Georgia guys, but all guys. That's probably part of it. If you had to pick a player that impacted winning in any of our games this year, he would be the guy in the game at Georgia. He dominated. Off the dribble, off the pass, he completely dominated us in that game. Being high in the gaps is huge in making him get rid of the ball. Georgia only had two guys in double figures on Saturday. Edwards wasn't one of them. That was good.

Emanuel Miller is incredibly competitive. His skill has improved. Because of who he is as a worker, it will continue to improve. His straight-line driveability has developed at a steady pace. In mid-February, he's dribbling to score. He has changed our complexion as a team and our chances to win games because of what he does rebounding. He's top-10 in the lead in rebounds. When he doesn't rebound, we have no chance. He only had three rebounds against Florida. I don't mean to put it on Eman, but there are telling statistics specific to Eman, Savion Flagg, and Josh Nebo relative to our chances to win games. I like where he'll be as his career unfolds. I'm excited about where he'll be a year from now.

When Savion Flagg is in the mix, and his brain and feet are functioning on a fast level, it changes the game. He has a great ability to get fouled, and that's huge. I told our team that we had to get to 21 free-throw makes.
Never miss the latest news from TexAgs!
Join our free email list