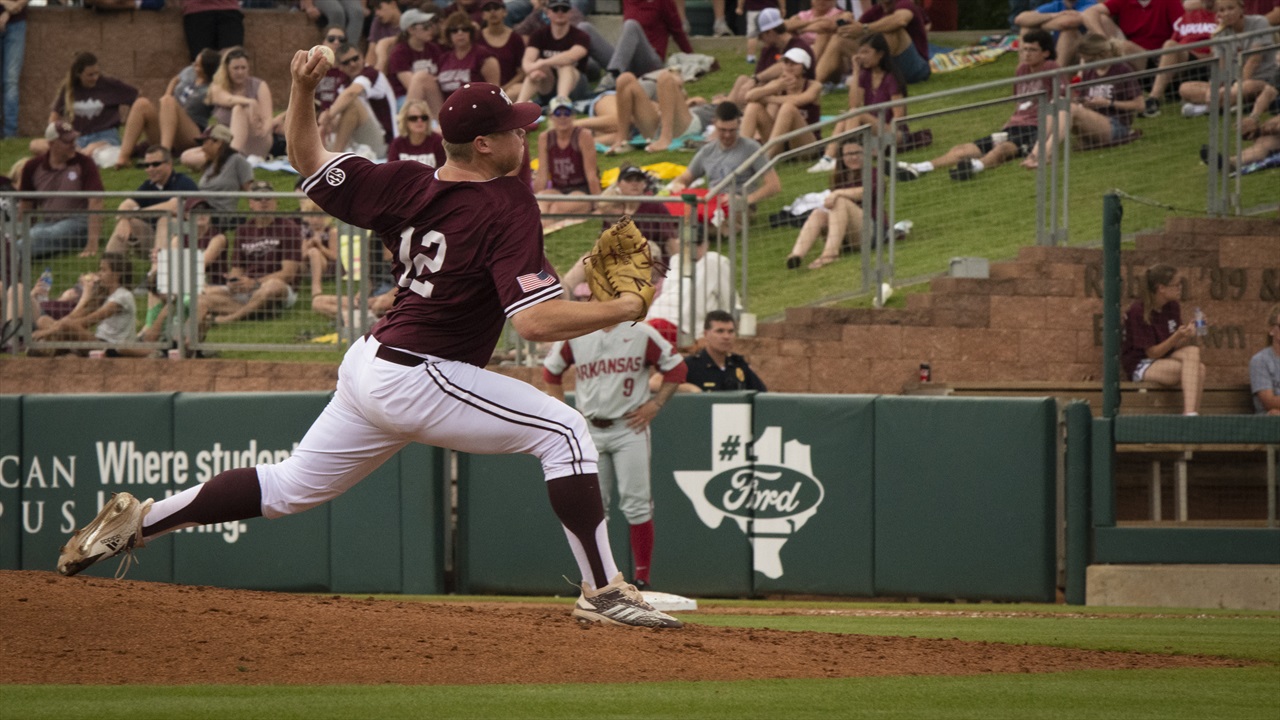 Photo by Jackie Ysaquirre, TexAgs
Texas A&M Baseball
5 Days 'til Opening Day: A&M pitching staff could be even better in 2020
---
Every day leading up to the start of the 2020 Aggie Baseball season, the TexAgs baseball coverage team will post a story diving into various storylines surrounding the A&M squad. Be on the lookout for daily articles from Gabe Bock, David Sandhop, Ryan Brauninger and Heath Clary between now and Opening Day, February 14th. You can keep up with the full series here: 2020 Aggie Baseball Preview Series.
---
Texas A&M had one of the best pitching staffs in the country and school history last year. The Aggies led the SEC in ERA, strikeout-to-walk ratio, and set a new school record with 673 strikeouts. They finished third nationally with a team ERA of 3.20.
Rinse, lather, repeat.
As is usually the case under head coach Rob Childress, the Aggies are expected to be anchored by a strong pitching staff in 2020. True, the Ags lost their Friday night starter and closer from last year's team to the MLB Draft, but it is quite possible that their pitching staff will actually improve on its 2019 exploits.
It all starts at the top with Asa Lacy and Christian Roa. As I said on TexAgs Radio last week, the loss of John Doxakis and his fiery competitiveness and tenacious leadership will hurt, but Lacy – named a first-team All-American by DIBaseball.com – has more pure talent and is a potential top-five pick in next year's draft.
And on Saturdays, the spot in the rotation Lacy held down admirably last season, Roa will have a chance to build on his breakout sophomore season in 2019. He had a solid year (3-2, 3.56 ERA in 48 innings) but the reports out of Olsen have been constant since the start of the fall: he has made incredible strides since last year ended.
He is throwing harder and his offspeed pitches have more movement. He didn't give up a run the entire fall, struck out a ton of hitters and walked very few. It only took a couple of starts last year for Lacy to establish himself as an elite No. 2 starter, and I doubt it will take much longer than that this time around for Roa to do the same.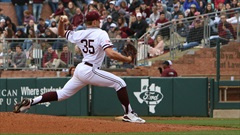 Mintie Betts, TexAgs
With Lacy and Roa likely to be almost as good, if not equal to or even a little better, than last year's 1-2 lefty punch of Doxakis and Lacy, how Childress will decide to fill out the rest of the rotation becomes the major question. My money is on junior lefty Chandler Jozwiak to get the first crack at the Sunday spot, with plenty of reinforcements ready to go behind him to fill the midweek starting slots as well as the bullpen.
Jonathan Childress proved he was as good as his recruiting profile suggested he would be last year as a true freshman, and after a speedy recovery from Tommy John surgery, is good to go for this season. He will likely begin the year as a reliever as he steadily increases his workload, but he has the stuff to be a starter as soon as he's physically ready.
Chris Weber has flown under the radar so far this season, but he still throws four pitches for strikes and in his last start, he took a no-hitter into the eighth inning in the SEC Tournament against nationally seeded Georgia. Additionally, Dustin Saenz showed signs of being a star last year when he notched a win over Texas with six innings of two-run ball. I could see both Weber and Saenz getting the bulk of the midweek starts to begin the season, with the possibility of moving into the weekend rotation should either one of them dominate.
Another strength of the 2019 Aggie team was the four-headed bullpen monster that Rob Childress had at his disposal toward the end of the season. Closer Kasey Kalich was rock-solid for the Ags last year, Bryce Miller was dynamite in a setup role, and lefties Moo Menefee and Weber were deployed in a variety of roles in the middle innings of games.
Miller and Menefee both return and will anchor the back-end of the bullpen, and then there's several new faces who will fill up the rest of the relief innings. Freshmen righties Evan Vanek and Blake Mayfield both impressed me when I saw them in the preseason, and don't forget about freshman Trevor Werner, who supposedly will contribute on the mound as a relief pitcher in addition to being the starting shortstop. I think lefty Colson Geisler, who only made two appearances as a true freshman last year, has the ability to be a solid bullpen piece for the Ags, and I've heard positive things about freshman righty Alex Magers, who sports a submarine throwing motion that will bring back memories of Nolan Hoffman.
Then there's several other youngsters like transfers Cam Wynne and Dawson Barr and freshman Mason Ornelas and Will Johnston who will get plenty of chances early in the season to show Rob Childress they deserve to pitch when the games get more important.
With all that said, let's look at a potential pitching staff to start the season:
Friday – Asa Lacy (L)
Saturday –Christian Roa (R)
Sunday – Chandler Jozwiak (L)
Midweek starters – Chris Weber (L), Dustin Saenz (L)
Middle relief – Jonathan Childress (L), Evan Vanek (R)
Setup – Moo Menefee (L) & Trevor Werner (R)
Closer – Bryce Miller (R)
That even leaves several talented arms out, but those ten arms comprise a dominant staff. One of the main differences in this year's staff is that it is more balanced righty-lefty than last year. In 2019, lefties logged 73 percent of the innings, and with the additions of Roa to the starting rotation and the several talented freshman and JUCO additions that Justin Seely made over the offseason, I would expect a number closer to 40 percent for right-handed pitchers.
This year's Aggie team should also be better defensively. With what is basically three center fielders tracking balls down in the outfield and three shortstops playing on the dirt, this group should convert more balls in play into outs that last year, which will only help the pitching staff.
All in all, this year's pitching staff will definitely be even deeper than last year. Injuries are always hard to predict, but there was a time last year when Roa was injured and there was not a steady Sunday starter for Childress to turn to. That shouldn't be a problem this year.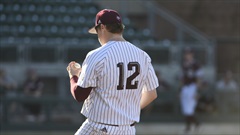 Kyle Steel
I think the bullpen will be improved this year, too. Menefee and Miller are a year older and a year better, and it cannot be overstated how much of a luxury Jonathan Childress is as a short reliever. He was nearly unhittable in his three starts as a freshman (team-leading 0.66 WHIP and .156 batting average against) before suffering a devastating injury, but he looked like he's back to his former self when I saw him pitch in the preseason.
Much of the attention early in the season will be placed on the bats and if the Aggies can be more productive offensively, and rightly so, but don't be surprised if the A&M pitching staff under Rob Childress builds on last year's momentum and finishes with even better numbers than last year.
Never miss the latest news from TexAgs!
Join our free email list