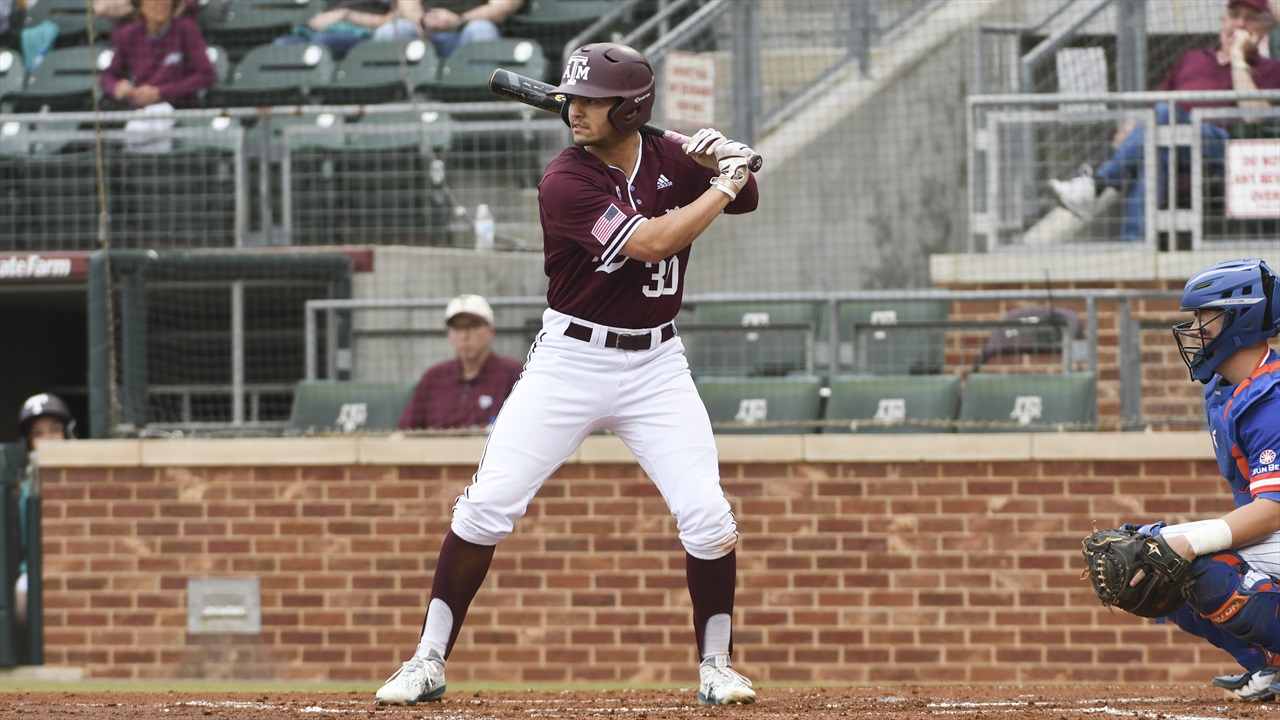 Photo by Elisa Schmitt, TexAgs
Texas A&M Baseball
7 Days 'til Aggie Baseball: Veteran bats expected to carry the weight in 2020
---
Every day leading up to the start of the 2020 Aggie Baseball season, the TexAgs baseball coverage team will post a story diving into various storylines surrounding the A&M squad. Be on the lookout for daily articles from Gabe Bock, David Sandhop, Ryan Brauninger and Heath Clary between now and Opening Day, February 14th. You can keep up with the full series here: 2020 Aggie Baseball Preview Series.
---
It's become a pretty safe assumption during the Rob Childress era that Texas A&M baseball is going to pitch at an extremely high level.
This year appears to be no different.
With preseason All-SEC 1st teamer Asa Lacy leading the rotation and seasoned, accomplished veterans like Christian Roa, Chris Weber, Moo Menefee, Bryce Miller and Chandler Jozwiak filling in behind him, the Aggies are once again poised to be one of the more lethal pitching staffs in the conference.
However, much like last year, the questions surrounding this 2020 team will surround the offense –more specifically, the offense's ability to score runs.
In 2019, run production was hard to come by and even harder to watch at times. The Aggies would go through long stretches at the plate where they were non-competitive and looked like they lacked a cohesive plan of attack. Still, they were a lot of situations throughout the 2019 season where one good at-bat, one good approach, one good ground ball the other way, or one good barrel could have changed the course of A&M's postseason status.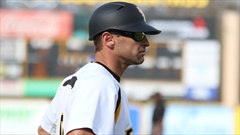 southernmiss.com
The Aggies won 39 games a year ago. The magic number to host is typically 40. Therefore, it stands to reason that the Aggies aren't too far away from being a regional host ball club, despite losing an all-timer in Braden Shewmake to the MLB draft and having his spot (likely) filled by a guy who has never played an SEC game (freshman Trevor Werner or JUCO transfer Logan Sartori).
The offseason brought some significant change to the Aggie offense. The aforementioned departure of Shewmake was paired with Will Bolt's exit to take the head coaching job at Nebraska. Bolt's move to his alma mater also prompted outfielder Logan Foster to return to his native state and become a Cornhusker. While Foster's time in Aggieland was considered streaky, he did bring a power element that was few and far between on the roster.
The open hitting coach role was filled by Chad Caillet – a guy who had made a name for himself in baseball circles at Southern Miss for being an aggressive, high energy offensive mind that wants to push the pace as much as he can. While Caillet's plan and approach to run production will be valuable in 2020, I think the majority of the burden will fall on the shoulders of an experienced group of veteran bats who have been around the block and seen the highs and lows of college baseball in their time in College Station.
It's often forgotten that seniors Hunter Coleman and Cam Blake have been to Omaha back when they were freshmen. The play and production of those two, along with about four others, could be the key to unlocking A&M's full potential this spring. Therefore, let's take a look at what the 'next step' may be for each guy.
Seniors:
Hunter Coleman - 1B/C - Midland, Texas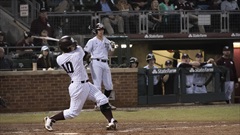 Elisa Schmitt, TexAgs
• After hitting .283 during his freshman campaign in 2017, the elder Coleman brother has seen his average dip into the .240s the last two seasons. Despite missing a good chunk of the season last year with a broken forearm, the power numbers have remained consistent (5 HRs each year), but those can improve. Hunter is a strong kid whose baseball IQ is off the charts per any coach or staff member you speak to within the program. It's not crazy to say that if he cuts down on the strikeouts, his power numbers and team run production will increase because of Hunter's strength output. Those attributes mean a healthy Hunter Coleman, who consistently finds the barrel, is a huge asset to this 2020 squad that is lacking in guys who can run balls out of the yard.
Cam Blake - OF - Round Rock, Texas
• The issue for Cam has never been ability — not even close. He brought Nick Banks comparisons with him as a freshman, but he's never been consistent enough both on and off the field to unlock his full potential. He's had some huge swings and huge plays in the outfield in his career, and he seemingly has a flair for the dramatic. He was right in the middle of the epic comeback against Vanderbilt with a triple to tie the game, had a fantastic catch to rob a home run at Ole Miss and scored the winning run in the walk-off versus Florida in the SEC Tournament. He's been active, but can he be consistent? Cam is having more fun playing baseball right now than he has since he's been at A&M. Is that the Caillet effect, or is it the senior light coming on? Regardless, Blake has drawn high praise from his teammates and coaching staff leading up to the opener. They'll need him to anchor down left field and be a people mover in 2020.
Bryce Blaum - INF - Sugar Land, Texas
• I hesitated to put Blaum on this list because he had an excellent year in 2019. Chad Caillet said on TexAgs Radio that if Blaum simply duplicated his junior season this spring, they'd be thrilled. He hit .292 and led the team in home runs (9) and steals (17). He was also the architect of one of the most thrilling moments in Aggie baseball history with his 3-2, walk-off grand slam in the Morgantown Regional to break the hearts of the Mountaineers and send Aggies into a frenzy. The key for Blaum at the plate this year will be understanding how he's going to be pitched now that there's a year worth of data on him. He's an aggressive hitter for a smaller guy, and I don't think that's a trait that the coaching staff wants to take away from him. However, it's highly likely that he's going to see more breaking balls and changeups early in counts this spring as opposing pitching staffs try to use that aggression against him. On the surface, his combination of power and speed seems like the perfect centerpiece to what Caillet and Justin Seely want to do offensively.
Mikey Hoehner - C - Deer Park, Texas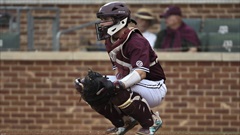 Elisa Schmitt, TexAgs
• The catching position was a question mark heading into last season until junior college transfer Mikey Hoehner asserted himself with his relentless effort, leadership qualities and baseball savvy. Overall, his numbers weren't too bad offensively (.292, 3 HRs, 30 walks), but I think Mikey would tell you they could be better. While there are some holes in the bat path that lead to swings-and-misses, he is one of A&M's best hard-contact guys, and he's got plenty of juice in him to run a few more balls out of the yard in 2020. With the way the offense wants to play and Hoehner not being a runner, I also believe there's going to be more chances for Hoehner to try and increase his slugging numbers. I'll be interested to see where the coaching staff slots Mikey in the order to start the season because of his interesting skill set and how they believe it will best fit in their offensive plan.
Juniors:
Zach DeLoach - OF - Lewisville, Texas
• Zach DeLoach started his Aggie baseball career on fire in 2018. Nobody could get the guy out for a better part of the month, and he earned the nickname "The Franchise" amongst his teammates because of his torrid pace. As is common for freshman succeeding in any sport, the game caught up to Zach as scouting reports began circulating. DeLoach cooled as a result and ended up hitting a respectable .264 in his first season. Last year, he never found the spark he did as a freshman. It was a frustrating year for another ultra-talented kid. There were moments where you felt he was on the cusp of coming out of it, but it never took off. He was also a victim of hitting a lot of balls hard right at people. This past summer, DeLoach was the talk of the Cape Cod League, where he regained some of that magic and took home the batting title (.368) and set offensive records in the nation's most prestigious summer baseball league. The question is: Can he replicate that in an Aggie uniform? I don't know that he has to be a record-breaker, but if he can fly at a similar level as he did for the Falmouth Commodores, it would do wonders for this Aggie offense.
Will Frizzell - 1B/DH - Rockwall, Texas
• The next step for "Frizz" simply comes down to health. The big man from DFW basically played on one leg for the entirety of the 2019 season. A damaged knee that would swell up 3-4 times its normal size meant Frizzell had trouble walking, running, swinging, throwing and lifting. Basically, anything that you needed to be successful on a baseball diamond was highly painful. There were questions as to if he would even return in 2020 with retirement looking like a real possibility due to his aches and pains. However, Frizzell dedicated the offseason toward getting healthy. A highly respected presence in the clubhouse, there is not a more powerful bat on A&M's roster than his. A change in health and a change in overall offensive philosophy is bringing about a new look Frizzell as well. The 6-4, 235-pounder has narrowed his stance and is standing more upright in an effort to both take some pressure off his knee and better use his God-given leverage to increase his power potential. There are still some uncertainties about how available Frizzell will be to start the year, but if he continues to progress in regards to his health, there's no doubt he provides a much-needed power presence to this group of hitters.
Never miss the latest news from TexAgs!
Join our free email list