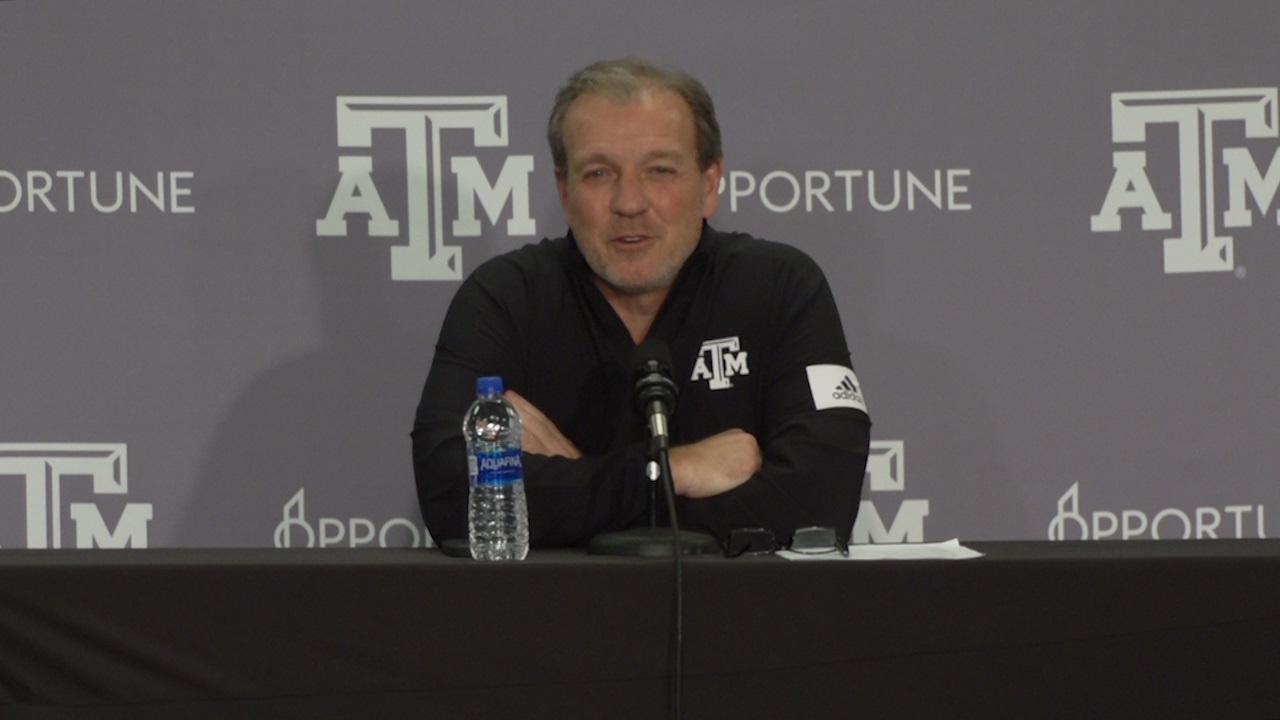 Texas A&M Football
WATCH: Jimbo Fisher & Co. wrap up a 'tremendous' 2020 class on NSD
---
With the additions of Darvon Hubbard‍ and McKinnley Jackson‍ during Wednesday's National Signing Day, Texas A&M put the finishing touches on a fantastic class. Jimbo Fisher spoke to the media to recap his 2020 recruiting class.
---
The following are live, paraphrased notes from head coach Jimbo Fisher's press conference following Wednesday's National Signing Day
It's great to finish up the signing class. This period didn't have as many as the first one. Less dramatic, but you've always got the same nerves no matter how many you're signing.

I think our assistant coaches did a great job. They're tremendous at building those personal relationships.

The coaches in Texas are outstanding, and they promote their kids very well.

Our players did a tremendous job hosting kids. Make no mistake, the players will tell them how it is. They believe in our program and what we're building. The job the players do in the recruitment is really important.

We have a lot to sell after football with the Aggie ring and the Aggie network.

Coaches did a great job in and out of state, and I think we won across the board at every position. Now we have to do a great job of developing them and turning them into good players. Already 13 of them have come in early.

The guys up front, when they can be disruptive and cause fumbles and get sacks. McKinnley Jackson‍ has a unique skill set and can generate pass-rush on the interior. He has excellent body quickness. Anytime you can get a guy with that kind of push that commands double teams, that's huge.

Sometimes it happens where you go out of state. There's a lot of talent in Texas, but they don't always come here. We want to get everyone in Texas, but we aren't going to limit ourselves to Texas. It's a global world now. When we can go out of state and show what we can offer as far as ball and life after ball, that's very attractive. We're always going to work inside-out. If we can't get everyone, we'll go outside of the state. Our brand is very strong right now.

You initially go through the high school coach and the administration and then the family members. The coaches are always in the know of the players that are being recruited from their schools.

I knew we were getting Jackson about the time he picked that hat up. We felt good, and we knew we were in it. McKinnley is a great and mature young man with a tremendous moral compass. He knows what he wants and how to go about it. Elijah Robinson did a tremendous job with him. I've known McKinnley since he came to my camp at Florida State. He's been very upfront with what he wants. I say he's 18 going on 30. No matter how long you've been in it, you're always nervous until you get those papers. You never know until you know.

It's a never-ending process. I think the coaches we've brought in are tremendous guys. James Coley, I've known for a long time. He's been a coordinator, and he's a tremendous recruiter. With TJ Rushing, people have spoken highly of him. He's done well as a player. He's very knowledgable about the game. Santucci is very down to earth and looks at the big picture. I've very happy to get him back. We're blessed to have all of them.

Darvon Hubbard‍ was a big guy when he committed to Ohio State early. He is going to get bigger, but he got too big, too quick. He's got good hands, a tremendous athlete and highly intelligent. We had been on him for a long time.

Edgerrin Cooper‍ is very long and very explosive. He's a very good basketball player. He's a defensive player who is also an offensive-minded player. You need some of those guys who can get interceptions and pick up fumbles. Those guys will help you on the defensive side. He's a great space player and a great coverage guy.

This running back corps has a lot of different skill sets. Isaiah Spiller has come a long way. We're going to leave Ainias Smith in the backfield. He can do a lot out of the backfield. He's a great tackle-to-tackle runner. We're off to a great start.

The guys who put their hands in the dirt change the game. You've got to have them. DeMarvin can change the game. He's been tremendous, and he's going to play anywhere. We will stay at end at times, but he will be moved to where he needs to. I think he has a tremendous future.

I think the early enrolling helps kids, but I never force it on them. High school is a tremendous experience, and I won't take that away from them. It does help with the understanding and with the strength and conditioning program. It's becoming more normal than abnormal. It helps.

We have a certain number of needs, and we need to address them. I'm never not going to take a guy who can change the game just because he's not a guy at a position of needs. You look at your depth, and you target things, but I'm never going to turn guys away. Especially guys who can put their hands in the dirt.

I know Lane Kiffin pretty well. He's been successful as a coordinator and a coach. He's going to bring the name recognition. Mike Leach, I don't know, but he's adding to the SEC West, that's for sure.

Devon Achane‍ is a guy you can put him in the backfield, or you can get him catches, carries or returns. He's got a very diverse skill set. He's going to be fun to watch and see how we can get him involved.

You better have most of your guys in during the early signing day because that's where it's going. That early signing period does help you, but it's tough for a lot of reasons. There's still a lot of good things to it. I've said it before, but I'd like to see us do something at the end of July. Still, I think the early signing period is good and is going to stay.
Never miss the latest news from TexAgs!
Join our free email list