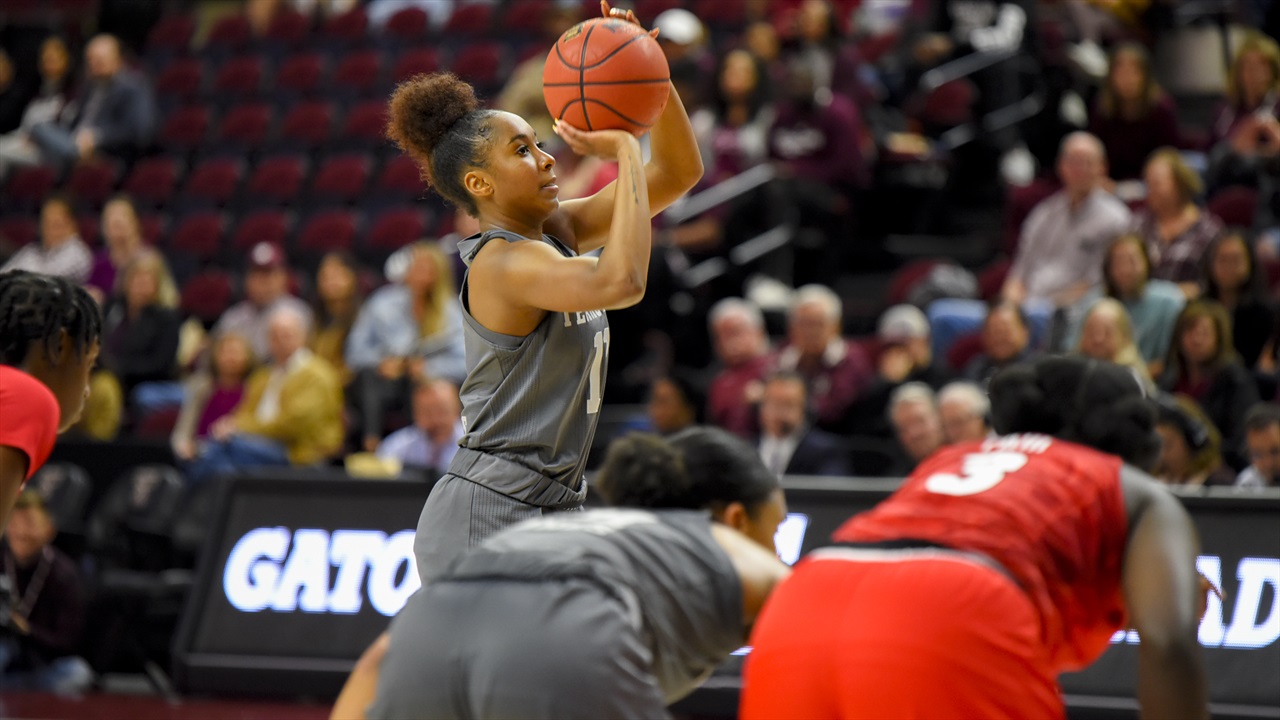 Gary Blair
Jones and Wilson
Texas A&M Women's Basketball
Aggies continue hot streak, sneak past Georgia, 64-63
---
On Thursday night, the No. 15 ranked Texas A&M Aggies (18-3, 6-2) fought out their fourth
consecutive win at home over Georgia (12-9, 3-5) that came down to a stop-start battle of
possession and throws on the lineup in the seconds to the final stretch.
Georgia made their presence known on the court with a strong showing of physicality and tough defense that temporarily appeared to shake the initial Aggie offense early in the first quarter. The Aggies were able to shift and make the mental adjustments on the floor to combat Georgia's aggressive play, which had drawn the Bulldogs out into the lead early into the first quarter. With leading scorer Chennedy Carter still out on an ankle injury, the Aggies are demonstrating that they can rally, even in her absence against a conference opponent. Junior forward N'dea Jones shined, putting up the most points of the night for the Aggies (21), and leading the team with rebounds (10), posting her 9th consecutive double-double. Ciera Johnson followed Jones with total points (17) and a career-high of five assists. Kayla Wells recorded 14 total.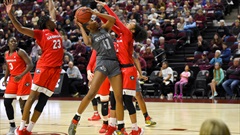 TexAgs
The Aggies shot over 52% from the field, their second-best percentage of the year, and were able to hold off a late fourth-quarter rally by Georgia on free throws by Wells and Aaliyah Wilson to secure their single-digit victory. On the aggressive showing of the Lady Bulldogs, N'dea Jones stated, "They said that they were going to be physical. I kinda know a couple of them on the team, so I knew how they were going to come out playing against me. UGA really is a physical team, and they try to deny the ball sometimes, so we knew coming in what it was going to be like."
The Aggies were able to respond and dig into a stronger defense with the help of Aaliyah
Wilson, who scored a career-high of four blocks in the game. Wilson credited her teammates' ability to respond tough. "Once they see that we're going to keep beating them on the inside it helps us guard on the outside to make more plays," Wilson said. "Our kids have played so well without Carter," said Coach Gary Blair. "They've all stepped up. I believe our starters have averaged 15.4 points a game more than what they were averaging before Carter got hurt. Everybody has had to step up." On the tough showing of the Georgia team, Coach Blair commented, "Georgia was guarding our guards so tough; it was hard to get any space. That's why in the second and third quarter we kept going inside. Our turnovers were what allowed them to stay in the game."
Thursday night's game was also Daddy-Daughter night at Reed Arena. The team paid tribute with a moment of silence for the recent passing of pro-basketball star Kobe Bryant and his 13 year-old daughter, Gigi. Coach Gary Blair reflected on the legacy of Bryant and the loss that the sport of women's basketball has received with his passing. "The impact that Kobe could've had in the next ten years in women's basketball, he was already creating with his four daughters. No other male athlete has been doing what he's been doing for us. That's one thing that the world and the sport is going to miss because he would've elevated it and women's basketball a little bit more."
The Aggies will travel to Baton Rouge next week to face off conference rival LSU on Sunday, February 2nd at 2:00 p.m.
MESSAGE FROM OUR SPONSOR
Special thanks to 12th Man Technology for their sponsorship of all women's basketball content produced throughout the season at TexAgs.com! For the eighth consecutive year, all WBB content will be available to you for free!
Never miss the latest news from TexAgs!
Join our free email list
PRESENTED BY