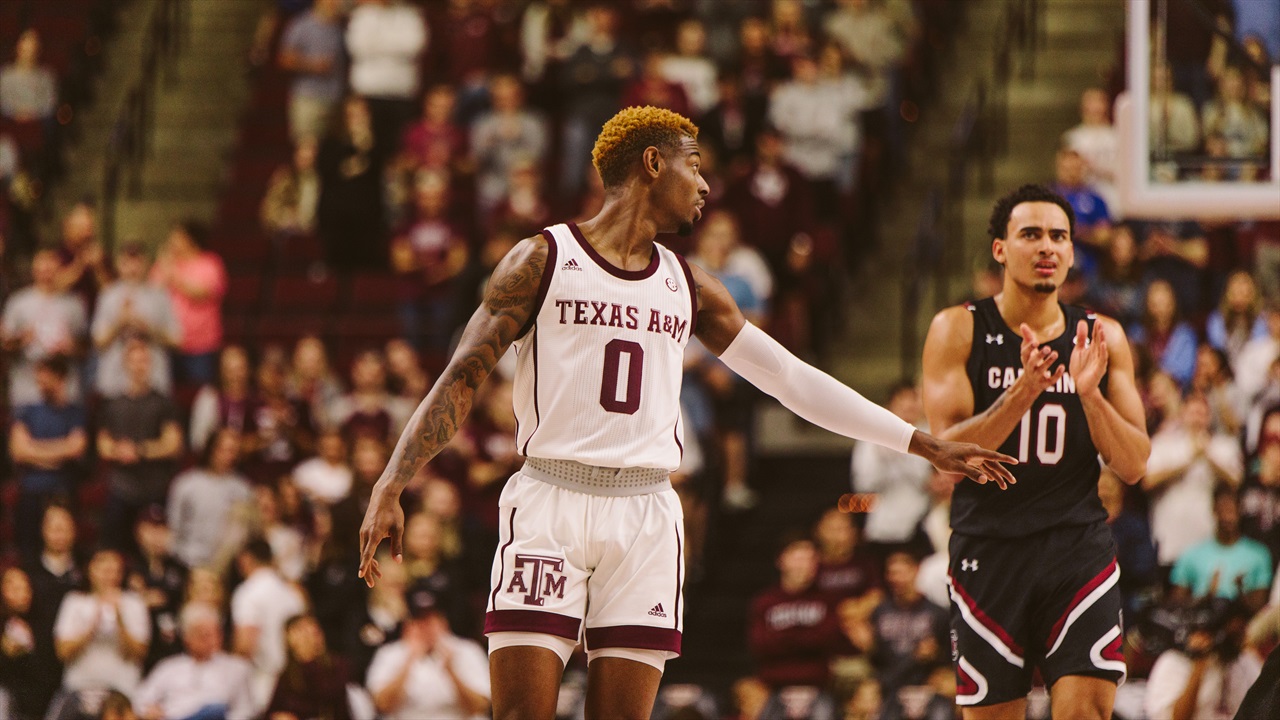 Photo by Rey Romo, TexAgs
Texas A&M Basketball
Gamecocks explode for school-record 16 threes, sink Aggies 81-67
---
Texas A&M's philosophy of inviting opponents to shoot 3-pointers seems logical enough.
Shots from behind the 3-point arc are longer. Longer shots have a higher degree of difficulty. Hence, the success rate of 3-pointers figures to be lower.
South Carolina (10-7, 2-2) defied that logic on Saturday at Reed Arena. The Gamecock buried that philosophy — along with a school record-tying 16 goals from 3-point range — to post an 81-67 Southeastern Conference basketball victory over the Aggies.
Nine of the 3-pointers came in the final 11 1/2 minutes after the Aggies had rallied to take a brief lead.
The Aggies have now allowed 30 treys in the last two games. They surrendered 14 in an 89-85 overtime loss to LSU last Tuesday.
"You can't close out a high-major (conference) shooter hoping they miss," Texas A&M coach Buzz Williams said. "You have to close out to make them miss. And you have to be there on the catch so they pass it instead of shoot it.
"We were delayed on our rotations. We were a second behind. We were two seconds behind. You can't do that."
Forward Josh Nebo scored 18 points, guard Quenton Jackson had 12 and guard Andre Gordon had 10 to lead the Aggies (8-8, 2-3).
But A&M could not match the Gamecocks from 3-point range. A&M managed just three goals from behind the arch. South Carolina had four players with at least that many.
In fact, the Gamecocks shot a higher percentage behind the arc (53.3 percent) than from two-point range (43.3).
Nine of those 3-pointers came in the final 11 1/2 minutes after A&M had rallied to take a brief lead.
Guard Jair Bolden, who did not play in South Carolina's 81-78 upset of Kentucky on Wednesday, came off the bench to lead the Gamecocks with 19 points. Fifteen came via five 3-point shots
Also, Justin Minaya had 18 points, Jermaine Couisnard had 17 and A.J. Lawson had 13. That trio combined for 11 triples.
That might have come as a surprise. South Carolina came into the game having converted an SEC-low 80 treys.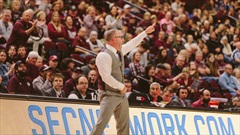 Rey Romo, TexAgs
"Anyone sits there and says I knew we'd hit 16 3's in a game is full of you know what, but I did not expect us to be a poor shooting team," South Carolina coach Frank Martin said. "I think we're understanding how to play better. We've got some kids with courage, too.
South Carolina hit a half dozen 3-pointers in the first half en route to taking a 39-33 lead at the break.
The Gamecocks extended the margin to 43-34 early in the second half before the Aggies mounted a charge.
Jay Jay Chandler hit a 3-pointer and Josh Nebo had a thunderous dunk to highlight an 8-0 run that boosted A&M to a 49-48 lead with 11:50 to play.
That lead lasted 26 seconds. Bolden and Couisnard combined for five 3-point goals over the next four minutes as the Gamecocks took a 63-55 lead with 7:27 left.
A&M clawed back within 68-63 on a Savion Flagg put-back with 4:15 to play.
However, Minaya put back an offensive rebound and Lawson hit consecutive 3-pointers to settle the issue.
"Our premise is to keep the ball out of the paint, force a contested 3," Williams said. "We forced 3's. We just didn't contest them good enough to make them miss."
Never miss the latest news from TexAgs!
Join our free email list