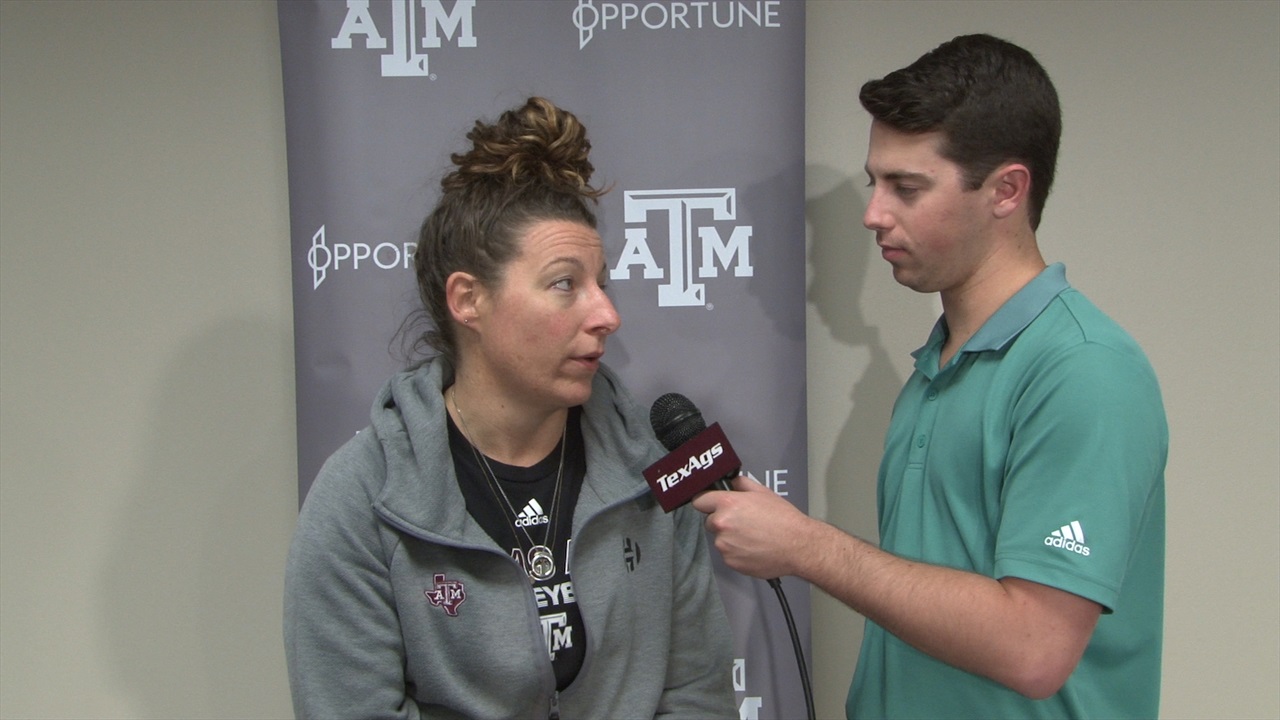 Texas A&M Volleyball
Laura "Bird" Kuhn, A&M volleyball looking to close season out strong
---
On the importance of getting back on track with a sweep of Mississippi State:
Just being back home. We had a nice break, but just getting refocused. I think it was a good time of year for us, for recovery. Seeing our team come back and really execute things we've been working on. There's always going to be things that we can do better, but it's SEC. Every team is going to battle and be a strong opponent. I'm proud of the way they fought and finished. I just love where this team is going. They continue to grow, and they grow together. It's fun.
On the 26-24 third set win vs. Ole Miss being a turning point:
You talk about competitive confidence. Our team has really developed that this season. In matches like that, it's grinding and they find ways to score and they find ways to battle, to just compete with teams of different styles and different mannerisms. Everything about the match was unique. It was Senior Day. I have said this before: I think I underestimated the emotion that was going to go into that, so we laughed as a staff about that, like, "Should we do that before or after?" I just think it's a lot, but it's so imperative to know and see how much this place means to those seniors and the whole collective group and to see how special it was for them [Sunday].
On Hollann Hans having the final kill vs. Ole Miss on Senior Day:
That was just so significant. It's not like it was structured or planned. We didn't say, "Set her the ball." It just naturally happened. It couldn't have been a better picture for a player of her caliber or just the person that she is. I mean, yeah... [Sunday] was just so special for her and I'm so glad that moment happened.
On freshman Lauren Davis' 19 kill performance vs. Ole Miss:
She found ways to score. I told her when we were leaving the gym [Sunday] night, she might be one of the most coachable, smartest players on our team right now because we can tell her something, and she executes and does it. She has a great attitude. I'm proud of her. She stepped up and really executed well [Sunday] offensively.
On remaining focused vs. South Carolina, a team the Aggies swept earlier in the season:
I don't think this team has ever been complacent because they're in this growing stage, but on the road, we have to battle. South Carolina is playing really well right now, and they know that. They know they're a good team. It's different when you're not playing at home. They'll bring it. They'll be focused, but we definitely have to sharp. We'll get back into the gym and we'll work on our game.
On closing out the season and pulling off the upset over No. 15 Florida:
Execution. We have to execute defensively, obviously, at a high level. Offensively, we need the balance. We have to be firing on all cylinders and getting everyone involved. It's really going to be about us executing both offensively and defensively.
Never miss the latest news from TexAgs!
Join our free email list