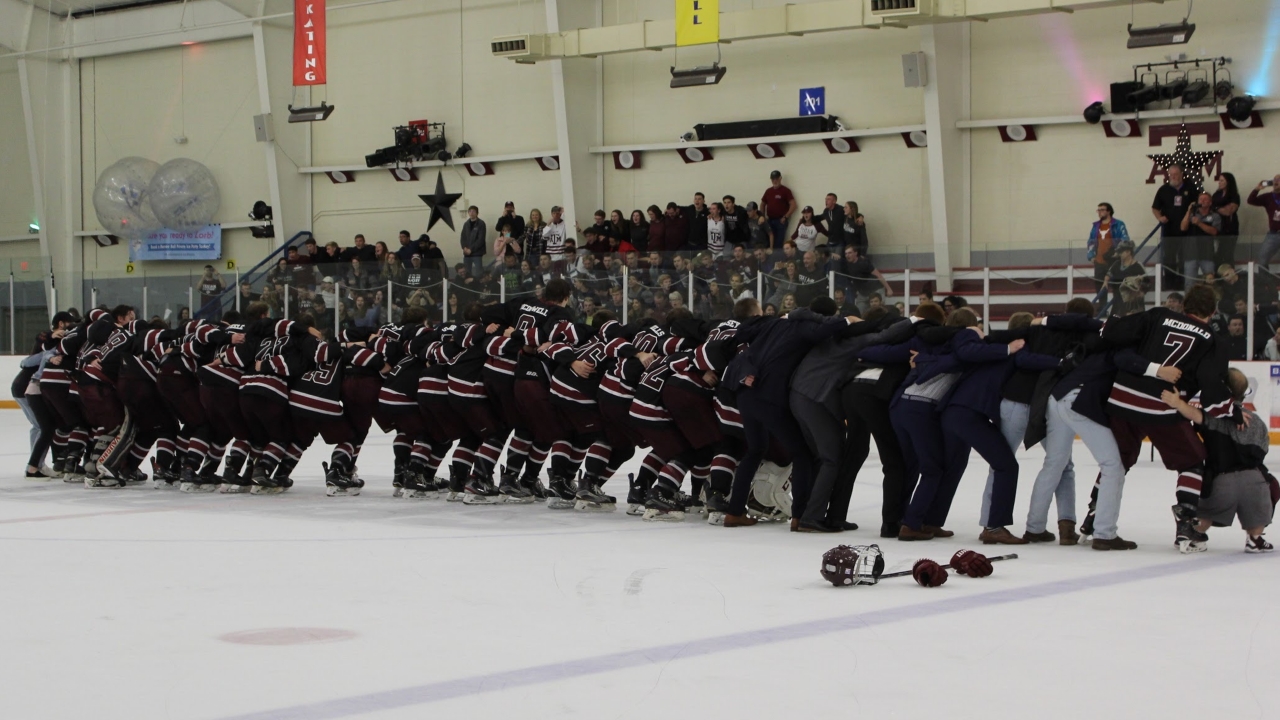 Photo by Annaliese Halstead-TAMU Ice Hockey
Club hockey teams at Texas A&M and Texas to take rivalry outside after NHL Winter Classic
---
For decades, Texas A&M and Texas battled on the gridiron for a trip to the Cotton Bowl. Once again, the historic stadium is at the center of the schools' attention.
But this time, a sheet of ice will replace the football field.
The Texas Collegiate Hockey Conference (TCHC), the Dallas Stars and the club hockey teams at Texas A&M University and the University of Texas announced on Wednesday that the Aggies and Longhorns will play a one-hour exhibition contest at the Cotton Bowl in Dallas on January 5, 2020, on the same ice used for the NHL's 2020 Winter Classic.
The teams believe the outdoor game will bring significant exposure to their programs, the TCHC as well as for hockey in the state of Texas.
"This is UT-A&M, outdoors, at the Cotton Bowl. This is as big of a stage as we're going to get."
"This is UT-A&M, outdoors, at the Cotton Bowl," said Texas A&M head coach Sean Boyle. "This is as big of a stage as we're going to get."
The game will mark the first time A&M and Texas have met on an outdoor rink and the first time either program has played a game outside.
"It will be huge for our program and the Texas program just having the exposure to play an outdoor game," Boyle said. "As far as college hockey in Texas, it just brings more visibility to the fact that we do have college hockey here."
The exhibition will not be a normal length game as the teams will just have the ice for one hour. Boyle does not believe this limits how important of an opportunity this is for the programs.
"At least people will start to recognize that their favorite college football teams here in Texas also have good hockey teams," Boyle said. "They don't need to try and go to Boston or Minnesota or something. They can stay here and play."
Unlike other Texas A&M club hockey games, this contest will be a non-ticketed event, meaning anyone can attend, free of charge.
"We're really looking forward to it," said Texas A&M club hockey president Huston Svondrk. "I really think that the 12th Man is going to come out and support us in full force."
While the traditional football rivalry has been on hold since Texas A&M's move to the SEC in 2012, it has continued on the ice and has thrived. Just last season in the TCHC tournament, the Aggies ended the Longhorns' season thanks to Gary Russell's dramatic goal with only 26 seconds remaining in the contest to seal the 2-1 victory.
"I know that if anything involves A&M and t.u., there's going to be Aggies showing up," said senior captain Gary Russell.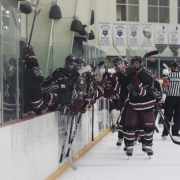 Annaliese Halstead-TAMU Ice Hockey
College programs playing games on Winter Classic surfaces is not a new trend. After last year's Winter Classic, Notre Dame and Michigan met for a Big Ten game played at Notre Dame Stadium. Never have two club hockey programs been the marquee college matchup to follow the NHL's New Year's Day event.
"A lot of people don't think hockey can be viable in Texas," Svondrk said. "While we're still a club team, we definitely take pride in what we do. We want to go out there and get a win against Texas at the Cotton Bowl."
When the Dallas Stars meet the Nashville Predators at the Cotton Bowl on New Year's Day 2020, it will mark the NHL's first outdoor game in the south and just the second official NHL outdoor contest in a warm-weather state. Questions regarding the ice conditions in the Texas heat on game day will undoubtedly arise, but Russell is not worried.
"If it's bad, we're going to play through it," Russell said. "This is one of those things where both teams are going to go through the same issues if there even are any. I think that's going to be the least of our concerns."
Official game time is set for 5:15 p.m. and other information regarding the historic January 5th contest between Texas A&M and Texas has not yet been released. For more information and updates directly from Texas A&M's club hockey team, visit tamuicehockey.com and follow @tamuicehockey on Twitter.
Never miss the latest news from TexAgs!
Join our free email list