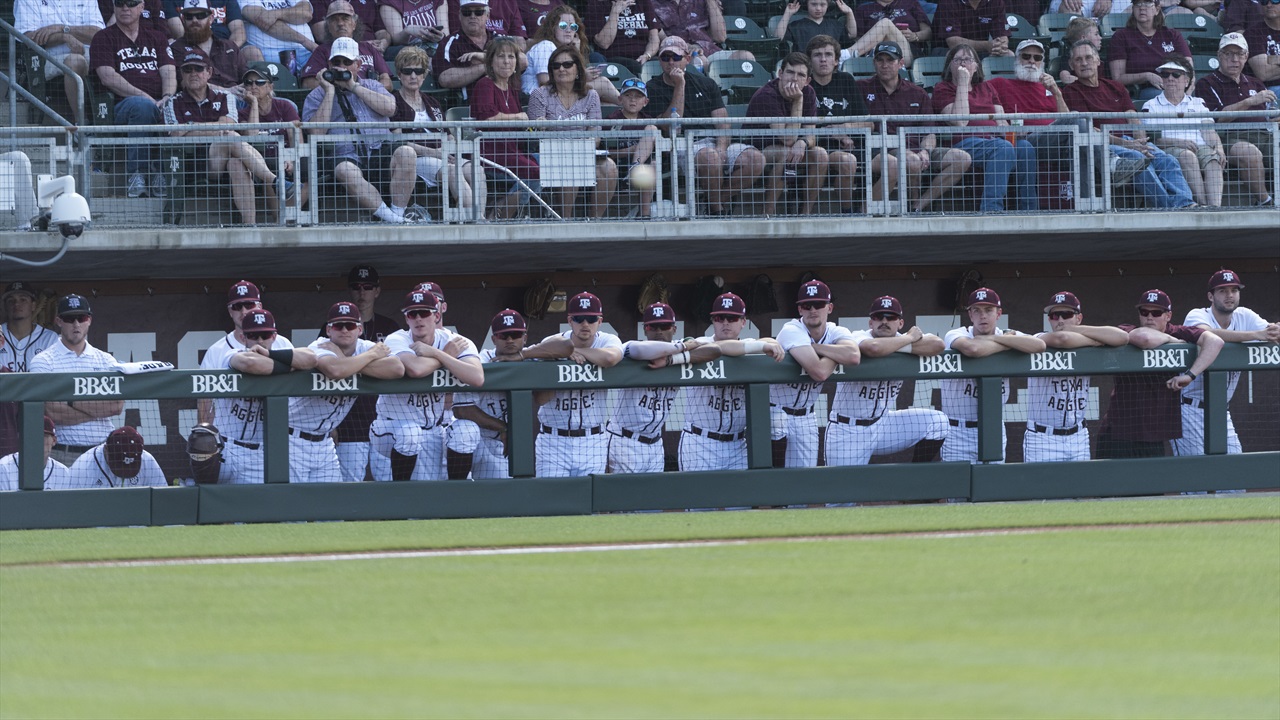 Rob Childress
Justin Seely
Texas A&M Baseball
Texas A&M baseball inks 13 talented recruits on National Signing Day
---
Texas A&M baseball continues to attract elite talent to Aggieland, and they received signatures from 13 more highly-touted prospects on National Signing Day last Wednesday.
"It's another incredibly talented group that fits all of our needs certainly from a talent standpoint, but also from a culture standpoint here at Texas A&M University, the athletic department and the baseball program," head coach Rob Childress said. "All the credit goes to our recruiting coordinator Justin Seely, who is tireless in his recruiting efforts. It's a non-stop process and we will try to get as many guys to campus as we can."
"We're always striving for balance, and I think that's the number one thing that we try and do for every recruiting class so that you never walk into a season where your roster is completely out of whack," added Seely, who is entering his 11th season as Texas A&M's recruiting coordinator. "I thought we were able to accomplish that. I really like the athleticism and the pitchability of the guys on the mound."
With the current A&M roster heavy on pitching, this class features nine hitters and four pitchers, with at least two who might try to do both at the next level. Offensively, the class is heavy on middle infielders and also features two catchers who will likely make an immediate impact for the Aggies considering Hunter Coleman and Mikey Hoehner are both seniors and will graduate at the end of the season.
"We're always striving for balance, and I think that's the number one thing that we try and do for every recruiting class."
"I felt like we had more time to evaluate the hitters this year," Seely said. "Instead of getting guys that just have ability, you're getting guys that have production. When we saw these guys, they hit, they produced, and they won. We're really, really excited about the group we got. We got a few left-handed bats that were a priority, and the two junior college guys that we finished off with were the best junior college players I saw in the state this fall."
Only time will tell how many of the 13 signees will make it to Texas A&M, as they all still have another year to impress professional scouts before enrolling. A good spring could elevate some into draft territory, while the opposite could happen for others.
"Every class that we put together has quite a few risks," Childress said. "The risks that we think are high today may go through the roof come next June, and there may be a few guys who we feel strong that we're going to get to campus that go out and have great springs and we lose them."
Eleven of the signees hail from the state of Texas, while the staff tapped the Nebraska pipeline for the fourth year in a row with state player of the year Max Anderson and added a Hawaii prep star in infielder Kalae Harrison.
Class Breakdown:
TexAgs conducted interviews with both Childress and Seely, both of which can be heard at the top of the article. Seely offered an in-depth scouting report of each player as well as any interesting tidbits from the player's background or recruiting, while Childress detailed each pitcher and sprinkled in other analyses as well.
Max Anderson – SS (6-1, 200, Omaha, NE – Millard West HS)
2019 PG Preseason Underclassmen All-American Team High Honorable Mention
No. 1 shortstop in the state of Nebraska, according to Perfect Game
2019 Prep Baseball Report Nebraska Player of the Year
Led Millard West to its first state championship as a junior in 2019
Hit .353 (36-for-102) with 10 home runs and 28 RBI in 2019
Hit .370 (34-for-92) with five doubles, three triples, three home runs, 22 runs and 25 RBI as a sophomore in 2018
Seely's Scout: "He's player of the year and he did it in about a month and a half. There was really bad weather in the spring up in Nebraska, and he was able to have an unbelievable month and a half that ended in the state tournament. He's a really advanced hitter, has sock in the bat, plays shortstop and can probably play multiple infield positions, and he's a guy that when he stands in the box, he's got presence. He can hurt you and he can get big hits. We're really excited about the opportunity to get him. I think he's got a shot to hit and to hit pretty early."
Kobe Andrade – OF/LHP (5-11, 165, Corpus Christi, TX – Veterans Memorial HS)
Selected to 2019 PG Preseason Underclassmen All-American Third Team
Named 2019 16U South National Championship Tournament MVP
Hit .319 with 30 runs and 22 RBI at Veterans Memorial in 2019
Corpus Christi Caller Times 2019 All-South Texas Baseball First-Team outfielder as a junior
Seely's Scout: "Koby comes from a really good high school program. He's a table-setter, he's a guy that can run, and he's a slasher at the plate. He's going to run into some balls and hit some home runs, but he's going to run into them. If he goes to the plate trying to hit them, he's doing his game a disservice. He can really run the bases, can really steal bases, and he's also a very good outfielder. He can play center field and I have zero doubt about that.
"He's also a left-handed pitcher. He's come in and closed in quite a few spots. He was upper 80s touching 90, he's competitive and athletic, and he's also a guy that has a lot of room to go from a strength standpoint. I think [strength coach Jeremy McMillan] is going to do awesome things with him and turn him into a prime-time physical athlete. We're very, very excited about what Kobe is going to bring to the table for us."
Khristian Curtis – RHP/INF (6-4, 185, Groves, TX – Port Neches-Groves HS)
Named All-District 21-5A First Team in 2019
2019 PG Preseason Underclassmen All-American Teams
Selected for the 2019 Wilson Premier Classic in Phoenix, Arizona
Seely's Scout: "Khristian looks like he's 6-6 – that's how long his body is. He's got long arms and long legs, but they all work together. Once Coach Mac works his magic with him, I feel like he's got a shot at throwing a lot harder than he's throwing right now."
Adds Childress: "He's a long-bodied projectable guy that I've gotten to watch play for a long time. He played with my son growing up and he's always had the long levers. He's always been a two-way guy, and I wouldn't count that out for him at Texas A&M. He's upper 80s and can really spin the ball – there's a lot more in there. I see him being with Coach McMillan for 9-10 months and the velocity is only going to increase. He's a very athletic, high-baseball IQ, hard-working kid."
Matthew Etzel – OF (6-1, 195, League City, TX – Clear Creek HS)
Unanimous All-District 24-6A First Team selection as an outfielder in 2019
Hit .300 with five runs and six RBI in an injury-shortened sophomore season in 2018
Also letters in football as a wide receiver at Clear Creek
Seely's Scout: "Very excited about this guy. The intriguing thing about this guy is he hasn't been able to play a ton because he's had injuries. He hurt himself in a football game where he scored four or five touchdowns. He's an elite runner, he has elite-level strength, and the thing about him is how fast can we get him back to the speed of the game of baseball? As far as tools go, he's got exactly what you want. He throws good enough, he can fly, he's got sock in the bat, and he's got his nose on the bat – he can hit. It's not just an all-or-nothing approach, he can hit left-handed and right-handed pitching. From a physicality standpoint, he will remind you of Nick Banks."
Adds Childress: "Etzel is a strong, physical guy that can run and hit it through the lights. Not a lot of people know about him and he's a guy we were very lucky to get."
Kalae Harrison – INF (6-0, 175, Kailua, HI – Punahou HS)
2019 PG Preseason Underclassmen All-American Team High Honorable Mention
Hit .306 (22-for-72) with two doubles, six triples and 17 runs as a junior
Led team to the 2019 Wally Yonamine Foundation Division I state tournament
Selected to the 2018 PG Preseason underclassmen All-American Team Honorable Mention
Seely's Scout: "Kalae can just flat-out hit. He comes from a baseball family. His dad played at Hawaii and his older brother played at Oregon State. Kalae is a lean left-handed athletic hitter. He has a sweet swing. Kalae has a really good personality, he's a very hard worker, and he has done a good job of coming a long way defensively. I think he's going to be able to play shortstop and second base, and he's another guy that will advance from a strength standpoint and that will take him to a completely different level."
Hunter Hollann – LHP (6-4, 180, Longview, TX – Spring Hill HS)
2019 WWBA 17U South National Championship All-Tournament Team
Went 6-4 on the mound with a 1.95 ERA and 126 strikeouts in 82.1 innings as a junior in 2019
Selected to the Longview News-Journal All-East Texas First Team in 2019
Logged a 6-2 record with a 3.14 ERA and 42 Ks in 41.1 innings as a sophomore
Seely's Scout: "Easy arm, really pretty arm action. He's very competitive in game day and is a guy who is really trying to build up his lower half. Get him a big butt, big thighs, and the trunk of a pitcher. The quicker all that stuff lines up, he's going to pitch. He has feel to spin the ball, he has a changeup, and when he walks out onto the field it's just potential oozing all over him."
Adds Childress: "He's from the Piney Woods and we always like to go to East Texas. He has a beautiful arm action from a three-quarters slot and has a frame that's going to put on an awful lot of weight. He's going to get better and better as he develops physically."
Cade Merka – INF (5-11, 180, Argyle, TX – Argyle HS)
Led Argyle to back-to-back 4A state titles in 2018 and 2019
Named Preseason Underclassmen All-American Team Honorable Mention
Hit .273 with 14 RBI and 15 runs as a sophomore in 2018
Seely's Scout: "He's a winner. If he runs onto the field and you don't know anything about him, you say, 'That guy is going to help you win a game.' Huge energy, huge energy giver, and he really elevates the players around him. On a team that's won two state championships he's been the young guy on both of those, but when you listen to coaches talk about him it's like he's the senior on the team. That really makes you feel good about him, and it's not just that he has leadership qualities; he can play too. He has some sneaky sock in the back and he's a guy that everyone rallies around. I can see him jumping into the dogpile to go to Omaha."
Brett Minnich – OF/1B (6-5, 195, Colleyville, TX – Blinn College)
Hit .318 with 11 doubles, six triples, three home runs, and 34 RBI as a freshman at Blinn in 2019
Earned All-Region XIV recognition as a freshman
Selected to play for the Region XIV South team in the Texas-New Mexico Junior College All-Star game in 2019
Seely's Scout: "Brett was always a very good baseball player, but I think what he lacked was strength. He had a really long frame to try to put strength on, and now he has filled out a lot. He has a great swing, he has a great motor, he's going to drive the ball to all parts of the ballpark. If there's a runner at second with two outs, he can get the big hit. I was super impressed with him when I saw him in the fall, and I was fortunate enough to get to see him multiple times and I was really blown away. He was the best left-handed hitter that I evaluated in the fall, and I don't think there's a guy that even comes close to second."
Adds Childress: "He was very important for us. Probably one of the more polished junior college hitters in the state. He can play first base and all three outfield positions, and he's certainly very advanced with his bat."
Kimble Schuessler – C (6-2, 195, Llano, TX – Llano HS)
Hit .472 with 35 runs, 13 doubles and 12 stolen bases as a junior in 2019
Named District 28-4A Co-MVP in 2019
Played for the Kansas City Royals Area Code Team last summer
2019 National Showcase Top Prospect Team
Hit .443 with 21 runs, eight doubles, two triples and 18 RBI as a sophomore
Seely's Scout: "Kimble is a physical, baby-faced guy, so he still has a lot more room to grow. He throws as well as anyone around, he can catch, and he can receive. He's a defense-first catcher – that's how good he is defensively. Offensively, he's very good. He can hit, he's going to handle himself just fine there, and he's going to drive the ball eventually with continued strength.
"Good catchers most of the time you don't notice them. Great catchers you go, 'Wow.' He has a shot to be that. You don't notice him until he cuts it loose and the guy is out by two steps. He has a great demeanor and I'm a really big fan of his. He's a really good athlete, he's flexible, he can make the low pitch look good, and he is a really hard worker."
Taylor Smith – C (6-1, 210, Georgetown, TX – Incarnate Word)
Named Freshman All-American by D1Baseball.com, Perfect Game and Collegiate Baseball as a freshman at Incarnate Word
Led the Southland Conference with 16 home runs as a freshman
Hit .322 and added 13 doubles, 57 RBI and 49 runs in 2019
Named Southland Conference Freshman of the Year
Seely's Scout: "When we played Incarnate Word last year, Coach Childress leans over to me during the game and asks, 'Who is this?' I honestly didn't know, and it was a humbling moment. He was clearly one of the best players on the field, and he was a freshman. Once he went to junior college, there was nothing I wasn't going to do to make sure we got him. He's an impact baseball player for us from day one and a middle-of-the-order bat.
"He's what they look like. He's competitive, he's aggressive, he's tough, and he has a great demeanor."
Adds Childress: "I would say a lot of coaches around the state who played Incarnate Word would say the same thing I did. He wasn't on the big summer circuit and went to a small high school in Georgetown. Not a lot of people knew about him except for the Incarnate Word coaching staff.
"I think that guy is super talented. He's strong and physical with a plus-arm, plus-receiver. He's got strength with the bat and he's the total package. He's one we worked really, really hard on recruiting. It came down to the last week, and he was a huge get for us. He's one we're going to sweat next June and he's going to have a decision to make – do I want to play a year of SEC baseball or start my professional career now?"
Ryan Targac – INF (6-1, 190, Hallettsville, TX – Hallettsville HS)
Logged an 8-2 record on the mound with an 0.32 ERA, 67 strikeouts and five shutouts in 43.2 innings as a junior
Hit .443 (35-for-79) with seven doubles, five home runs, 31 runs and 22 stolen bases in 2019
Named Victoria Advocate Pitcher of the Year and district Co-MVP in 2019
Second-team 3A All-State selection by the Texas Sportswriters Association
Seely's Scout: "Ryan is a switch-hitter with a great left-handed swing and a very good right-handed swing. He plays shortstop but can play multiple spots on the infield. He has a great baseball IQ, he's savvy and has a great feel for the game. He's patient at the plate and he can hurt you. He's very strong and I think he's only going to get stronger and bigger. He's got a shot to be very physical and play on the dirt."
Wyatt Tucker – RHP (6-3, 200, Douglass, TX – Douglass HS)
Earned Tyler Morning Telegraph All-East Texas Honorable Mention as a junior in 2019
Notched a 5-0 record with an 0.52 ERA and 69 strikeouts in 40.1 innings as a junior
Hit .333 with 22 runs and 13 RBI
Went 8-0 with an 0.66 ERA and 99 strikeouts in 63.2 innings as a sophomore in 2018
Seely's Scout: "Wyatt is very physical. I saw him between his sophomore and junior years, and I thought he was on attack the most of anyone I saw. He was attacking the strike zone, attacking the hitters, and he had some feel and imagination. He wasn't trying to air it out for the radar gun, it was just intent when he was pitching. You fall in love with guys who do that. His intent and feel and imagination clearly separated him from the other right-handed pitchers, and he is also very projectable."
Adds Childress: "He's a small-town East Texas kid and a guy that really lit Justin up a couple of summers ago with his plus pitchability and plus stuff. He's very physical and very competitive and a guy that is upper 80s, low 90s, and can land the breaking ball for a strike. We expect him to come in and have an immediate impact for us."
Thomas Vincent – LHP (6-2, 200, Houston, TX – Memorial HS)
2019 PG Preseason Underclassmen All-American Honorable Mention
Logged a 7-1 record on the mound with a 1.53 ERA and 70 strikeouts in 50.1 innings as a junior in 2019
Named 2019 District 17-6A Most Valuable Player
Seely's Scout: "His high school coach coached me when I was young, and every guy that I've ever asked him about he's given me an unbelievable evaluation. Boomer White, Christian Roa, the list goes on and on. He told me Thomas is as competitive and hard-working as Christian Roa, and I was like, 'If this guy can pitch at all, then I'm in.' I went to watch him pitch and he's an artist with stuff. He has a good arm. He's very nice and humble, but on the mound he's a different animal. Guys like him pitch early because he has feel for what's going on in the game at all times and he has control of everything he's doing off the field. I think Thomas is going to fall in line with the other Memorial guys we've had."
Adds Childress: "Maybe the most polished pitcher of the group. He's ready to come in, throws three pitches for a strike, and is very similar to Christian Roa. He has a high level of competitiveness and wants to be great. He has been one of the top pitchers at Memorial since he was a freshman, and that's saying an awful lot at that school. Tommy is going to come in here and be a guy that's ready to step in and pitch for us in a big role right away because he can really pitch."
Never miss the latest news from TexAgs!
Join our free email list