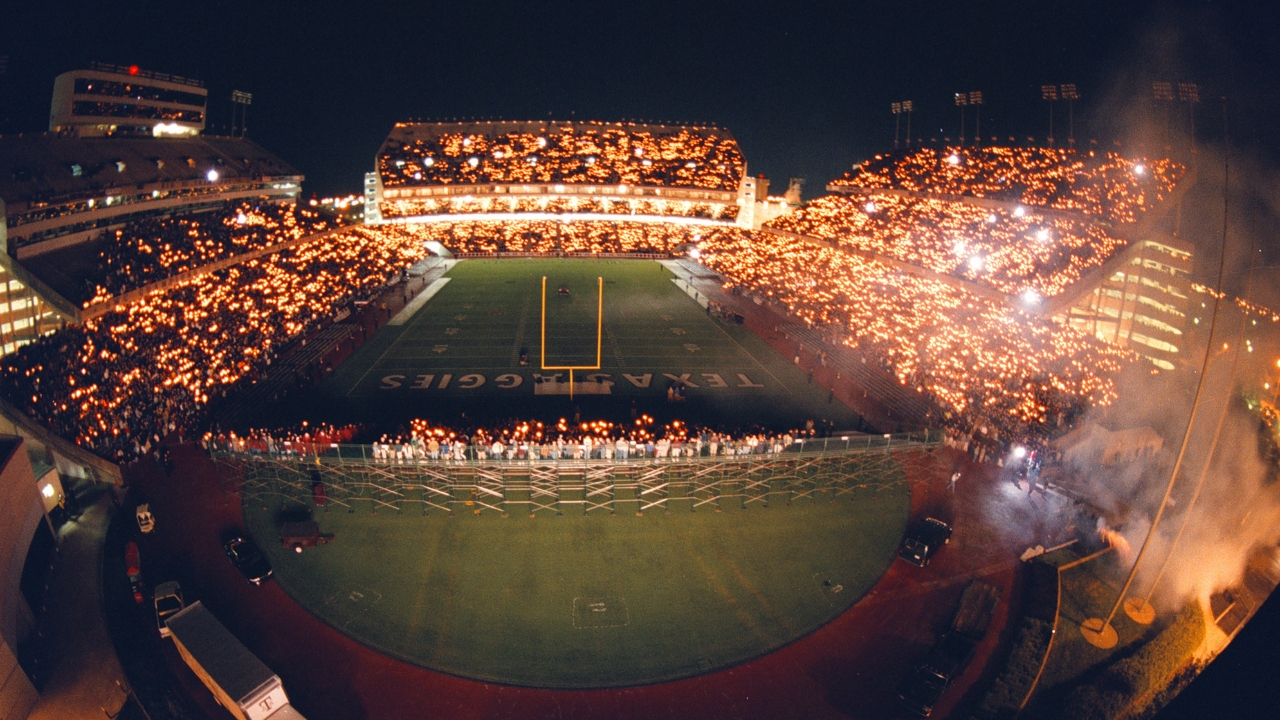 Liucci & Seth McKinney
Jay Brooks Q&A
Texas A&M Football
Liucci, Seth McKinney & Jay Brooks reflect on Bonfire's collapse 20 years later
---
Key notes from Seth McKinney
I want to take a step back and speak on Bonfire as a whole. As a kid, Bonfire meant so much to my family and me. You remember the fun things in your life and going to Bonfire as a kid was fun. I tried to get as close as I could to the flame. Camaraderie is what A&M means. Whether I was a fan or player, I got to experience something that meant so much to the university and kids who built it. The people who built Bonfire had this spirit that I hope can be spread to others now.

The rivalry against Texas brought us to where we were because it inspired Bonfire. The morning it happened, our phones rang off the hook. We woke up and turned on the TV and weren't sure what was going on. I was just under the impression that Bonfire had tilted in the beginning.

It was a crazy experience just to drive by and see the crowd and emergency medical staff. You can't wrap your head around the weight of one log; there were about 30 players to one log. When I got there, the rest of the team came, and we were all moving logs. All the students had crowded around and were helping, no matter their size. We wanted to be out there as a team. If you were there, you'll never forget. This was put on for a rivalry football game, so there were emotional ramifications of helping too.

I can't say much about the ins and outs of putting on the game, but not playing was a consideration. As a player, you're in it, so you're out there doing what you have to do. It was a reprieve for what happened. Our preparation didn't change, but that's a compliment to the coaching staff. Randy and Jason Webster were the first to approach Coach Slocum about not practicing. Whoever was in charge of seeing that things were done correctly deserves a lot of credit because we got the game off in a proper manner. Without Shane Lechler, I don't know if we would've won the game. He was the MVP

When they did the candlelight vigil, it was so silent. It was like nothing you'd ever experienced in your life before.
Key notes from Jay Brooks interview
I always think of that play and thought I could do it. The team set me up to make it. I just wanted to do the right thing for the team and A&M. If the play didn't happen, what would've? I would have been happy as long as we won the game.

There was a timeout; RC said someone had to make a play, and I knew I had to. We had been practicing it all week. The play was called "Bevo Blitz," right off the edge, and it worked perfectly. After the hit, I probably had a chance to recover the ball, but I took off running to midfield and was tackled. I'm a huge celebrator. Once I knocked the ball out, I thought it was over. Then I stood watching it over, and everyone went crazy once the recovery was confirmed.

I never thought 20 years down the road that play would still be this big. I remember being at Bonfire the night of the collapse. I wish we could find a way to play Texas and burn Bonfire again.
Never miss the latest news from TexAgs!
Join our free email list