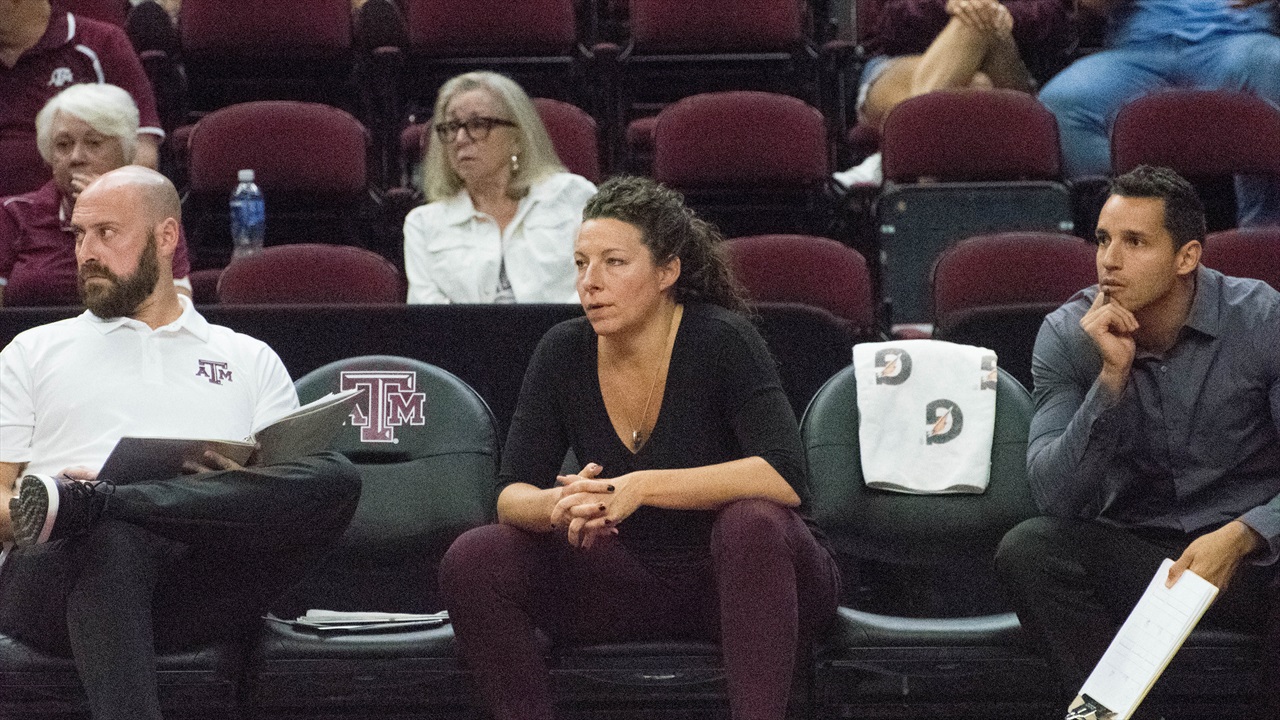 Photo by Kennedy Curley, TexAgs
Texas A&M Volleyball
Following wins over ranked Kentucky & Missouri, Aggies crack Top 25
---
On getting the momentum early on the road vs. Kentucky:
I really just think our competitive chemistry is coming on right now, and it's just a good time of year in the season. Our kids are feeling that confidence with each other and trusting each other on the court. They set that tone, and that's what we've been talking about in the gym on a daily basis, but they're feeling it now.
On which players make key differences in matches that the box score might not show:
I mean it's always little pieces and people doing their role and doing their job. Camila Gomez: she might not lead in digs all of the time, but the plays that she makes on out-of-system balls and the saves that she has. It's the same at the end of Missouri. Taylor Voss had a crazy cover play. Jus the grind plays. [Treyaunna Rush] has obviously come on, so you see that in the box score, but those are intangibles and dynamics of a team. That is trust. That is building trust because the people around you then know what you're capable of and what they can rely on you for.
On where the Kentucky road trip ranks among trips this season:
It was definitely one of the top on the list. Ole Miss was fun, of course. We dressed up this time, so that was crazy, but just their personalities; it's just fun to be around them. Any time you can go and close a team out on someone else's court, it's going to be special.
On the Kentucky road trip's dress-up theme:
Halloween. Our staff was Scooby-Doo. [Treyaunna Rush] was the scary thing Pennywise from 'It.' [Madison Bowser] was the kid. There was a lot. There was a group of babies — the juniors. A group of 80s girls were the seniors. I was Daphne (from Scooby-Doo).
On victories over top-three SEC teams potentially sending a message to the rest of the conference:
I think we're just a solid competitor. The SEC is so strong right now that every match is going to be a battle. We've talked about that all season, but us finishing and really being consistent in our game, but balance. We really want that balance defensively, executing at a high level. Getting all cylinders going. Camille (Conner), middles, Trey on the right, our pins both going. We still have yet to see that take off, but people have their matches. That's always good to see.
On how getting revenge against Missouri felt:
I think it was satisfying because we lost in five last year up there and then earlier this season. To beat them at home and to do it in four, I think for our team, that's where we're at. Everyone talks about "the process." They're feeling it, and it took that. It has to come from inside and the core, and that's really what I think is special. Camille is really being a leader and is setting that tone. We talk about it, and they can feel it. Internally, they know it's for real.
On being ranked No. 25 in the AVCA Coaches Poll:
It's all about what's in our locker room, our team room. I mean, it's nice. It's like I say, they've earned it and they deserve it. This team does. We know, at the end of the day, it's about what we think and what we believe. They've shown that now.
On keeping the team focused following a very successful run against tough opponents:
It's not about the competition. I think every opponent is worthy of our best game, and needs our best game, especially in the SEC. There are going to be stretches where we have three matches in six days, so there is still a little bit of a grind and training strategy that we have to figure out later in this month. There's always going to be a new challenge.
On keys to keeping the win streak alive vs. Arkansas and LSU this weekend:
Both solid teams. Different styles of play. Arkansas — they're going to bring it. I mean, we went there already this season, and they have some really young pins. They have some young players, but they have some competitors. They're going to be solid. LSU — they're probably one of the most dynamic rosters they've had, so that's pretty intimidating when it comes to both pins and middles. They have a freshman setter that's super athletic and dynamic. It's a different style, and we have to prepare our team and just execute at a high-level defensive.
Never miss the latest news from TexAgs!
Join our free email list