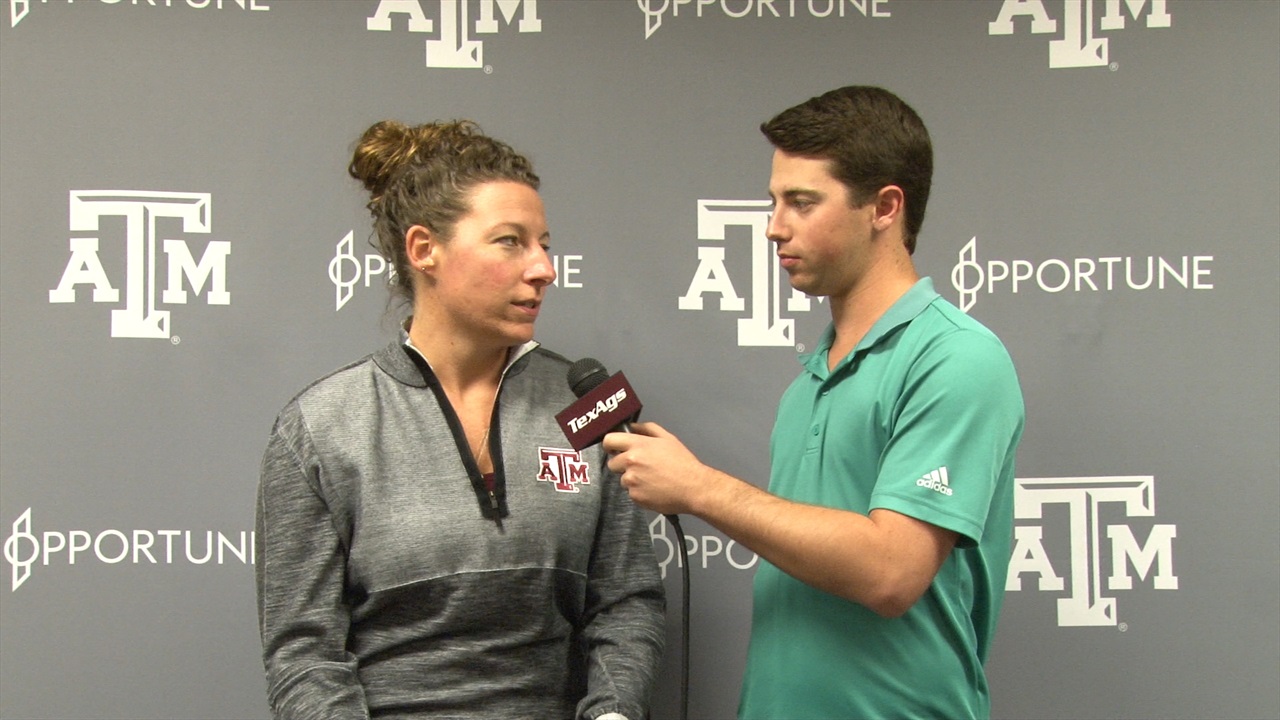 Texas A&M Volleyball
A&M volleyball riding momentum into weekend against ranked opponents
---
On improving on their bye week:
The week of practice was kind of up and down, but I think you get that with a bye week just because the focus can be a little more relaxed in their brains. I was really pleasantly surprised with how we executed against Georgia. They really came out and defensively managed who we needed to on the pins. Offensively, obviously [Treyuanna Rush] had a great match. We need that balance on the pins. We're really happy with where we're at.
On sweep vs. Georgia continuing their growing momentum:
It's huge. The SEC is so strong right now, and it's the middle of the season, so this is where you have to create separation. There's a lot, we're a lot tied up. The more wins we can put together when we're on the road, those are big wins. Being home, we have to take advantage of that. I'm proud of the team and their execution, but we've got to keep grinding.
On Treyuanna Rush's performance vs. Georgia:
I just think her, competitively, she's really come into her game. We always talk about meshing your personality, she's done that. She's out there and she's comfortable and I think that has given her more confidence. She was just aggressive [vs. Georgia]. That's what we need from her, all of the time. Even blocking wise, she was setting good blocks. We had to manage the pins. She put it together [vs. Georgia].
On younger players starting to show growth:
I think they've all grown. I think our team has grown as a group. Competitively, the competitive chemistry that we talked about a couple of weeks ago. It's all part of the game and the process of athletics. You have to get used to playing with each other, learn each other, and they keep growing in their game. We're always training skills and different things, so it's nice that they can execute, but it's nice when they put things together and it becomes their game. That's when it's really unique, and that's what's starting to happen for them.
On which freshmen have really stuck out to her:
Trey for sure. I mean, obviously, she's going to be a huge impact. Lauren Davis has been solid. Both of them on the pins is going to be big for us. Our DS/libero group is solid for us, and they all know that at any point they can be called on and serve, take care and do their job.
On going into road match at Kentucky with momentum:
That's going to be huge. Volleyball is a game of momentum. We always talk about momentum moments as a team right now. It's going to be a battle. And we're going to be on the road, so we're going to have to get back into that mentality. I'm excited. I love taking this team on the road. I think they really thrive in those atmospheres and that environment. It'll be another challenge. It's another opportunity, and we've got to take advantage of it.
On looking for revenge vs. Missouri at home on Sunday:
For sure. It's going to come down to execution and putting on the finish. That's what we've been focused on is finishing; same execution, finish.
Never miss the latest news from TexAgs!
Join our free email list