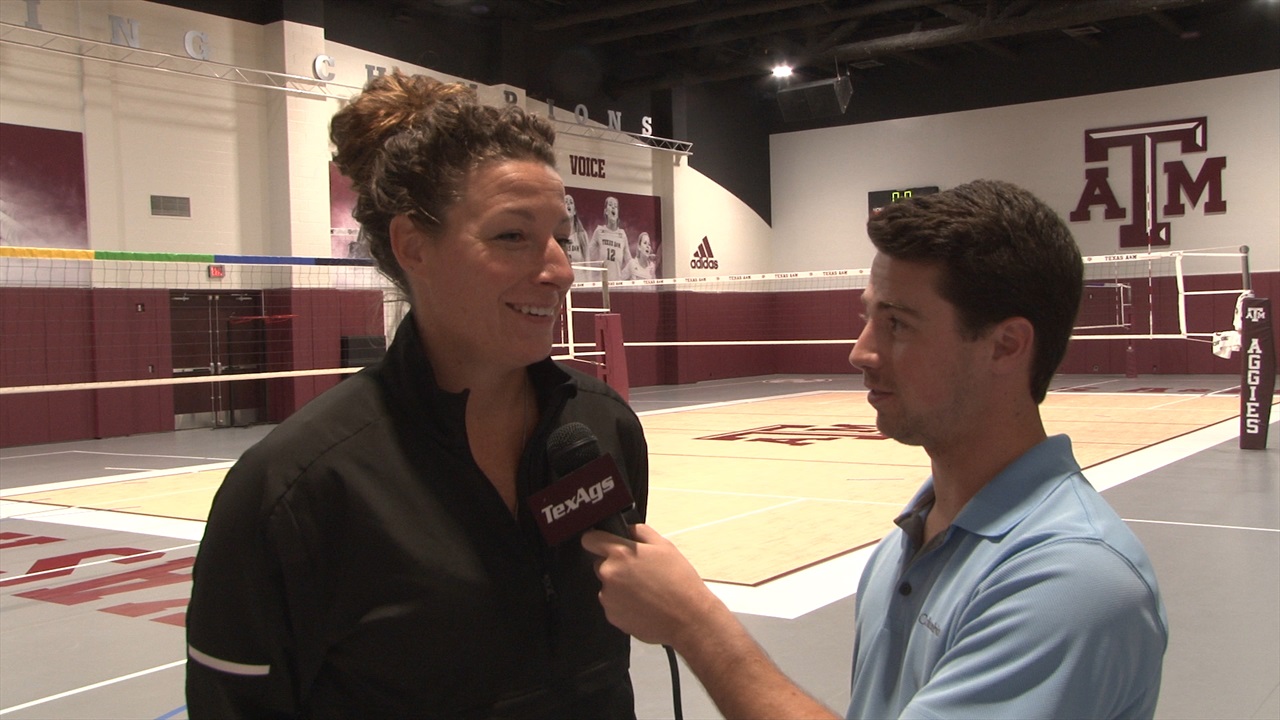 Bird Kuhn (1-on-1)
Radio: Kuhn & Hans
Texas A&M Volleyball
Bird Kuhn, Aggie volleyball looking to ride momentum from last weekend
---
On the win over Mississippi State:
It was good and it was good for the team. We were on the road. I kind of like going on the road with this team, just to hang out kind of reel them in. We get to spend so much more time together, so, even the scouts, just the interactions. I feel like we all get to focus a little bit more.
On the five-set upset victory at Ole Miss on Sunday:
It was a battle. If you watched the match at all or just look at the stat sheet, it was a battle. We gave the team a little challenge just to out cover them, and if we get blocked to cover that ball. And we ended up doing that, so it's a tangible thing, and that sets the tone. That's just an engagement for the team and outworking your opponents. I think little things like that – especially in a match, a battle like that – it's going to come down to grind points, and that's what it was on Sunday.
On what Camille Conner said to the team during the Ole Miss match:
I think she has her moments where she talks to the team one-on-one, but during one of the last challenges – I think it was off her dig; I challenged – she told that group that was on the floor before we broke that huddle, "This is where we grow up." I think anyways that steps up and kind of relays that message, that powerful of a message to their team in that message, that's Camille. I think that was a pivotal moment for the team to hear that from her and one of their actual teammates. I mean, that's huge out of a leader.
On Hollann Hans' career-high-tying 32 kill performance vs. Ole Miss:
Hollann is a go-to player. At the end game, she knew she was getting the ball and she wanted it. I think that's growth for her too. Not that she didn't want it before, but it was obvious. Her and Camille talked about it, but the whole team could feel it. I think that's what almost instilled all of the confidence. It's like everyone knew the gameplan, executed gameplan and had all of the confidence in each other to make it happen.
On if there was a party atmosphere following their first perfect weekend in over a month:
The locker room was. We definitely busted into the locker room and got crazy with them. This group is fun. Even when we're on the road, we have a good time with them. It was fun heading home and just celebrating with them. You have to feel that, you have to allow them to feel and experience that so that it's something you can build on.
On changes to practice and preparation with just one game this week:
We gave them an extra day off because we could, and I think that's huge for recovery. Really, at this point in the season, we're mid-season, them being fresh. Physically, we're going to work on things offensively, defensively. We'll always execute that stuff, gameplan wise, but for them to be fresh and have the recovery we can get this week at home, it's huge.
On the keys to defeating Georgia and keeping the momentum rolling:
We really have to get back on our offense, so we're going to focus a lot on our offense and what we need to do against Georgia to beat their defensive system. Then, managing their offense. They're balanced and they're smart. They're playing at a really good level right now, a high level and executing. So, managing them and their pins right now and us executing.
---
Key notes from Bird Kuhn interview on TexAgs Radio
It was a big weekend for us with back-to-back wins on the road. We had what I call the "road-warrior mentality", and I like how we were able to focus. The SEC is wide open, and everyone is competitive in every match.

Hollann is steady for us, never up-and-down, while Camille is demanding. They balance each other very well.

Sunday is going to be a big match against Georgia. They're playing well and we watched them beat Ole Miss last night.

Next up we have Kentucky on the road and Missouri on a Sunday. It will be good for the team to not have to travel this weekend.
Key notes from Hollann Hans interview on TexAgs Radio
With a week off between games, we've been working mostly in areas we need to improve on in preparation for Georgia.

It's been a total team effort and I couldn't be successful without the passers.

Camille Conner runs the offense and she's more vocal and intense while I'm more soft-spoken and calm. Our leadership styles complement each other.

It's been great to see our hard work paying off and our confidence building and we look forward to getting better.

The 12th Man makes a huge difference in our home games, so we're looking forward to Sunday.
Never miss the latest news from TexAgs!
Join our free email list