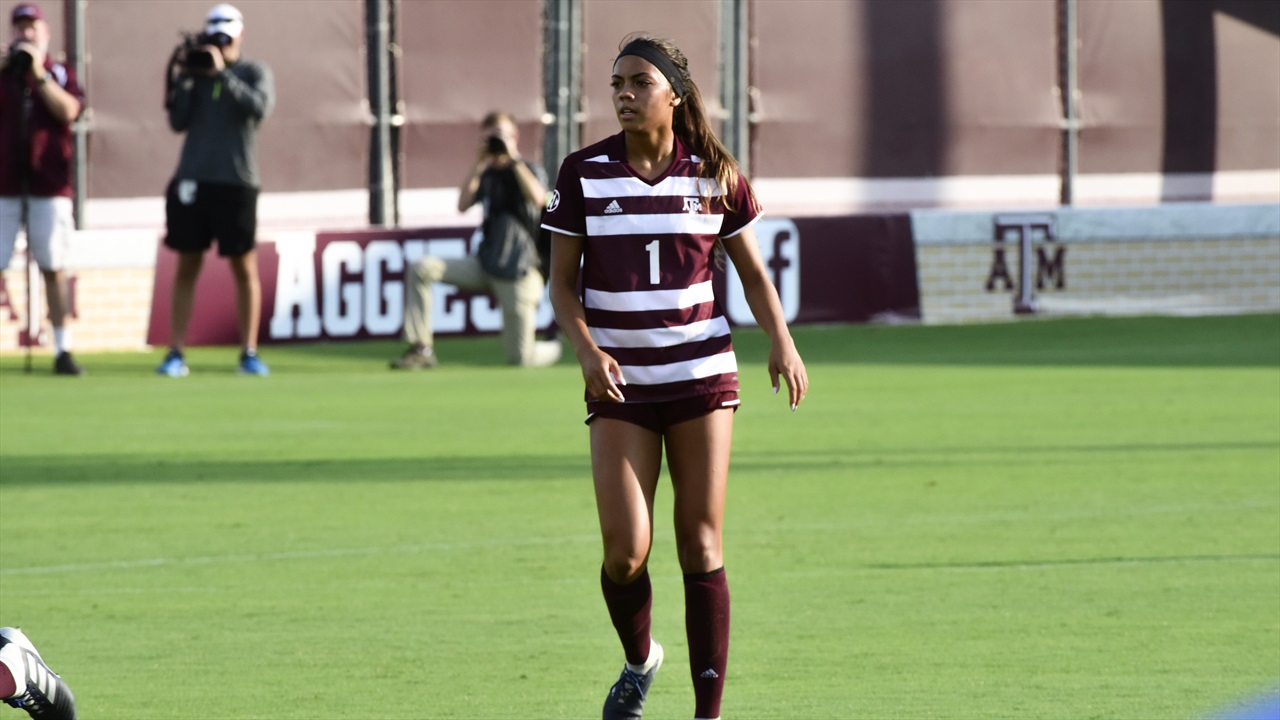 Photo by Elisabeth Schmitt, TexAgs
Texas A&M Soccer
Aggie soccer keeps win streak alive with shutout victory over Ohio State, 1-0
---
The No. 13 Texas A&M Aggies (4-0-1) survived a 1-0 shutout victory against the Ohio State Buckeyes (0-3-1) on Friday. The win gave the Aggies their fourth shutout in a row.
The Aggie offense started the game aggressively, finding appealing looks around the goal through the first 15 minutes of the game. The Buckeyes responded with heightened pressure on the Aggies' midfield, keeping the game even at 0-0 score through the first half. Coach G Guerrieri made his midfield adjustments at halftime.
"We had it going," coach G Guerrieri said. "I thought Ohio State did a good job against our midfield. We made some adjustments in the middle of midfield and brought Jordan Hill into that space to up our athletic ability."
The Aggies initiated an even stronger second half, getting more looks around the Buckeyes' goal. With 32:18 left in the second half, forward Jimena Lopez capitalized on a free kick about a yard outside of the penalty area.
"She probably practices that free-kick 30 times every day that she's on the field," coach Guerrieri said. "As soon as the free-kick was called, all of us on bench go, 'It's Jimena time.'"
"I feel very confident because my teammates have confidence in me, and my coaches have confidence in me."
Lopez has scored a goal in each of the Aggies' wins this season. Lopez's latest goal became her fourth of the season and made her the team's single leading scorer on the season so far.
"I feel very confident because my teammates have confidence in me, and my coaches have confidence in me," Lopez said.
Defensively, the team continued its momentum from the previous three games. The Buckeyes were able to get off 19 shots in the game, but the defensive backline rotated at the appropriate times to fill in where there previously was no defender. Freshman goalkeeper Shantell Hutton highlighted the defensive unit with four saves, three of which were in the second half.
"I only focused on the ball tonight," Hutton said. "Wherever it went on those corners, I just glued to it. I just decided those were all going to be mine."
The team morale continues to rise as the Aggies continue to collect wins. The team's resilience through the first five games has inspired individual players to play with intensified energy.
"I've never been on a team where the defenders will literally throw their bodies at the ball in order to block it," Hutton said. "That's been a really big help to me. It's made me want to go for every single ball."
The Aggies look to remain undefeated going into their next game against the Brown Bears on Sunday.
Never miss the latest news from TexAgs!
Join our free email list