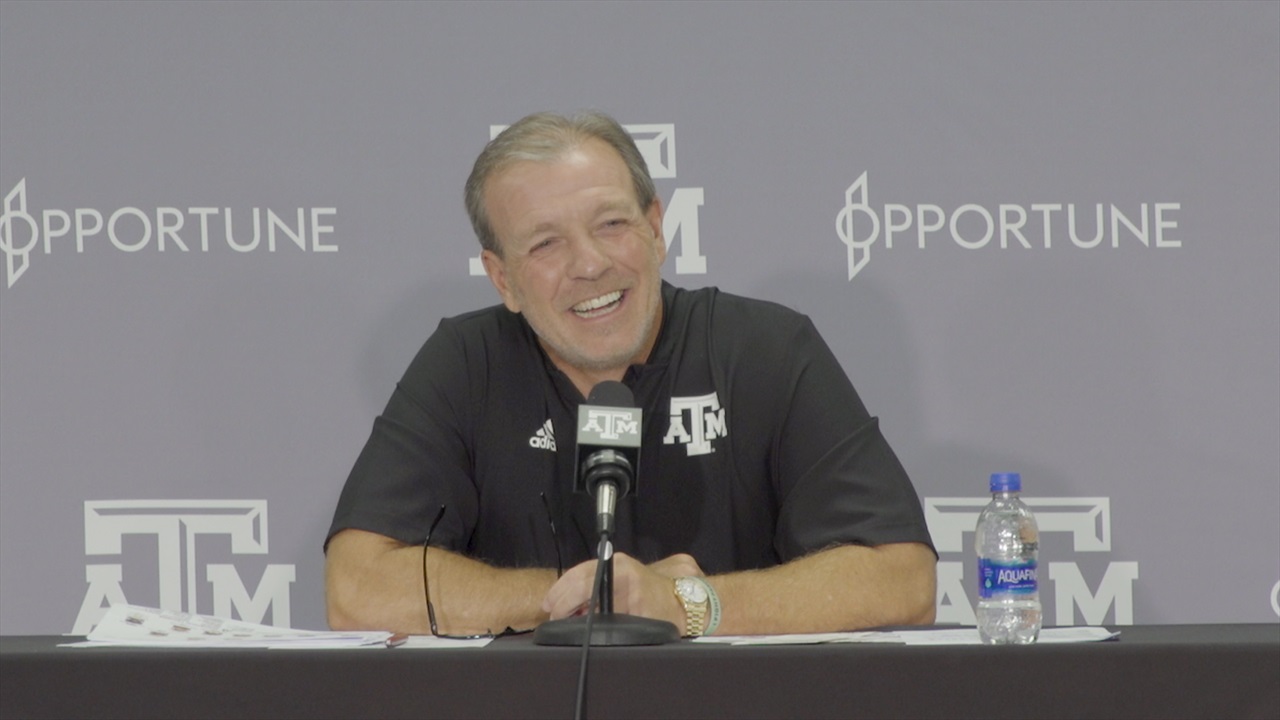 Jimbo Fisher
Jhamon Ausbon
Roney Elam
Jared Hocker
Bobby Brown
Kellen Mond
Kendrick Rogers
Tyree Johnson
Texas A&M Football
Aggies ready for difficult matchup with top-ranked Tigers
---
Texas A&M has turned their attention to the first of four daunting matchups on the 2019 schedule: the reigning national champion Clemson Tigers. Jimbo Fisher and some of the A&M players met with the media to look ahead to Saturday's ballgame.
---
The following are live, paraphrased notes from head coach Jimbo Fisher's press conference prior to Saturday's game against Clemson.
After going back and evaluating the film, it was a lot of good things. I thought we played well. There are a lot of things that we can clean up, though. I liked how we didn't have very many penalties. We had two turnovers which I was disappointed in. I think organization, we did a great job of communicating. We created turnovers which is great to see. I thought Kellen was extremely sharp the whole game. He was very accurate and controlled our offense very well. I thought Jashaun did very well as did Isaiah Spiller. Our receivers... No. 1 and No. 2 did a great job and did what they needed to do. I thought Hines did well coming off the injury. I thought special teams was very solid, Seth made his kicks and Braden did a good job of flipping the field. For a first game I was pleased. There are a lot of little things that we can clean up, making sure the communication is perfect. Everybody kept saying that we were looking at Clemson but we didn't do a thing for Clemson until we got past Texas State. Clemson is a really good team, Dabo has done a great job with Tee Higgins and Ross. Etienne is a very talented running back. Very, very talented team. They lost a lot of linemen but they are still very good. They know what they are doing and just very sound. Their special teams is really, really good. They are just a good team and playing them in Death Valley is not going to be easy.
Before you play the game you have to prepare, but it is one heck of an opportunity and that's what you want. We are going to be ready.
I thought overall the offensive line played well. There were mistakes but there are always going to be some miscommunications in week one. Not perfect by any means, you are always looking to get better but I thought it was a solid showing.
It's going to be loud in Death Valley and a lot of orange. They are a great fan base, classy fan base. They love their ball and they are very passionate about it. It's one of the venues you want to be at.
Debione Renfro will not play against Clemson. He is suspended for one more game.
When you say you are going to stop Clemson you have to do it in multiple ways. It's going to be an extremely tough challenge because they aren't just good in one aspect. The thing about Trevor is that he's very athletic, he can make plays.
Kellen has made of throws like the one he made to Jhamon in practice. On offense, until you get five full-speed routes you are never very good on offense. The throw he made was tremendous, big-time and he got rewarded for it. In our offense, you have the ability to throw it to five guys.
Establishing the run is going to be very important. If you can control the football, it's less time that they can be on the field. It's about controlling the clock and controlling the football and running it is very important to that.
I don't believe in hiding stuff, so when we put Bobby Brown out there it's to make sure that he can do it and do it well. He did a very good job and we have some others we can include on offense too.
Our prayers are with everyone in the Bahamas right now, and wherever that hurricane ends up. When I was in Florida, there were hurricanes. From our standpoint, we are playing unless we are told otherwise. We travel two days ahead of the game and if something changes, then we will adjust. We can only control what we can control.
Well, Jared Hocker better play well if he said that we are going to upset them (jokingly). What Jared said doesn't need to be said. We are going there to play and play well and we are confident.
Kellen Mond now is not the same player he was last year and neither is Trevor Lawrence. You can't put too much weight on last year's film, it gives us a good idea of what they have but at the same time there are so many variables of new players, schemes, etc. You can learn from it but you also have to focus on this game.
At the end of the day you can say all that you want but until you have done it, it's different. I think Kellen is doing a great job. He's a great player but he's also very intelligent.
Florida and Miami were also rivals when I was at Florida State. I don't like orange (jokingly).
You have to learn to block out all the clutter. We are playing a nameless, faceless opponent. You are who you are and what you do each day. If you are only getting motivated to play a certain team you are never going to win it all. If you sat and worried about your opponent, it doesn't work. Why do certain golfers play well? Why is Tom Brady so good? Why was Michael Jordan so great? Because they worry about themselves and concentrate on what they do. You look at yourself in the mirror at the end of the day. That's the only way to survive in this game.
Elijah Blades had a really good football game. He was really sound and I think he is a really, really good football player.
Never miss the latest news from TexAgs!
Join our free email list