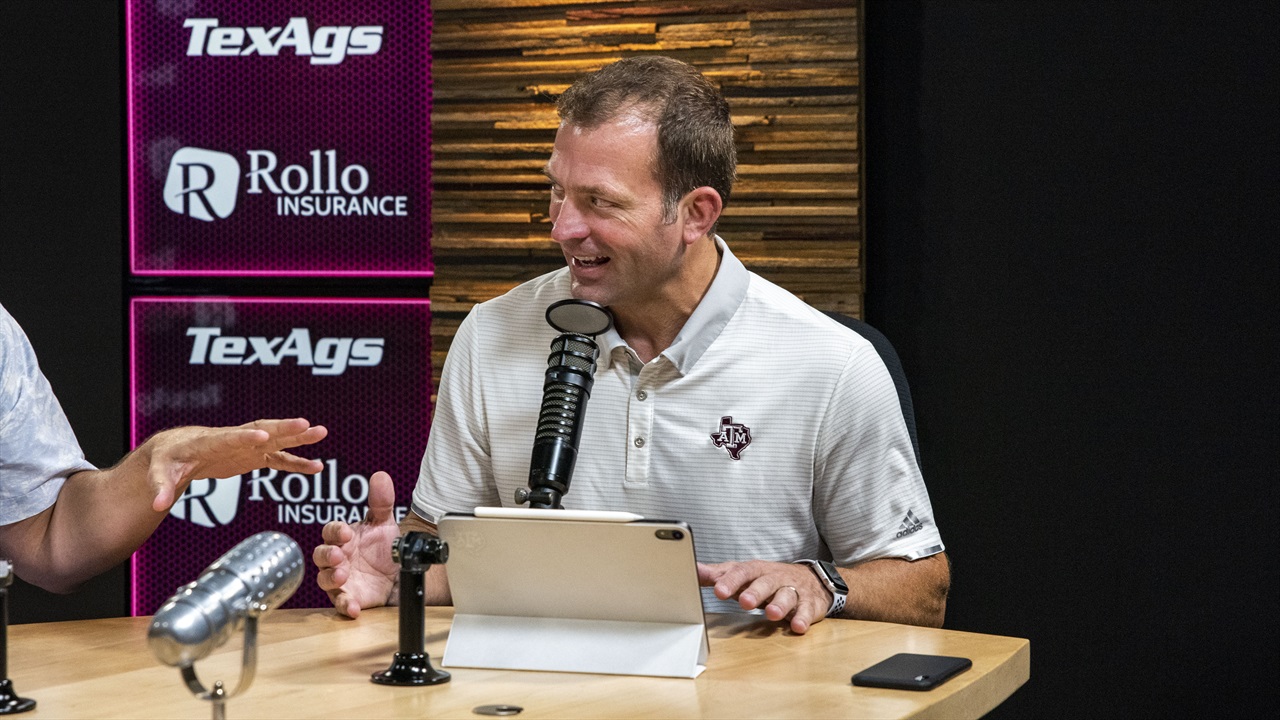 Photo by Lia Musgrave, TexAgs
Texas A&M Football
Texas A&M Athletics Director Ross Bjork discusses his view for the future
---
Key notes from Ross Bjork interview
I like that you called me "new." I want to keep that going as long as possible. I want to stay young, stay new. That way if I mess anything up, I can say, "Hey, I'm the new guy." Today is just day 47 for me on the job. The final count of days at Ole Miss? I don't know. It was over seven years. After the first year, I'll stop counting. Once I get into the 300 range, I'll probably lose count.

From the outside, I've been around A&M through the SEC at Ole Miss and Big 12 while I was at Missouri. I've learned the passion here is incredible. I've learned that Aggies love their university as much as anybody. We're not perfect, and Aggies understand that. Aggies know that we can always be better. "What's the vision? What's the planning?" People want to get better.

I've also learned the traditions. We were with the Fightin' Aggie Band this morning, taking them Gatorade. There's nothing better about Texas A&M than the band and the corps for what it signifies here. One of the things I've learned is when you greet a crowd or you're on the radio, you always say "Howdy." The way the band says "howdy" back to you, it gives you goosebumps. I made them do it again because it was so cool. No place has a greeting where everyone yells it back to you. I think that's awesome. There are so many other traditions that we will learn as we get into gameday and just from walking around campus.

I think Jimbo has said that he wants the football team to get the band's preparation level. He has said that when the football team gets to that level, then we will win championships. And he's right. They were out there saying things like, "Run that again." That's stuff football coaches say. That precision is incredible.

I'm not sure exactly what I can expect from this football season because I am new here, but I am excited. I got to about every fourth practice or so. I'm on the sideline. I've seen the attention to detail that Coach Fisher works with. One example of that is in a recent practice. He had a cone put not at 10 yards, not at 15, but specifically at 18 yards. That's precision. That's attention to detail.

When I was the athletic director at Western Kentucky, I was getting questions about the SEC expansion because of my time at Missouri and, of course, I thought A&M was a perfect fit. Then I was at Ole Miss, and July 1st rolled around, it was a perfect, seamless transition. It's now year eight in the SEC for A&M. For where we sit in our state, we need our program to be successful. They need us to be successful now.

I don't know how many athletic director meetings I've been to in seven years working in the SEC. I've been to two now representing A&M. In every meeting, we have a conversation based around something having to do with football scheduling, whether it be non-conference or in-conference. Every single meeting. I think it's perfect right now with the eight conference games and the one power five game. I like that model. It allows you the option to play teams like Notre Dame and Clemson. I like the flexibility it offers with the other three games as well. I like it from a competition standpoint. We can get two teams into the playoff as a conference with where we are at right now. We are the leader in this sport. I would like to see more variety on the east coast. TV deals are important too. It's still three to five, maybe even eight years until we see significant changes.

Our Adidas contract goes until 2021. We could negotiate earlier before then if we needed to. I've got good connections and relationships with people at Adidas from my time at UCLA. We're looking at it, and we're having those conversations.

The contract with the SEC and CBS goes through the end of the 2023 football season. Those conversations are happening at a very high level. It will have to be a significant change if anything happens early on that front. But our deal with Learfield has tremendous upside locally.

I like that we're playing like-minded universities in our non-conference schedule: big stadiums, huge fanbases, state universities. With regards to scheduling going forward, we're scheduled out through 2027. Past that point, that's the likes of who we're talking with for future games. But I do like that model of playing the bigger schools, in the bigger stadiums.

The other question is the future of the Arkansas game. That contract ends in 2024. I would prefer to have four SEC home games every year, not every other year. I've made that statement before as well. That would possibly also change our non-conference scheduling a little.

I think a lot of things we do in college athletics are fundamental. It's about communication, fundraising, and business planning. Building those relationships is a huge part of the job. That aspect is very similar to when I took over at Ole Miss. One thing we need to do here is to communicate better inside the athletic department. We're spread out over so many different buildings. The big difference is the scale. It's a lot bigger here at Texas A&M. We're much larger and much more spread out.

To me, it's never about me. It's about the program. This is my 201st meeting, interaction, whatever you want to call it, in 47 days since I officially took over. That's because I see the athletic director as the leader with the fanbase. Obviously, the athletes and coaches are the faces of our program. But to me, I need to provide that energy and engage with our fans like I am. The other day, I stopped at a rest stop and introduced myself to a guy wearing an A&M shirt. I told him I was the new athletic director at Texas A&M and he was honestly shocked that I would be doing that given the position I'm in.

I think we have to provide a good experience at our games. We have an excellent platform for that because we have the best stadium in the nation. It's also good we're opening on a Thursday, so we can have more time to get better and address our issues that might come up.

We're partners with Levy and have been since the stadium opened. I'm aware that there have been some dust-ups in the past that have lead to traffic on this website. Levy is a very well-run organization. The conversation with them is 'we are you, and you are us.' They're going to roll out ten more restaurant options this year and have hired up to 250 new staff members.

As far as alcohol, everyone is going to be carded. It doesn't matter if you look 55 or 18, you will be carded. We will have more security around that and will have a mounted police presence this year. There have been studies that show that sell alcohol in your stadium cuts down on your problems — selling alcohol in your stadium leads to less binge drinking and issues of the like.

Right now, we have a very good complement of sports. We have to be excellent at the sports we have now before we can add anything to that. That's part of it. Another part is we have to go through Title IX before we can add anything. Right now, we meet our Title IX requirements. But really, I want to win first with the sports we already have before we look to add any new sports here.

If you saw my iPad, you'd see that my priority list changes from one day to the next because of the different things I see. We have a broad list of things we're looking at. What can we do in the next 30 days? 90 days? Two years? Five years? Those lists are forming on a daily, hourly basis to address things we need to fix.

Until I see it in action, it's hard to say we should add things to the game experience inside Kyle Field. We can't mess with tradition. I need to see it first. I've talked with Mike Wright about what do we say at first downs? I've heard it changed recently. I need to see it. We will have people come in from outside and analyze it as well so that we can get better.

In 47 days, I have no idea what a bevel is. That is the first question I've gotten about that. I'll study up on it though. I will find out what a bevel is. We have an expert on our campus, Shane Hinckley, who runs all of the licensing. He just won an award for work. It sounds like I need to give him a call and find out what the bevel is.

The longer list of things to do addresses renovations to our facilities. You dream first and then think about practicality for your facilities. Reed Arena is a tired building. It needs premium seating, and it needs all of these things. Reed Arena is at the top of our priority list on that front. After that, the whole corner with soccer, the old softball stadium and the old track, that entire area needs attention. Soccer is a great program, and it's been a while since it's seen any attention. Then Blue Bell Park needs some changes. I think there are a lot of things we can do around Kyle Field, the most beautiful stadium in the country, to make it even better. There's a lot of things we can do better, and so much we can do with it. There will have to be a capital campaign, and we'll have to see what our Aggies want.

The energy level that Buzz Williams brings is fantastic. His trip to Puerto Rico was huge because it allowed him to practice and have leadership talks with his team. He's trying to change the culture. We're going to have a thin roster this year, but there is a "buzz" surrounding this program. We've already done some things inside the practice facility. That program is going to be successful because of the type of person Buzz Williams is.
Never miss the latest news from TexAgs!
Join our free email list