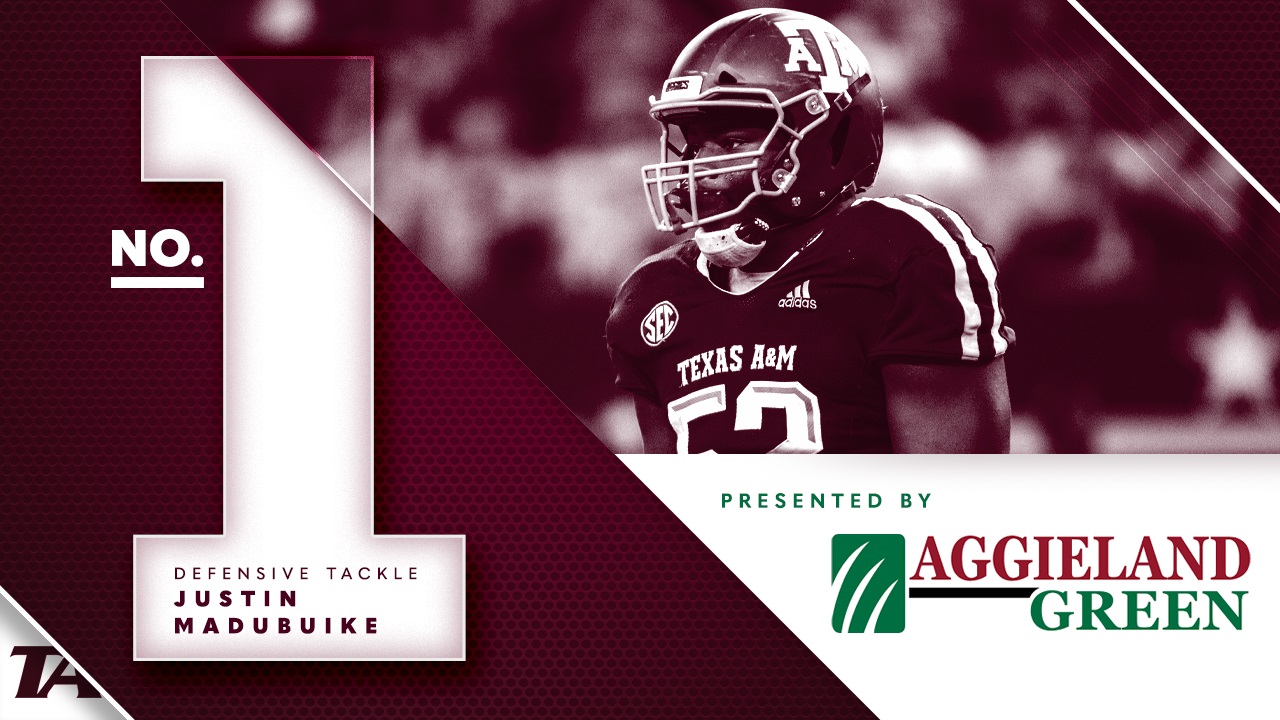 Texas A&M Football
30 Players in 30 Days: #1 — Justin Madubuike
---
Position: Defensive Line
Classification: Junior
Hometown: McKinney, Texas
Listed Height: 6-3
Listed Weight: 304
Notes from Liucci's thoughts on Madubuike
Brauny and I were talking about who would lead the team in sacks. He went with Tyree Johnson. I went with Madubuike. If it weren't for a couple of facemasks, he would've lead the team in sacks last year. He would've had 8.5, maybe 9.0 sacks as an interior lineman.

This year, with Johnson, Bobby Brown and Jayden Peevy, that will free up Madubuike on the pass rush. You can move him around a lot too.

If he makes another jump like he did from his freshman to sophomore season, he could be a first-round draft picks. He looks the part. At times, he's tough to block. He's very disruptive. I would not be surprised if Mike Elko made some more moves to make him even more disruptive this year.

I won't call him this year's Quinten Williams. It doesn't often happen where a guy comes out of nowhere like that. Madubuike is already on the map because he played well last year.

His freshman year, he hurt his back and was out for a good part of the season. He's a fourth-year junior. He was probably the most improved player on the team last year just because he hadn't played that much. He could leave and be a top ten to 15 pick in the draft.

When he came on his visit, he was 250 pounds. He was an end. I always get him confused with Myles Garrett on who had the more impressive high school tape. He was a really good high school defensive end. He still moves like an end even though he's an inside guy. He could still play end now, even at 300 pounds.

He will show out at the combine, whenever that comes. Unfortunately, for A&M, that will probably be this next combine. I expect him to have a tremendous season this year and impress a lot of people.

Some make a big deal about the guys who left this season. Those guys weren't always a huge part of the plan, but they were huge for depth upfront. This defensive line with Peevy, Brown and Madubuike is still very talented and clear up a lot for those linebackers. Madubuike is a considerable part of that.

I think he can do more than 8.0 sacks and 15 tackles for loss this season. That's high, but I think he can still do more. I believe he could up his tackles for loss number this year.
EXCLUSIVE: FREE OFFER...
Each day this week Aggieland Green is doing a daily giveaway for a free Mosquito Barrier Program or a free Custom Lawn Treatment Program for the remainder of 2019. A drawing will be held once EVERY DAY this week. All you have to do is click HERE to enter to win. Service limited up to 10,000 sqft and in the Bryan, College Station, Magnolia areas.
Follow the entire 30 Players in 30 Days series here.
Never miss the latest news from TexAgs!
Join our free email list