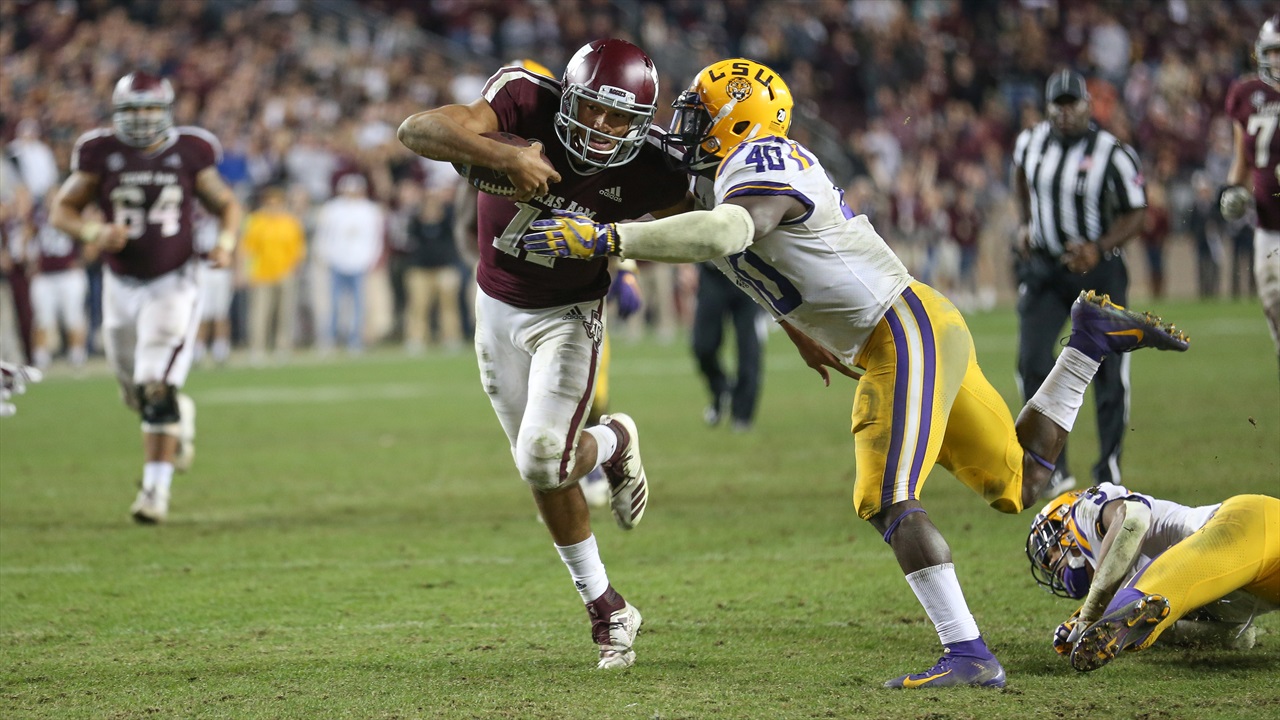 Photo by Matt Sachs, TexAgs
Texas A&M Football
Ed Orgeron, LSU Tigers excited for rematch with Texas A&M in November
---
Apparently, hate doesn't run too deep in the Sabine.
The river which separates Texas and Louisiana was supposed to be the dividing line for college football's newest — or at least renewed — border war.
The Aggies' 74-72 seven-overtime victory last November figured to lift Texas A&M-LSU into the realm of the nation's nastiest feuds alongside Ohio State-Michigan, Alabama-Auburn, Texas-Oklahoma and Pittsburgh-West Virginia.
Gravel-voiced, barrel-chested LSU coach Ed Orgeron seemed to ensure that at the SEC spring meetings when he said: "It's going to be a hell of a week when A&M comes into town in Baton Rouge. I promise you that."
Orgeron was still irked by those bothersome details — also known as, you know, rules — that enabled the Aggies to forge a last-second tie and then prevail in overtime(s).
Even at SEC Media Days on Monday he still hadn't quite come to grips with the fact that:
Kellen Mond's knee was indeed down.
A second remained on the clock when Mond spiked the football.
A pass interference call against Greedy Williams on Kendrick Rogers in the corner of the end zone was legitimate.
Jace Sternberger's hit-and-bobble was a dropped pass and wasn't really, exactly, absolutely a fumble.
"We all know what happened. Both teams fought. They're coming to Baton Rouge. We'll see what happens."
OK, maybe the Aggies got lucky on that Sternberger call. But for all the times A&M's been hosed by SEC officials, from no-holds on Myles Garrett to no-horse collars on Johnny Manziel to no offsides against LSU, the Aggies were due a break.
In Orgeron's mind though, that game just broke the seal on a burgeoning blood-letting rivalry.
"I think last year's game added a bunch to the rivalry," Orgeron said. "Obviously, I'm not going to talk about the things that happened. We all know what happened. Both teams fought. They're coming to Baton Rouge. We'll see what happens."
All the elements are there. Bordering states universities in the same conference, recruiting the same players, squaring off in the final game of the regular season.
The image of the respective fan bases are polar opposites. LSU has some rabid fans that will taunt, curse and throw beer — or a warmer, similarly colored fluid — on opposing fans. A&M is known for well-mannered, welcoming fans.
LSU wanted A&M coach Jimbo Fisher, but was Myles away from closing the deal. So the Swamp Cats settled for Orgeron.
A&M once took LSU's defensive coordinator. LSU took A&M's athletic director. A fracas involving coaches followed A&M's seven overtime victory.
That's Schembechler-Hayes type stuff.
"I think after the way last year's game ended added something to the rivalry," Orgeron said. "I think it's a game that I'm going to be looking forward to and our players are going to be looking forward to."
Surely, the Tigers will be looking forward to the grudge match. Except, they claim no rivalry with A&M exists.
Despite the seven overtime loss, LSU's Media Day representatives still maintained that A&M doesn't have any more meaning to them than Arkansas, Auburn or Ole Miss.
"LSU has a lot of different trophies with a lot of different teams and I've been asked about a lot of different rivalries with like five or six teams," LSU quarterback Joe Burrow said. "Apparently, LSU has half its schedule as rivals."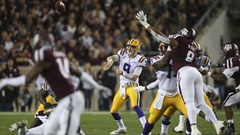 Troy Taormina/USA TODAY Sports
Center Lloyd Cushinberry echoed that thought.
"We try to leave the rivalry situation to the media and to the fans." Cushinberry said. "We approach it like every other game. We try to win and compete in every game. We'll leave the rivalry to the fans.
"It's just another game. We wanted to win that game, but that's the way things fall. It's just another game."
Even star LSU safety Grant Delpit, who thought he ended the game with an interception that was nullified and a fumble recovery that was waved off, couldn't be coaxed into claiming LSU should have won last season.
"The team that made the least mistakes won," he said.
But when further pressed, some of Orgeron's ire surfaced in the players.
"We've got them at home (this season)," Delpit said, "so we're definitely going to be hyped up."
Added Burrow: "Texas A&M is definitely a game we're excited for. Obviously, it's the last game of the year so it's a long, way away. But the way it ended last year doesn't sit well with us."
Maybe hate is running deeper in the Sabine than the Tigers care to admit.
Never miss the latest news from TexAgs!
Join our free email list