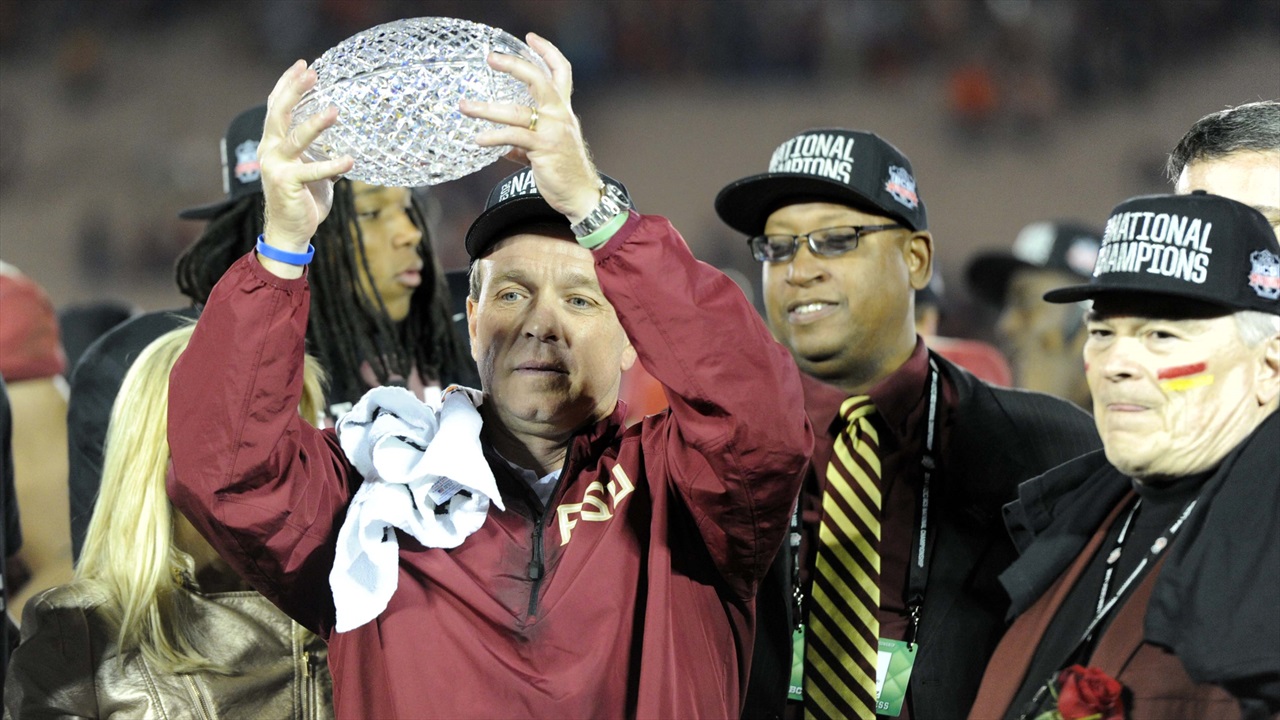 Photo by Kirby Lee/USA Today Sports
Texas A&M Football
Fisher the wrong scapegoat for struggling Florida State program
---
Back in 1994, Steve Spurrier famously suggested that the initials FSU stood for "Free Shoes University."
Twenty-five years later, it has apparently changed to "Find Scapegoat University." That would explain a Bleacher Report article released this week that blamed Jimbo Fisher for the mess that is now Florida State University's football program.
The article completely absolves current Florida State coach Willie Taggart of the Seminoles' 5-7 showing last season — their first losing record in more than 40 years. Instead, Fisher is blamed by unnamed assistant coaches and current FSU Athletic Director David Coborn for:
Poor academic performances
Non-compliance with NCAA "standards"
Dissension in the locker room last season
An atmosphere of entitlement
Subpar recruiting
Maybe there were some issues with academics and compliance. The officials at Florida State certainly would know more about that than someone living in College Station does.
If that was the case, why didn't Fisher's superiors react? Why didn't they push him toward Baton Rouge when LSU courted him as a possible replacement for Les Miles in 2016? Why didn't Florida State want Fisher out?
In fact, not only did they try to hold on to Fisher, he had FSU's support. When Texas A&M pursued Fisher in November of 2017, FSU President John Trasher certainly didn't want Fisher to leave. Indeed, he told Jacksonville's Florida Times-Union that he wanted Fisher to stay in Tallahassee.
Jimbo's here forever. As long as he wants to be. He's good. He's as good as gold. He's going to be here.
"Jimbo's here forever," Thrasher said. "As long as he wants to be. He's good. He's as good as gold. He's going to be here."
Obviously, that quote was forgotten. Or perhaps it just didn't fit the narrative.
There are also other facts that don't quite fit the narrative, like the question of poor recruiting.

According to 24/7 Sports, Fisher's last four recruiting classes at Florida State were ranked fourth, third, third and sixth in the nation.
The article listed seven examples of recruits that either transferred or were dismissed from the program from 2013-17. That's seven in five recruiting classes. In actuality, that's not too bad.
Still, Taggart complained about inheriting a mess.
Look closer, though. Last season, Florida State's offense included former five-star running back Cam Akers and former four-star quarterback Deondre Francois, who some projected as a Heisman contender.
The defense included former five-star cornerback Lavonta Taylor and six former four-star prospects. Former five-star defensive tackle Marvin Wilson isn't considered a starter because injuries forced him to miss all but four games.
Many coaches would envy a roster with that kind of talent. Taggart instead whined that there was dissension in the locker room. So it was Fisher fault's if Florida State players didn't buy into Taggart's program? Interestingly, the Aggies didn't have any issues buying into Fisher.
An unnamed assistant said that Florida State was on the verge of usurping Alabama as college football's dominant program, but that Fisher was too lenient with quarterback Jameis Winston and that caused the program to crumble.
Winston, of course, led the Seminoles to the 2013 national championship and 2014 playoff before being the first selection in the 2015 NFL draft.
The Seminoles followed with 10 victories in the two seasons after Winston's departure. The Seminoles did slip to 7-6 in 2017, but that year they were ravaged by a rash of injuries that included losing Francois for the season in an opening loss to Alabama.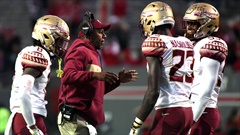 Rob Kinnan/USA Today Sports
Then last year, under Taggart, Florida State finished 5-7 for its first losing season since 1975, the Seminoles were in their first year under legendary coach Bobby Bowden.
That isn't meant to imply Taggart is a poor coach. He'd previously taken over struggling programs at West Kentucky and South Florida and built them into winners. He also took over at Oregon, which was 4-8 in 2016, and finished 7-5 in 2017. The Bleacher Report writer even pointed out that Oregon may have posted more wins had starting quarterback Justin Herbert not gotten injured.
Ironically, the writer didn't suggest Florida State might have won more under Fisher in 2017 had Francois not been lost for the season. For his part, Fisher chose not to respond to the rather convenient criticism in the article.
"I have no comment on that," he told Bleacher Report. "I loved my time at FSU. We left the program in good shape with good players."
Taggart and Florida State officials disagree. And that's convenient.
That way, if the Seminoles have a big year, the credit goes to Taggart's coaching expertise. And if the Seminoles lose again, they can blame the roster compiled by the coach no one wanted to leave.
That's the genius of Find Scapegoat University
Never miss the latest news from TexAgs!
Join our free email list