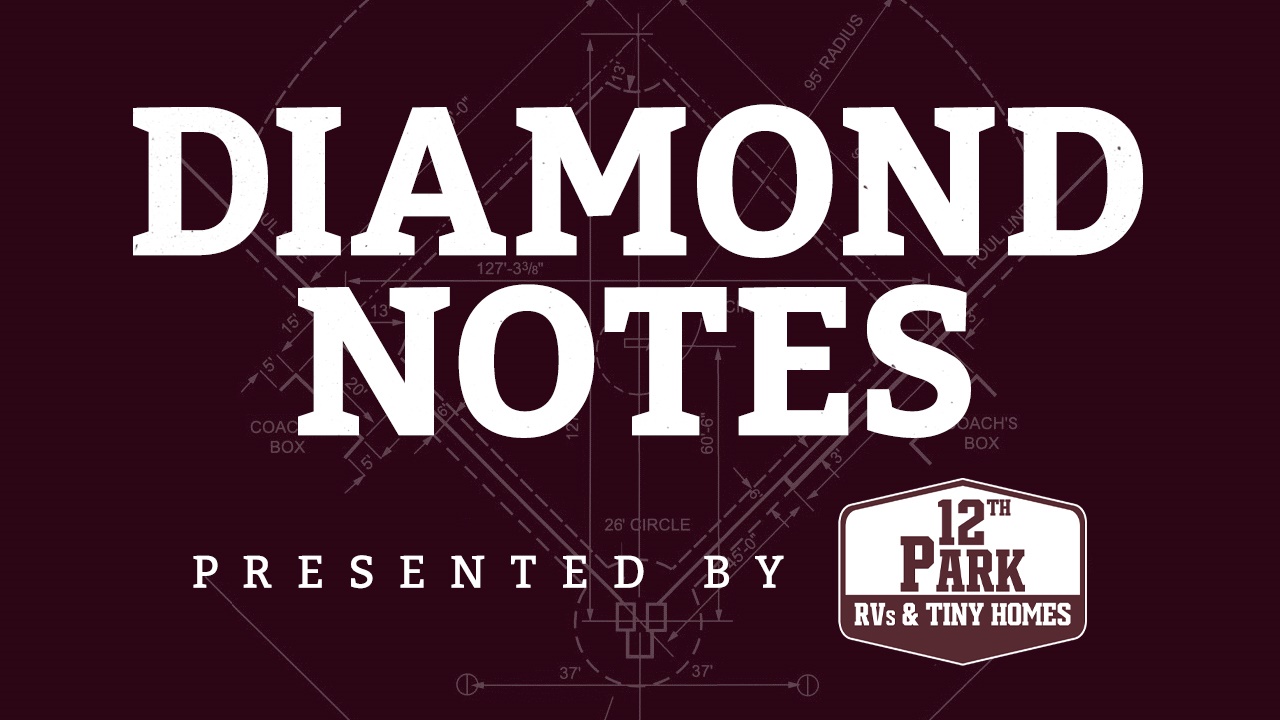 Texas A&M Baseball
Diamond Notes End of Season Edition: what to expect from A&M in 2020
---
I've written quite a bit over the last couple of weeks - from the offensive woes that led to an early exit in Hoover through the regional defeat in Morgantown - about the limp to the finish line in 2019. This particular report will not focus on A&M playing its way out of a chance to host a regional in a year where 12 of the 16 regional hosts made it to the second weekend. We won't re-hash the fact that just getting to the NCAA Tournament for the 13th straight year, while commendable, isn't what defines program success at a place like Texas A&M. We've talked ad nauseam about how back-to-back regional losses and playing three straight regionals away from Olsen Field isn't good enough. You know it. I know it. Everyone inside the program knows it and A&M head coach Rob Childress is spending the offseason in search of answers to reverse the trend that we're seeing right now with Aggie baseball.
What I want to do today is explore the 2020 personnel and individual pieces coming back next season (assuming there aren't any additional transfers (beyond Brandon Birdsell and reportedly Miko Rodriguez), free agent pro signings (see George Janca in '18) or retirements (see Chris Andritsos in '18) and discuss what has to be done to elevate a program that is currently sitting in probably just outside the top 20 nationally right now and suddenly an annual fringe host-type team. How does Childress, entering his 15th year at the helm of the Aggies, get the program to where it belongs on the pantheon of college baseball elites and inside the top 10, fighting for a national seed year-in, year-out? How does this program start making serious runs in June and not just get to June? How does A&M get to the point where it gets to Omaha with relative frequency and wins games when it does arrive on the grand stage?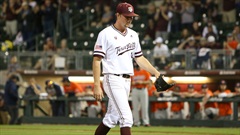 Mintie Betts, TexAgs
Some Monday baseball thoughts for you...
The Pitching:
• As anyone reading this report knows full-well, the number one element to the program that is considered elite by anyone's standards is the pitching staff. Childress is a pitching guru and has done a tremendous job building this roster of arms. There are some Big Leaguers on this roster and it is loaded with depth and features great left-right balance. And I truly believe the '20 pitching staff could be even better than the '19 squad. A&M hung its hat on pitching all last season and will have to do so once again if it has any hope of elevating the program beyond where it is in its current state.
• The Aggies lose two arms from a pitching unit that boasted numbers as good as any team in college baseball, including a 3.21 ERA (lowest since 2016), a .227 opponents average (lowest since A&M moved to the SEC) and a school record 673 strikeouts (just 30 Ks off the all-time SEC single-season record).
• Here's a five-year trend on the mound, by the numbers...
| | | | | | |
| --- | --- | --- | --- | --- | --- |
| | 2015 | 2016 | 2017 | 2018 | 2019 |
| ERA | 3.04 | 3.05 | 3.48 | 3.38 | 3.21 |
| BB | 194 | 200 | 213 | 198 | 202 |
| K | 574 | 594 | 574 | 523 | 673 |
| Opp. Avg. | .254 | .232 | .239 | .243 | .227 |
• Lefty John Doxakis (7-4; 2.06 ERA) and sophomore right-hander Kasey Kalich (3-1; 3.18 ERA; 12 SV) were each taken in the top four rounds and are headed to pro ball. While those are certainly tough arms to replace, every team loses at least a couple of impact pitchers every season. I personally feel that the Aggies have enough depth and arm talent to overcome the defections and can build upon their pitching success in '19.
• Of the six returning pitchers that tossed more than 35 innings last year, all six will be coming off a season in which they enjoyed a 3/1 strikeout-to-walk ratio or better and all six held opponents to a .257 average or better. Five of the six had at least as many strikeouts as innings pitched. That is astronomical production from that many guys who are returning for another season after producing to that level in the SEC . Here's a stat breakdown of each of the top six returning arms from the '19 staff...
LHP Asa Lacy (8-4; 2.13): 88.2 IP; 43 BB; 130 K (3.0/1 K/BB; 13.3 Ks per 9); .162 Opp. BA
LHP Chris Weber (4-1; 3.18): 65 IP; 20 BB; 78 K (3.9/1 K/BB; 10.8 Ks per 9); .246 Opp. BA
RHP Christian Roa (3-2; 3.56): 48 IP; 11 BB; 46 K (4.2/1 K/BB; 8.6 Ks per 9); .257 Opp. BA
LHP Moo Menefee (3-2; 3.75): 36 IP; 14 BB; 51 K (3.6/1 K/BB; 12.8 Ks per 9); .209 Opp. BA
RHP Bryce Miller (4-2; 3.77): 43 IP; 18 BB; 57 K (3.2/1 K/BB; 11.9 Ks per 9); .230 Opp. BA
LHP Chandler Jozwiak (4-5; 4.76): 58.2 IP; 25 BB; 80 K (3.2/1 K/BB; 12.4 Ks per 9); .251 Opp. BA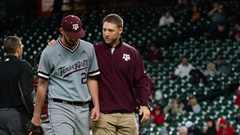 Tarah Cochran, TexAgs
• You start with those six arms and add in lefty Jonathan Childress around mid-March as he gets back to full health after Tommy John surgery early this season. He'll likely start out in a role similar to that of Menefee as a freshman when he was less than a year removed from TJ. I see Childress in the bullpen as a short-relief guy for an inning or less early on, while increasing his workload gradually as the season goes along. And then there's senior right-hander Jake Nelson who came on late in the season as he got closer to 100% full strength. Nelson's fastball sits in the low-to-mid 90s and he's a good two-pitch guy that pumps strikes with consistency. Nelson boasted a 0.87 ERA in just 10.1 innings last year. He walked just one and punched out 12. Look for the Penn transfer to emerge as a much more valued option out of the pen for Childress next year after getting healthy and proving himself down the stretch in '19. And what if RHP Mason Cole comes back and doesn't sign with the Rangers after they took him in the 27th round? Cole is a third-year sophomore so he has another year of leverage after this one when it comes to the MLB Draft. What if he comes back and the light finally comes on post-Tommy John? There is certainly a lot of talent in that right arm.
• That gives you 7-9 very solid arms in your stable if they're fully healthy. From there, you look for the light to come on for junior lefty Dustin Saenz (assuming he's still on the roster in '20). There's also two more lefties and six right-handers coming in from the signing class. Look for high school arms Evan Vanek (RHP from Frisco Heritage with a mid-90s heater) and Blake Mayfield (RHP from Flower Mound Marcus) to get early opportunities to earn action out of the bullpen next year. And finally, JUCO RHP Cam Wynne is a 6-6, 200-pounder from Lincoln, Nebraska (Johnson County CC) who is a legit high-90s guy that has the talent to come in and win the closer role during fall ball. He could very easily be a one-and-done back-end bullpen arm, a la Nolan Hoffman and the aforementioned Kasey Kalich. That's 13 pitchers mentioned by name (with RHP Brandon Birdsell announcing a transfer to San Jac on Friday) and there is reason to be optimistic about almost all of them moving forward, That's why I feel strongly that the pitching situation could be every bit as good next year as it was this past year, and maybe even a tick better.
• Here's my early-early projection of the pitching depth chart in '20...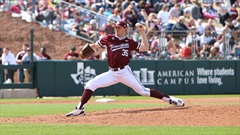 Mintie Betts, TexAgs
Friday: LHP Asa Lacy
Saturday: LHP Moo Menefee
Sunday: RHP Christian Roa
Tuesday: LHP Chris Weber
Wednesday: LHP Chandler Jozwiak
Closer: RHP Bryce Miller | RHP Cam Wynne
Right-handed arms: Jake Nelson | Evan Vanek | Blake Mayfield | Mason Cole (maybe)
Left-handed arms: Chris Weber | Jonathan Childress | Chandler Jozwiak | Dustin Saenz (maybe)
The Hitting:
• The elephant in the room. The bats. Simply put, this thing is nowhere close to where it needs to be. It hasn't been close for three years. We aren't seeing the ilk of hitter that is needed to win at the plate consistently in the SEC. There just aren't enough thumpers in this lineup. We aren't seeing hitters - even highly-recruited guys - come to Texas A&M and get better while they're on campus. Something must change quickly to get the Aggies where they need to be as a program. And with quite a bit of smoke out there regarding Nebraska's interest in A&M hitting coach Will Bolt as a strong candidate to take over as head coach of his alma-mater, Childress might very well soon be in a position to hire a new hitting coach. We do not know whether Nebraska AD Bill Moos has offered the job to Bolt, but quite a few around college baseball feel that Bolt is on the very short list of high-level candidates for the gig.
Regardless of whether or not Bolt bolts for the Huskers, it's absolutely obvious that the Aggies have some serious soul searching to do in an effort to fix the offensive issues that have plagued them over the last three seasons.
• Here's a five-year trend offensively (the entire Will Bolt era), by the numbers...
| | | | | | |
| --- | --- | --- | --- | --- | --- |
| | 2015 | 2016 | 2017 | 2018 | 2019 |
| AVG | .299 | .311 | .273 | .287 | .251 |
| OBP | .388 | .388 | .356 | .364 | .333 |
| SLG | .456 | .466 | .411 | .423 | .362 |
| BB | 280 | 261 | 246 | 228 | 224 |
| K | 423 | 423 | 537 | 446 | 408 |
• As you can plainly see, the offense sputtered and produced numbers well below any A&M team during the five years under the guidance of Bolt. The team average of .251 and on-base percentage of .333 were each 20-plus points below any of Bolt's offenses at A&M. The team slugging percentage of .362 trailed the Bolt era's previous low by 49 points.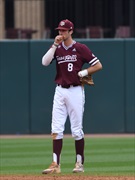 Bradley Countie, TexAgs
• The question that I can feel you asking right now is this: How can an offense this paltry get better the year after losing Braden Shewmake without a major philosophical change this offseason? Good question. And I'm not going to pretend to offer some sort of blind explanation that indicates the offense will see marked improvement after losing a first round pick at shortstop, a mainstay at the top of your lineup, and perhaps the best all-around player in the Childress era. Right there with Brodie Greene, Tyler Naquin and Boomer White, anyway.

• Let's assume every player eligible to return outside of Shewmake comes back and every positional signee other than third rounder Dasan Brown comes to school. Assuming there are no additional transfers or departures (and there almost certainly will be … Miko Rodriguez is reportedly already in the transfer portal), here is what the projected depth chart looks like heading into fall ball...

Catcher: Mikey Hoehner | Zane Schmidt | Rody Barker
1st Base: Hunter Coleman | Will Frizzell | Hunter Watson | Aaron Walters
2nd Base: Logan Sartori | Ty Coleman
Shortstop: Bryce Blaum | Ty Coleman
3rd Base: Austin Bost | Ty Coleman | Hunter Watson
Left Field: Cam Blake | Zane Schmidt | Austin Bost | Hunter Watson
Center Field: Zach DeLoach | Logan Britt | Ty Condel
Right Field: Logan Foster | Logan Britt | Brett Brown
DH: Zane Schmidt | Will Frizzell | Austin Bost | Hunter Watson
It's an intriguing crop of hitters with talent but a group that features not one guy who I feel has reached his max potential at the plate.
• On paper, you see a ton of question marks in that group. There are quite a few highly-recruited names on the positional roster but not very many guys that have enjoyed sustained success at this level of college baseball. It's an intriguing crop of hitters with talent but a group that features not one guy who I feel has reached his max potential at the plate. Not even Bryce Blaum, who had a nice year but could do so much more at this level. It's a hitting unit that absolutely must buy into an offensive approach that it believes in and develop together, taking a giant leap between right now and Opening Day in mid-February '20. My big questions about this depth chart as it stands today...

* Who leads off for A&M next year?

* Is it feasible to get by with as many as three JUCO transfers in the every day lineup?

* Can Hunter Coleman be that four-hole guy that this team has needed him to be the last three years?

* Do Logan Foster and Cam Blake hang around for their senior years and finally live up to their potential?

* Can Zane Schmidt produce half of the power numbers he had as a freshman at Hutch (.395; 22 HR; 75 RBI)?

* Can Bryce Blaum play well above average shortstop and improve at the plate to become a true force for 56-plus games in '19?

* Can the coaches figure out how to turn the light completely on for Will Frizzell and Hunter Watson?

* Does Zach DeLoach figure it out after a significant sophomore slump in '19?

* How long until freshman Logan Britt, who went 3-for-5 with 5 RBI in the state title game last weekend, unseats DeLoach in CF?

* Can the offense be consistent enough for Cam Blake and Mikey Hoehner to not be forced to hit in the middle of the order?

* Can Austin Bost emerge into that grinder-type and alpha dog leader - along with Blaum - that this team desperately needs?

* Does Logan Sartori develop into even a poor man's version of fellow Lincoln native and Hutch product Michael Helman?

Lots of questions and not many answers right now. Questions that will not be answered in fall ball or during pre-season workouts, nor early in the year against inferior competition. We won't truly find out one way or another until weeks into SEC play.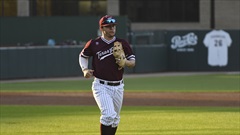 Tarah Cochran, TexAgs
• I do think the key name here is Hunter Coleman. The elder Coleman brother missed seven weeks with a broken hand and looked good after coming back for the final few games of the season. Hunter had less than one-third the amount of at bats that Braden Shewmake had in 2019, but Shew had just one more homer than Coleman on the year. Five homers in 82 at bats is a great rate. Triple the at bats and you're looking at 15 dingers and 54 RBI with a .927 OPS. You'll take that to the bank right now.

• The other key is Schmidt. If I told you door #1 was 100 points lower on the average and half the home run totals for Zane in the SEC next year vs. what he did as a true freshman in JUCO ball, I think you would take .295 and 11 bombs right now. Get those totals from Schmidt to go along with fully healthy seasons from Blaum and Coleman and that's a good start.

• And I can't even begin to get into Logan Foster. Ultra talented young man but you know what you've got with him at this point. Perhaps it all clicks as a senior?
Perhaps.
• It's a lot of wishful thinking right now across the board. But that's what happens when you have the amount of questions and the total lack of answers right now with the bats.

If you want to go back and read more about the A&M fall signees and zero in on the guys that will be on campus, I want to encourage you to click on the following link and read Mitch Mason's report from last November on the class and find out what Coach Childress and Coach Justin Seely had to say about each signee: https://texags.com/s/30274/childress-seely-break-down-aggie-baseballs-2019-signing-class

Finally, here's a way-too-early projected lineup for next year (assuming everyone is back, which will probably not be the case in the end when you're dealing with 11.7 total scholarships and not losing very many juniors and seniors)...

1. Sartori - 2B
2. Blaum - SS
3. Bost - 3B
4. Coleman - 1B
5. Schmidt - DH
6. Foster - RF
7. Hoehner - C
8. DeLoach / Blake - LF
9. Britt / DeLoach - CF

Top bench bats:
* Blake
* Ty Coleman
* Watson
* Frizzell

That'll do it for this week. As any news happens on the baseball front, we'll be all over it. And I'll consistently update you with my projected 2020 depth chart throughout the summer. It wouldn't surprise me at all to see the Aggies try to add another JUCO bat or possibly even a grad transfer over the summer in an effort to further bolster the group of position players between now and the start of the fall semester. We'll keep you updated if and when movement happens on that front.
Never miss the latest news from TexAgs!
Join our free email list