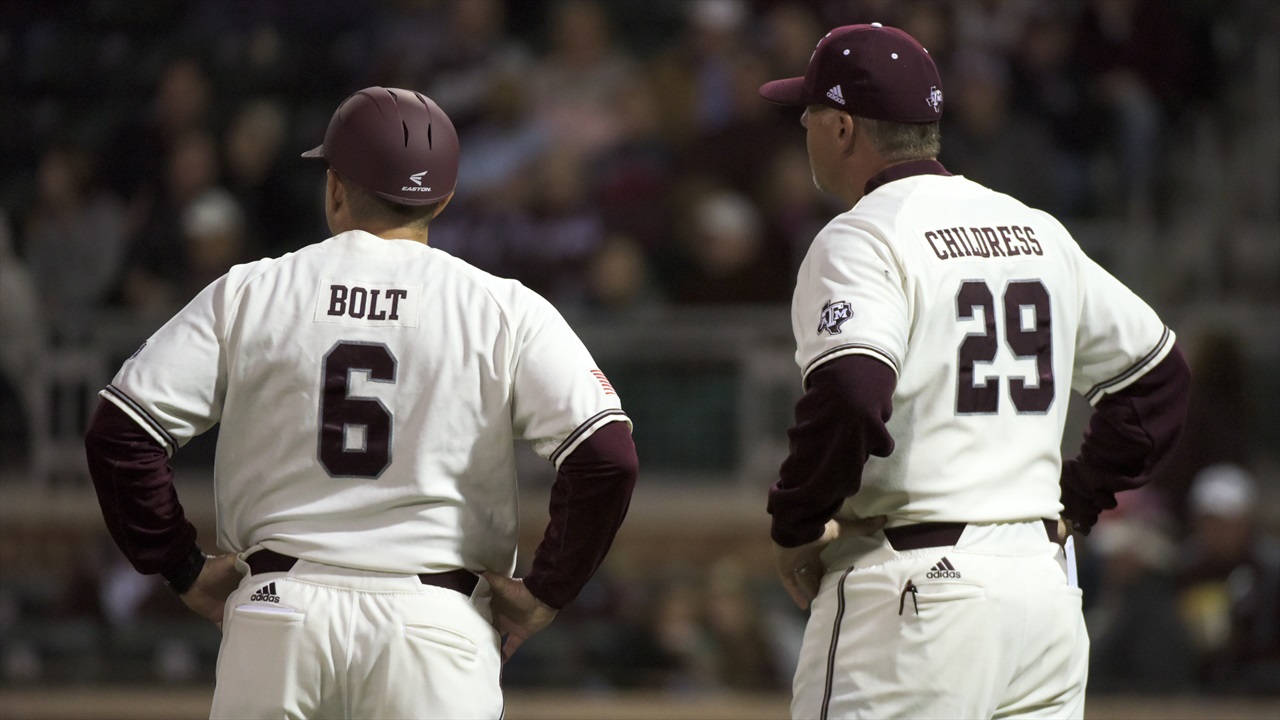 Photo by Christina DeRuyter, TexAgs
Texas A&M Baseball
Texas A&M assistant Will Bolt to be named Nebraska head coach
---
Baseball fans around College Station and Lincoln have been asking the question following last Monday's departure of Darin Erstad as Nebraska baseball coach: "Will Will Bolt bolt for his alma-mater?" The answer, we now know, is yes.
The question is not whether Bolt, A&M's hitting coach and third base coach the last five seasons, would jump at the opportunity to return to corn country if offered the job; the question has been whether Huskers' AD Bill Moos would eventually zero in on Bolt as the man for the gig.
We've learned from various sources that Moos and Bolt met earlier this week, and we received confirmation on Friday afternoon that Bolt has accepted the position.
The news was first reported by Kendall Rogers of D1Baseball.com.
It was widely speculated that Moos would make A&M head coach Rob Childress tell him "no thanks" before moving onto candidate number two. We are unsure whether or not Moos offered Childress the job, but we reported at the very start of the Huskers' search that Childress was likely not going to leave A&M for Nebraska despite his history with the school and the mounting pressure on him to win big in Aggieland.
My sources, which sit at the highest level in this particular situation, informed me last Tuesday in no uncertain terms that Childress was "not interested" in the Nebraska job. And despite widespread rumors from fans in Big Red territory (which screamed of wishful thinking and never passed the smell test), whatever effort Moos gave to gauge the interest of Childress did not get very far.
[Bill] Moos brings back to Lincoln a two-time team captain and two-time College World Series participant as a player at Nebraska from 1999-2002.
Instead, Moos eventually zeroed in on Bolt and brings back to Lincoln a two-time team captain and two-time College World Series participant as a player at Nebraska from 1999-2002. When Bolt wrapped up his illustrious career with the Huskers, he stood as the school record holder in several categories, including games played, hits, doubles and defensive assists.
This is Bolt's third coaching stint at NU. He served as a graduate manager and volunteer assistant in 2004 and 2005 respectively, before leaving with Childress to take on the volunteer assistant role at A&M in '06 and '07. Then after four seasons as head coach at Texarkana College, Bolt spent three years as associate head coach and hitting coach of the Cornhuskers from 2012-14. And now he's back in his dream job as head coach of his alma mater after five seasons as A&M's hitting coach.
The move gives Childress an opportunity to hit the reset button and find the solution to A&M's offensive woes that arose over the past three seasons. After seeing his 2016 lineup produce a robust slashline of .311/.388/.466 en route to an SEC Tournament title and the Aggies' first national top 8 seed since '99, the offense saw a dramatic dip in production over the last three years.
And in 2019, it sputtered to historic woes and produced numbers well below any A&M team during the five years under the guidance of Bolt. The team average of .251 and on-base percentage of .333 were each 20-plus points below any of Bolt's previous four years at A&M. The team slugging percentage of .362 trailed the previous low in the Bolt era by 49 points.
As for who Childress will identify as possible replacements for Bolt, it's too early to get an indication of exactly which direction the A&M head coach will turn to fill the position. It is a safe assumption, however, that Childress will stay "in the family" and hire someone that he knows well and has worked closely with in his career. For now, here is a quick list of the five most natural candidates to replace Bolt (in alphabetical order by last name):
Mike Clement, Ole Miss hitting coach – In his fifth season in Oxford. Third base coach in charge of one of the most dynamic offenses in the SEC. The Rebels hit .282 / .392 / .435 with 74 home runs and 93 steals under his watch in 2019. Spent three years as volunteer coach at A&M, from 2009-11.

Lance Harvell, Sam Houston State hitting coach – Spent the last five seasons as hitting coach of the Bearkats under Matt Deggs. SHSU hit .301 / .371 / .453 with 50 home runs and 59 steals in 2019. An Aggie graduate who served as a grad assistant coach at A&M in 2008 and '09, including a one-year stint as strength and conditioning coach in '09.

Austin Morgan, NC State assistant coach – Assistant coach with the Wolf Pack the last two seasons. NC State hit .273 / .382 / .447 with 68 home runs and 44 steals in 2019. Spent two seasons as volunteer assistant with the Aggies in 2014 and '15.

Justin Seely, Texas A&M assistant coach – Just wrapped up his 11th season as an assistant in Aggieland ... the last 10 as a full-time assistant and the last five as recruiting coordinator. The Aggies hit .251 / .333 / .362 with 42 home runs and 46 steals in 2019.

Jeremy Talbot, UL-Lafayette assistant coach – Assistant coach and recruiting coordinator of the Ragin' Cajuns the last five seasons. UL hit .280 / .376 / .434 with 63 home runs and 93 steals in 2019. A&M hitting coach and recruiting coordinator from 2005-09.
Never miss the latest news from TexAgs!
Join our free email list