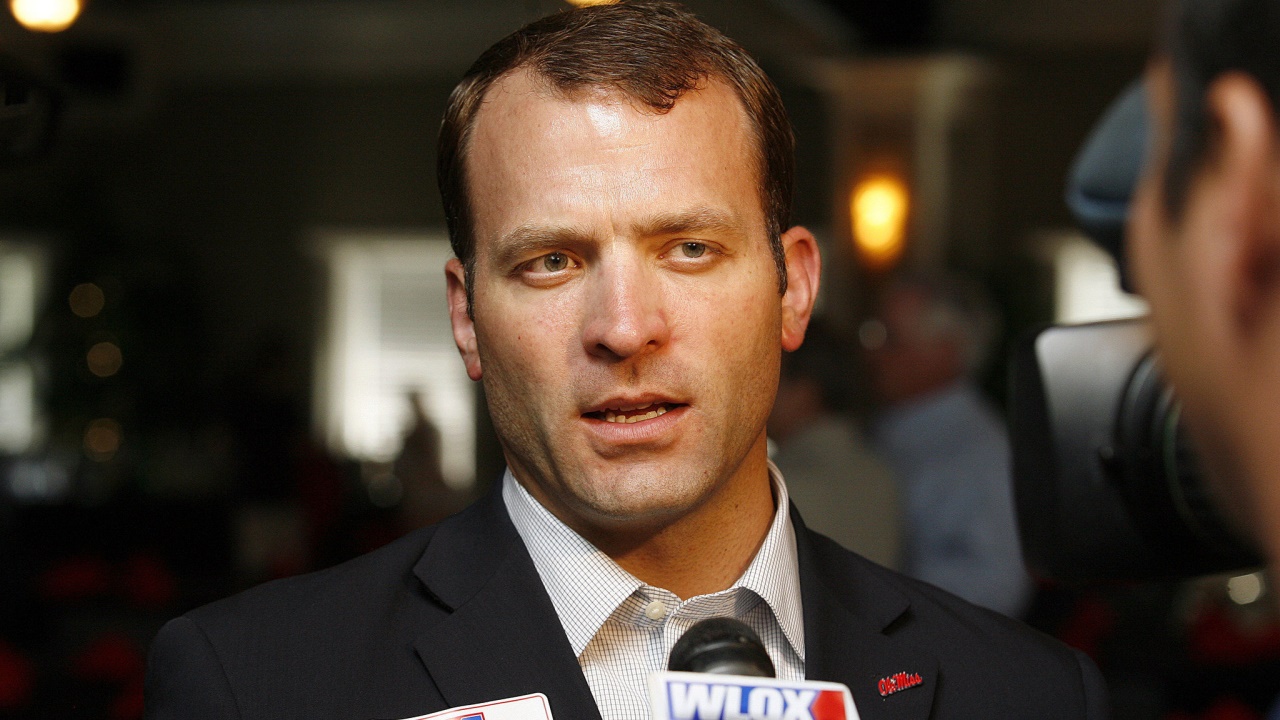 Photo by gulflive.com
LIVE NOTES: Ross Bjork introduced as Texas A&M athletic director
---
Ross Bjork begins his work in College Station on Monday. The following are live, paraphrased notes from the press conference introducing Bjork as the Aggies' new athletic director.
NOTE: There are multiple events for Ross Bjork's welcome. We will try and get notes from each.
Welcome Event:
Bjork, President Young and R.C Slocum enter and take their seats on the stage.
R.C. Slocum
Howdy!
Seven years ago, in the spirit of the 12th Man, I was happy to come off the bench and help.
We have outstanding people in our athletics department.
I applaud President Young's decision of Ross Bjork as our new athletic director.
President Young
Howdy!
I'm particularly proud to be here because I'm told this is the last time I'm ever going to have to have a press conference to introduce a new athletic director.
I'd like to welcome Chancellor John Sharp. Thank you for all you do for athletics and this university.
I'd like to welcome the rest of Ross' family.
Finally and very importantly, shoutout to our coaches. I see so many whose work is absolutely essential to make this one of the best athletic programs in the country.
I'm happy to add to that athletic program Ross Bjork.
There has been inquiry about how we went about this search. It really wasn't hard. We wanted to find someone who first and foremost put academics at the highest. For the first time ever, our athletes posted a 3.0. Integrity was next. We are going to win the right way, that is essential to Texas A&M and who we are.
There is so much integration to this atheltic department.
We wanted someone who understood our supporters.
We wanted someone who could provide the support to our coaches so they could provide the winning resources, training and attitude to best accomplish what they are best at.
We scoured the nation looking for someone with each of those items. I am delighted to announce we have found someone like that from a university that will remain nameless (snickers in the audience).
He is a leader. Back-to-back director cup winners. Raised the academics at that university. Doubled their revenue, which I am very excited about. An athlete himself.
We are delighted for the Ross Bjork tenue to begin.
Ross Bjork
Howdy!
Thank you President Young. I am humbled and honored to be here.
This is the only maroon tie in the city of Oxford.
I want to thank the University of Mississippi, the staff and our friends there. It too is a special place.
We are a product of where we are. For me, first and foremost my family and my faith in God.
My wife Sonya, we met in a college town of Columbia, Missouri. She told me, "I am never leaving Missiouri." (Jokes because that did not happen.)
Peyton is 13. He is looking for a football team to quarterback or play receiver. He was born at UCLA.
Paxton is eight, he was born at Western Kentucky. He is our spark plug.
If you don't see us at an A&M game, we will be at our kids games or in the community. We will be around College Station quite a bit.
Thank you to President Young for allowing me to help execute the mission of this universtiy.
I look forward to moving this university forward.
I would like to recognize my predecessor. They have done great jobs.
Scott and I had a funny moment last week in which the commissioner got confused because Scott was pushing legislation involving gymnastics. He said, "Scott, A&M doesn't have gymnastics."
I'd like to recognize R.C. Slocum. He's not going anywhere.
I look forward to working with the student athletes and supporting them in all of their endeavors.
We have incredible student athletes here at Texas A&M.
We have great athletics staff here. The logo never comes off, that's my belief in athletic staff.
Coaches, we need your strong leadership. You impact the athletes the most.
What does an athletic director do? We must impact and mentor our coaches. We must be involved in external revenue sources. Student athlete wellbeing and life after sports. We hope they can all go pro, but that's a team. We must also be teachers and educators.
So how do we do it? Attitude and effort. I like to keep things very simple. Nothing will work unless we do and we will always have a positive attitude.
If athletics work the right way, we can be a forefront for this university.
Vision? We want to be number one athletically and academically.
We will have purpose each and every day.
Core values are perfect for me and this university. Integrity will be number one for us and athletics.
I know this university's values are across the entire university, but what comes to mind is the Corps of Cadets. But everyone must uphold these values each and every day.
We can have a better GPA and a better graduation rate.
We are a global athletics program.
We are apart of the team. We might be across the street but we are right there with them.
We must do the right thing each and everyday.
Our student athletes will be supported and defended each and everyday.
We can, should and will win more SEC and National Championships across the board.
(President Young presents Bjork with the maroon jacket) Young: you couldn't buy this in Oxford.
President Young
We are nothing but a family. (Invites Bjork's family to the stage for gifts.)
(The family takes a picture, each giving the Gig 'Em)
Introductory Press Conference:
I think the main people that need to be the face of the program are our student athletes and our coaches. But we do need stable and active leadership. My job as an athletic director, I will have a presence. This is not an 8-5 job. You will see my family out and around town. Whatever we need to do, I will do.
I don't have Matt Luke's playbook.
There is a relationship among the athletic directors in the SEC. We know where each other is coming from when others bring up specific legislation. There will be no learning curve there. When we go to the next meeting, I'll be wearing maroon and not red and blue.
If I remember right, my first experience at Kyle Field was in the pressbox and it was shaking.
There's so much passion here. The students standing, the band, the Corps of Cadets. I am a student of college athletics and have been since 1998. You know these people care and I knew that in 1998. That's something that stuck with me. I've always been super impressed.
(On his youth) It brings energy and confidence. If you have confidence in your ability and some enthusiam, it'll pay off. We're going to work hard, and you've got to have energy for that. I played fullback in division II football and that's not easy. It taught me to have a positive attitude. I will use that and the energy that comes with being a younger athletic director.
Any time you're an athletic director for nine years, there is always somethings you do differently. Sometimes the AD doesn't have to do everything. At Western Kentucky, the atheltic director has to do everything. At Ole Miss, we were building a modern athletic program from scratch. Here, I am walking into a situation that is already built. But having the experience helps me know when the AD needs to chime in. I can soak it in and listen. I will learn a balance but my experience will certainly help.
The only time I've been to Blue Bell Park was the 2012 regional. I was super impressed. I know the Ball Five chant is big here.
I have not toured Reed Arena, yet. I will tomorrow. I will see it and talk with Buzz Williams to hear his thoughts. We will talk about the improvements and what we need to do. We will go about making it an impressive home court.
When you have a championship head coach, that's a great starting point. When you throw in the recruiting ground of Texas and the global athletic brand we are, that's huge. There's still work to do. Obviously, we are battling with Alabama. We are still working. If there are improvements we need to make, we will make them.
Jimbo made the league better. It was already great but it got even better with him.
My working relationship with President Young has been great. I'm going to be reporting to him and helping the institution as much as I can. If we can then help the system, we will. I don't know Chancellor Sharp all that well but we are having lunch tomorrow. That'll be a helpful conversation to learn how the system works and what all goes into it.
I told R.C., he's still the athletic director. I can't do two jobs at once. I'm still helping Ole Miss transition. I'm back and forth. I'm not here completely just yet. I don't want to be too pushy with decision. If there is something that R.C. and staff come with me, I can advice. But until July 8th, I'm not the athletic director. We will get fully cranked up on July 8th.
There are a lot of things that go into taking a job. First is family. For our boys and sports, education and life, Texas is great. And for quality of life, we love college towns. We were not going to leave for just anywhere unless it was a great college town with a top teir program.
I have one more year of athletic eligibility. I spent seven years as an athletic director at Ole Miss with spread offenses and couldn't convice the coach to let me in a game. But Jimbo's got fullbacks so who knows.
Never miss the latest news from TexAgs!
Join our free email list