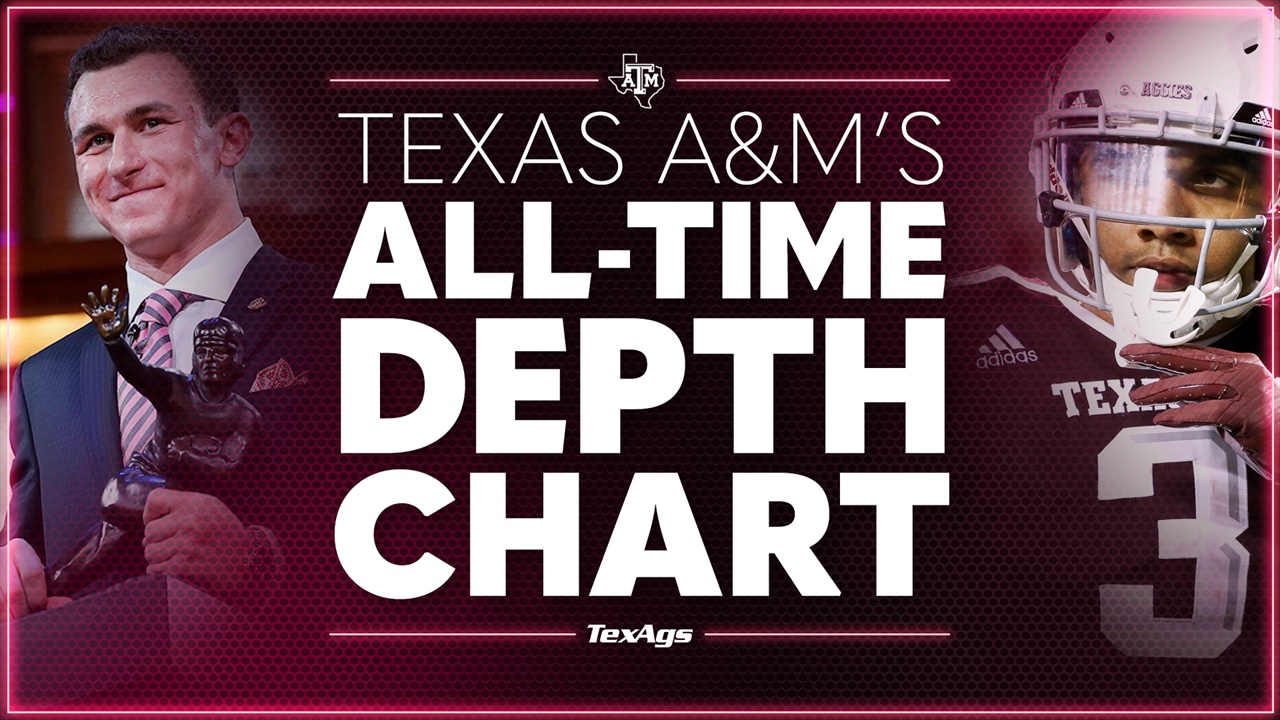 Texas A&M Football
Texas A&M's All-Time Depth Chart: Quarterbacks, Running Backs & Receivers
---
Throughout its football history Texas A&M has produced a veritable galaxy of celebrated stars.
Some won national awards. Dozens received All-American recognition. Literally hundreds have been named to all-conference teams, some multiple times. A handful never were adequately honored for their accomplishments.
A few of these stars made immediate impacts as freshmen. Some developed into standouts as sophomores or juniors. There were even those that did not emerge until their senior seasons.
They arrived as five-, four-, ,three- or two-star high school recruits. They transferred from other major college programs. They came from junior college.
Some played in the Southwest Conference. Others played in the Big 12 or the Southeastern Conference. They played in the '50s, '60s, '70s, '80s, '90s and into the 2000s.
A number played before platoon football. Some started at one position and moved to another. There were those that excelled on offense, some on defense, some on special teams.
Some were great in college and greater in the pros. Some had long NFL careers. Some had brief tenures as professionals. Some were All-Pros. One was even a Super Bowl MVP.
They were black, white, bi-racial and even Vietnamese. Some were from the inner city. Others were from rural areas. Most were from Texas, though many came from out of state.
Yet, at least one thing they had in common was the fact they were listed high on the depth chart — football's hierarchy that designates first team, second team and third team.
With that in mind, TexAgs is unveiling in four stages its All-Time Texas A&M football depth chart.
First, we'll look at offensive skill positions, followed by offensive linemen and tight ends, then defensive front seven and concluding with secondary and special teams.
Of course, when star gazing individuals might focus on different constellations. Check the stars on the TexAgs depth chart to determine if they'd be the stars on yours.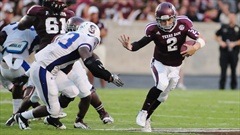 Andrew Kilzer, TexAgs
Quarterbacks (3)
Johnny Manziel (2012-13): Heisman Trophy recipient in 2012, All-American and two-time All-SEC. SEC Offensive Player of the Year. Passed for 7,820 yards and rushed for 2,169 yards, piling up 9,989 career yards of total offense. Threw 63 career touchdown passes. Was 20-6 as a starter.
Bucky Richardson (1987-91): All-Southwest Conference. Rushed for 2,905 yards and passed for 3,039 for 5,134 career yards. Was 24-6-1 as a starter.
Kevin Murray (1983-86): Two-time All-Southwest Conference. Passed for 6,506 career yards and threw 48 career touchdown passes. Was 25-6-1 as a starter.

Fullbacks (3)
George Woodard (1975-77, 79): All-Southweest Conference. Powerful wishbone fullback rushed for 2,911 yards in a career marred by a knee injury. Scored 35 career touchdowns.
Robert Wilson (1988-90): Powerful lead blocker paved the way for Darren Lewis to exceed 1,690 rushing yards in 1988 and 1990. Though Wilson didn't run often, he still rushed for 1,739 yards in his career.
Jack Pardee (1954-56): All-American. All-Southwest Conference.

Running Backs (6)
Trayveon Williams (2016-18): All-SEC and named to some All-American teams. Williams rushed for a school record 1,760 yards in '18 and completed his three-season career with 3,615 yards, the third-highest total in school history. He rushed for 34 career touchdowns, which ties for fifth-highest in school history.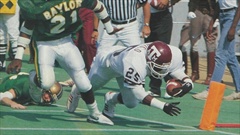 Texas A&M University
Darren Lewis (1987-90): Two-time All-American and All-Southwest Conference. Lewis had two of the three highest single-season rushing totals in A&M history. He was second in the nation in rushing in 1988 and third in '89. He completed his career with a record 5,012 rushing yards and has the second-highest rushing touchdowns total of 44.
Greg Hill (1991-93): Three-time All-Southwest Conference. Rushed for 3,262 yards and scored 33 touchdowns in his three-year career.
Curtis Dickey (1976-79): All-Southwest Conference. Dickey rushed for 3,703 yards — A&M's second-highest career total — and scored 34 touchdowns.
John David Crow (1955-57): Heisman Trophy recipient in 1957, All-American and two-time All-Southwest Conference. He rushed for 1,465 yards in his career.
Bubba Bean (1972-75): Two-time All-Southwest Conference. Bean rushed for 2,846 yards in his career.

Wide Receivers (6)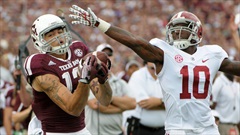 TexAgs
Mike Evans (2012-13): All-American and All-SEC. Accumulated 2,499 career receiving yards and 151 career receptions despite playing just two seasons. Holds or shares A&M records for single-game receiving yards, receiving touchdowns and single-season receiving yards.
Christian Kirk (2015-17): Three-time All-SEC. Although playing just three seasons he's third all-time at A&M in career receiving yards with 2,856, third in career receiving touchdowns with 26 and second in career receptions with 234.
Ryan Swope (2009-12): One of just two players named All-Big 12 and All-SEC. A&M's career leader in receptions with 252 and receiving yards with 3,117. He's fourth all-time with 24 touchdown catches.
Terrence Murphy (2001-2004): All-Big 12. Accumulated 172 career receptions for 2,600 yards and 10 touchdowns.
Jeff Fuller (2008-11): All-Big 12. Holds A&M record with 34 career touchdown receptions. Second all-time with 3,092 receiving yards and third all-time with 233 career receptions.
Josh Reynolds (2013-16): In three seasons he accumulated the fourth-most receiving yards (2,788) in A&M history. He's also second with 30 career touchdown catches.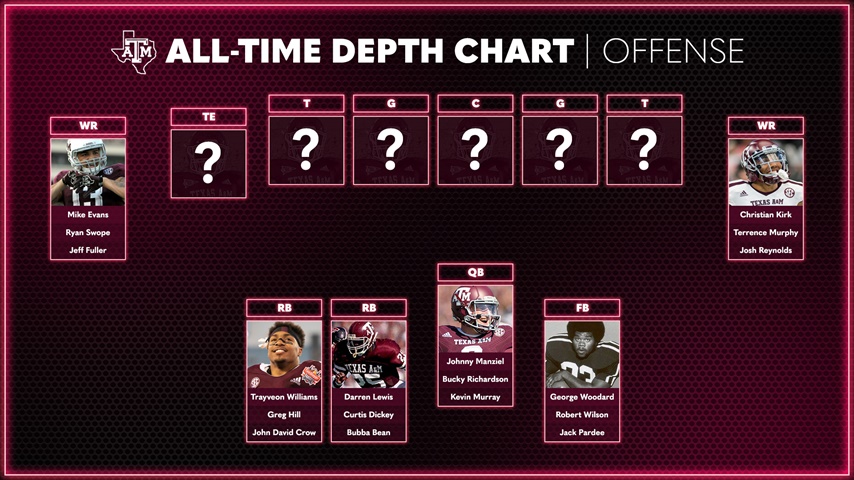 Never miss the latest news from TexAgs!
Join our free email list