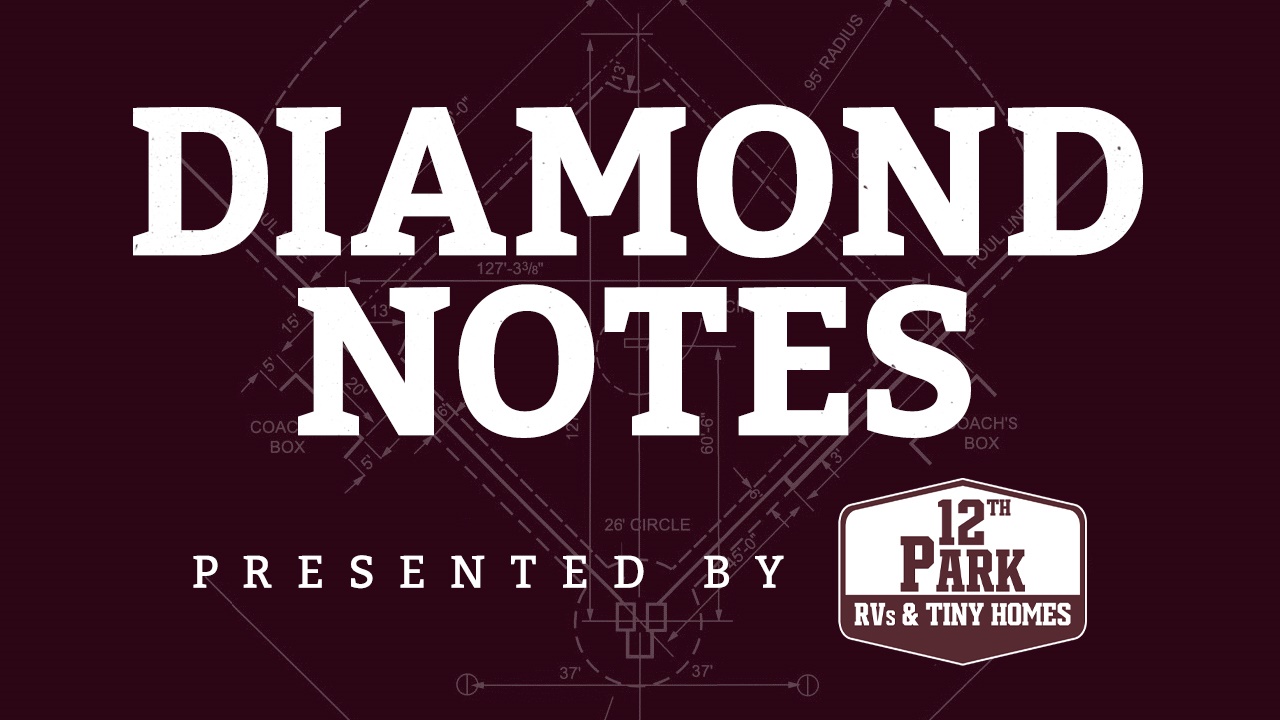 Texas A&M Baseball
Diamond Notes: Aggies keep postseason hosting chances alive with series win
---
Filling in for the indomitable Gabe on this fine Monday afternoon, here are some of my observations and analyses from this past weekend's series win over Alabama.
After dropping back-to-back series to the SEC's two Mississippi schools, the Aggies needed to get back in the win column to keep their Regional hosting chances alive. They came up a run short of the sweep they were hoping for against unranked Alabama (and their two victories weren't pretty), but the Aggies found a way to win another conference road series.
In a series that featured three one-run ballgames, the Aggies relied on their dominant pitching staff in the first two games and then exploded for five runs in the first inning of Sunday's series finale – just enough to hold off a late push by the Crimson Tide.
The Aggies stuck with their adjusted lineup from last week, with Braden Shewmake, Bryce Blaum and Zach DeLoach serving as the top three hitters in the order for all three contests. The trio combined to go 7-for-35 (.200) on the weekend with four RBI and three runs scored, which still leaves a lot of room for improvement but a step up from their production last weekend against Mississippi State. For the first time of the season, it looks like the Aggies have a set lineup, and I don't expect much deviation from it the rest of the way.
Here are how the hitters performed in the three-game set from Tuscaloosa – the Aggies' only action of the week since midweek games are a thing of the past at this point in the season:
Shewmake: 3-for-14, 1 RBI, 1 R
Blaum: 3-for-11, 3 RBI, 1 R
DeLoach: 1-for-10, 1 R, 3 BB
Hoehner: 4-for-12, 2 RBI, 2 R
Blake: 3-for-11, 1 R, 1 3B
Foster: 1-for-10, 1 RBI
Frizzell: 1-for-8, 1 HR, 2 RBI, 2 R
Ty Coleman: 3-for-11, 1 RBI
Condel: 1-for-8, 2 R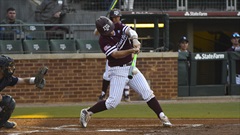 Tarah Cochran, TexAgs
Again, it's not like the Aggies are knocking the cover off the ball yet, but they found more barrels this weekend than they have of late and were more productive. The 10 runs they scored this weekend is the most they've scored in a series since South Carolina in late April, although Alabama's pitching staff is a far cry from the Ethan Small-led Mississippi State staff the Ags faced last week.
Even though the production is not where you want it this late in the season, this weekend crystalized that the Aggies are indeed playing the correct nine players. The way the lineup is currently constructed, especially at the top of the order, maximizes run production, especially when Shewmake's hard-hit balls start falling for hits with more regularity. He just barely got under a few fly balls this weekend, but he continues to put together good at-bats for this Aggie offense.
The offensive star of the weekend might have been Mikey Hoehner, who recorded at least one hit in all three games. After a quiet Friday and Saturday, the junior catcher went 2-for-3 with two RBI and two runs scored on Sunday, including scoring what ultimately was the game-winning run on a nifty slide at the plate on an RBI single by Ty Coleman in the ninth inning.
The Aggies showed a hint of what they're capable of in the first inning of the rubber match. The A&M hitters were all over Sam Finnerty, typically the Tide's No. 1 starter, from the get-go, hammering mistake fastballs that Finnerty left over the plate. Shewmake hit a fly ball to the warning track in left on the first pitch of the game – he reached third on what was ruled an error – and then Blaum roped the first pitch he saw into center field for an RBI.
After DeLoach was hit by a pitch and Blake moved both runners into scoring position with a beautiful sacrifice bunt, Hoehner drove both of them in with a single to center. Later in the inning, Frizzell crushed a mammoth two-run homer to right that gave the Aggies the commanding 5-0 lead they would never relinquish.
Finnerty settled down and blanked the Aggies for the next four innings, and A&M did not score again until Coleman's RBI in the ninth. Seven consecutive scoreless innings in the middle of the game is far from ideal, but scoring six runs in a game will be enough to win most times out for this Aggie team.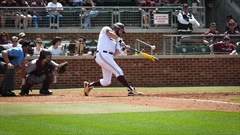 Jackie Ysaquirre, TexAgs
Count on the Aggies to look at their aggressive, relentless approach from Sunday's first inning and try to replicate that the rest of the way. Contrary to what some people may think, this offense can score runs, the Aggie hitters just need to be more consistent. For the weekend, Aggie hitters struck out only 16 times and walked 10 times. They are limiting the strikeouts and walking plenty, which is generally a good combination, but they are still not inflicting enough damage on opposing pitchers when they get the chance. Frizzell's homer and Cam Blake's triple on Saturday were the Aggies' only extra-base hits on the weekend, and although they had a couple others robbed on nice catches from Alabama center fielder Joe Breaux, the Aggies likely need to manufacture more extra-base hits in the future if they want to play like they're capable of down the stretch.
It was a rough weekend for Logan Foster, but he got hot at the end of last season and has the talent to do the same thing in 2019. He was moved down to the eight-spot in the order for Sunday's game, and if he keeps hitting that low in the order, he should get more fastballs to hit which could spark a resurgence from the junior from Lincoln, Nebraska. He still has not tapped into his massive power potential this year as much as he would like, but there are still games left on the schedule for him to do exactly that.
Defensively, the Aggies were superb outside of the first inning on Friday and a DeLoach error on Sunday. Ty Condel covers an unbelievable amount of ground in center field, and an outfield with DeLoach, Condel and Foster from left-to-right should continue to provide excellent defense.
In the infield, Ty Coleman made a few more sparkling plays at the hot corner this weekend, and the freshman has played error-free baseball for eight games in a row dating back to the Friday contest against Ole Miss. Shewmake made an error in the first inning of the series, but made up for it with a sensational diving stop in the seventh inning that came with the infield in and a runner on third. Shewmake saved a run with that play, and the Aggies ended up winning by one run. It might have been the biggest play of the weekend.
On the mound, John Doxakis was once again remarkable. He will go down as one of the best pitchers that Rob Childress has had at Texas A&M (and he's had a plethora of great ones), and Doxakis has been unbelievable since the start of April. He scattered five hits and one earned run over seven dominant innings against the Crimson Tide. Here are his numbers in his six starts since the calendar flipped to April: 42.1 innings, 7 earned runs, 35 Ks. He has issued more walks than usual in that span, but it's hard to argue with a 1.49 ERA in his last six starts, most of which have come against good to great offenses. His season ERA sits a 1.93 and he still sports an outstanding 4.4:1 strikeout to walk ratio.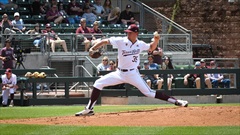 Jackie Ysaquirre, TexAgs
Asa Lacy and Christian Roa did not follow with the quality starts we have become accustomed to seeing from them, and the biggest storyline from the series might be that Lacy got ejected in the fifth inning on Saturday, which per SEC rules will keep him from taking the mound in the Arkansas series. He will be suspended four games barring an appeal of some sort, but he will be back and available for the postseason. Considering he had thrown more than 100 pitches in his last nine starts and was well on his way to passing the century mark again before his ejection, maybe a week off will allow Lacy to rest and we will see him come back even better in the postseason.
The two wins on the weekend were both made interesting near the end, but all in all, the bullpen was lights out. In total, five Aggie relievers combined to allow only one earned run in 10 innings, striking out 12 to go along with only 2 walks. Those are outstanding numbers no matter which way you slice it, and Moo Menefee may have been the best of the bunch against Alabama.
Menefee struck out four in 1.2 innings on Friday before Kalich got the one-out save, and then he threw 1.2 more scoreless innings on Sunday before Kalich notched his SEC-leading 12th save of the season. It's hard not to like the A&M bullpen, and every one of the relievers that entered the game this weekend got big outs when the outcome was very much in the balance.
Two of the biggest pitches of the weekend came on fastballs from the two Blinn products. Bryce Miller blew away TJ Reeves, who homered off Lacy in game three, with a high fastball in the seventh inning on Sunday with the bases loaded, two outs, and the Aggies clinging to a 5-3 lead. Then in the bottom of the ninth, after the Tide made things dicey before a rain delay, Kalich recovered after the break in the action to strike out the final two batters of the game, the last of which came on a 2-2 fastball that Breaux could not catch up to.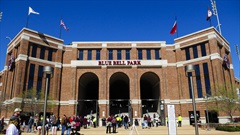 Christina DeRuyter, TexAgs
As I said at the beginning of this, the Aggies would have much preferred a sweep, but a series win still has them in the discussion for a Regional host. They sit at No. 16 in the latest D1B poll and No. 13 in the RPI. A strong showing at Olsen Field this weekend against No. 2 Arkansas and winning a few games in Hoover would likely clinch a host, and less than that still may bring a Regional to College Station considering the sterling resume the Aggies have put together thus far.
The Aggies proved once again they have one of the best pitching staffs in the country. A staff that when coupled with outstanding defense, gives them a chance to win every game they play. Offensively, they showed signs of life in Game 3 to win the series. I still believe this lineup has significantly more talent than they have shown so far this season, meaning a strong finish to the season could be in the cards for Will Bolt's unit.
---
Key notes from Will Bolt interview
Of course you want to get a sweep every weekend, but taking two of three on the road in the SEC is always huge. We came out on Sunday, got after it early and held on late. Alabama is desperate for wins in the SEC, trying to make the SEC Tournament, so they were a tough opponent. Every game was a dogfight, so excited to leave with the series win.
You know what you're going to get from John Doxakis every weekend. He's going to go out there and compete every single at-bat of every single inning. His fastball command wasn't his best, but he had the slider rolling. We gave him some early run support, but we needed to be better at the plate. We had plenty of opportunities to put that game away even earlier.
Saturday was a weird game. Asa Lacy was throwing well, outside of a couple of pitches. Taking batting practice, we thought it was going to be a singles kind of game, but Alabama was able to get a couple of doubles and got to Lacy. It's a shame he couldn't keep throwing, I think he was getting better. Chandler Jozwiak came in and finished strong on mound.
It's going to be difficult to replace Asa, as good as he is. I don't think we'll feel any added pressure without him. I think we'll just mix and match a little more in the back end, maybe give some other guys an opportunity to step up. It's the next man up mentality.
Braden Shewmake got us going early in game three to help spark that first inning. We were able to grab some momentum, early which was huge. I think we barreled up a lot of balls and put a lot of balls in play. Alabama doesn't make many mistakes on the dirt, and I feel like they even stole a few runs with great plays.
That rain delay, we knew that was coming. The umpires had came and talked to us. The umpires told us before the inning that the cell had no lightning, and they were going to do everything they could to finish. That rain in the bottom of the ninth was so strong, you could barely see out in the field. I think the delay was a blessing in disguise for us. It allowed us to regroup while Alabama had the momentum. Kasey Kalich came back out, got the strikeout and we got the win.
There was a little bit of a conversation to give Moo the ninth after a solid eighth, but we really liked the matchups with Kalich. He's our guy at the back of the bullpen and we were going to give him the ball to win the game.
Hunter Coleman was with us all weekend in Alabama, taking batting practice. I think he would've been available to pinch hit if needed, but he still wasn't 100-percent. He'll take some live at bats today at practice for the first time in six weeks. I expect him to be full-go this weekend.
There are no weeks off in this conference. I'd say a series win this weekend against Arkansas, one of the best teams in the country, would go a long way to securing our hosting position. Playing at home, we'll have the environment on our side, just have to go out there and play well. I'd say we definitely control our own destiny.
The SEC is the ultimate test, in my opinion, in college sports. I know I'm biased, but there are no weeks off in this conference. You can never blink.
Never miss the latest news from TexAgs!
Join our free email list