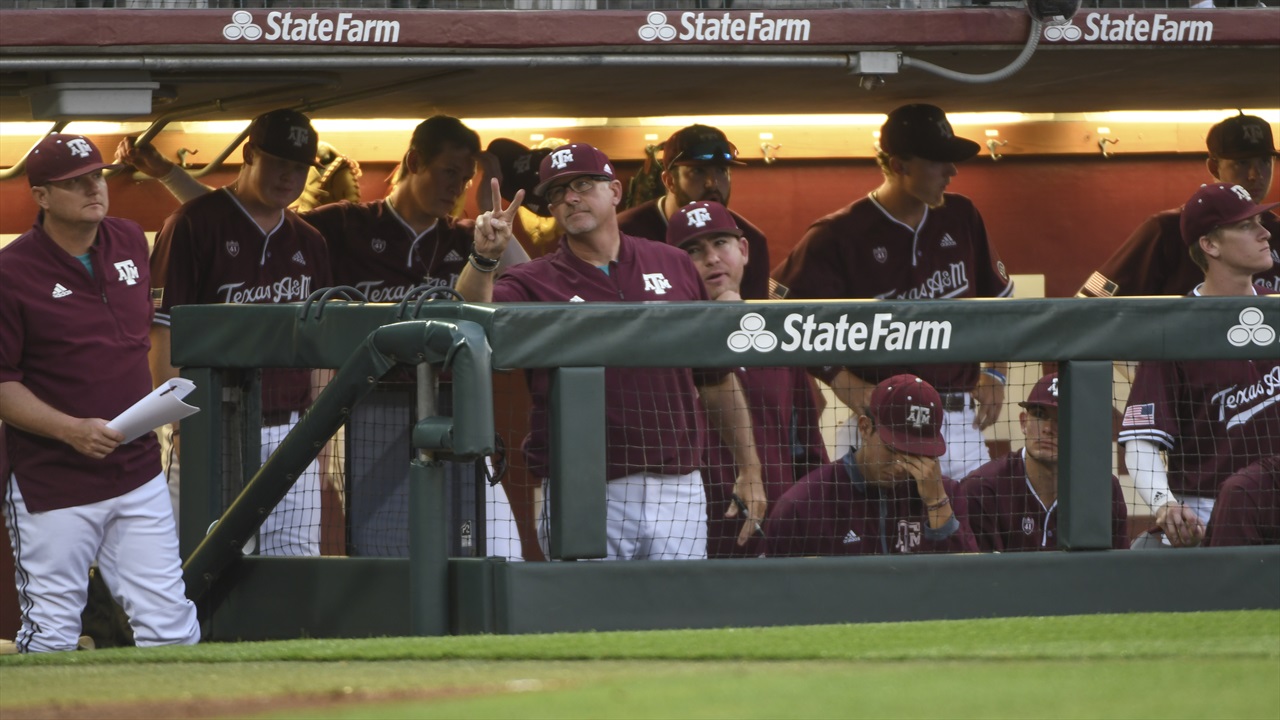 Photo by Elisa Schmitt, TexAgs
Texas A&M Baseball
Kendall Rogers discusses the path for Aggie baseball to hosting a regional
---
Key notes from Kendall Rogers interview
I think this biggest thing this weekend was it's a repeat for the A&M offense. They haven't been the same since Hunter Coleman went down. It threw everybody for a loop and they have't really recovered from it. The pitching was certainly good over the weekend. Doxakis didn't have his best slider but battled. Asa Lacy showed why he's going to be a top draft pick next year. It's really the same story. They've got a national caliber pitching staff but lack offense.

Over the weekend, Shewmake batting leadoff didn't have much of an effect. In the midweek, it had an effect. When I look at this offense from top to bottom, Shewmake is a tough out obviously. Blaum and Hoehner hit above their batting average. But you look at it and wonder who else is a tough out. DeLoach at times. They've gotta have somebody in that lineup, when Hunter Coleman returns or what, that can scare some people.

I feel Logan Foster like has been the same guy he's been for three years. He's going to hit mistake pitches but he's going to struggle with breaking balls. You see that a lot with college hitters. He's gotta be much better down the stretch. Show better pitch recognition and be more consistent.

I think you bring him back pretty slowly. His timing is going to be a little off. I think you start him maybe one game this weekend. I don't see him playing in the field so you're going to have to DH him. He's better there than your other DH options. You never know until he gets into live action. See how he feels in BP and throw him out there.

No game during the midweek gives you the option if you have a bad start, it doesn't really matter. You can throw Weber for 3 or 4 innings. Joseph Menefee is another one. Alabama is a team that has a good pitching staff from top to bottom but just haven't found it offensively. Don't overlook those guys.

If you look at A&M right now, they have a shot at hosting. They even have an outside shot at top 8. If they win their last two series, they should host. 16 wins in the SEC should get that done. If they win a few in Hoover and get to 20 SEC wins, that could get them to top 8. They really control their own destiny. It's within striking distance. Just need to take care of business this weekend and find a way knock off Arkansas at home next weekend.

The whole offense needs to step up. There's not one guy I can point to, it's just the whole offense. They need to get off to a good start on Friday and get some confidence. If you get some momentum going down the stretch, they could get it done. They've got some of the best pitching in the country and arguably the best 1-2 punch in the nation.

No I do not think A&M hosts right now because I lean the Hogs in that final weekend. But we need to wait for this weekend to play out. But right now, I don't think they do.
Never miss the latest news from TexAgs!
Join our free email list