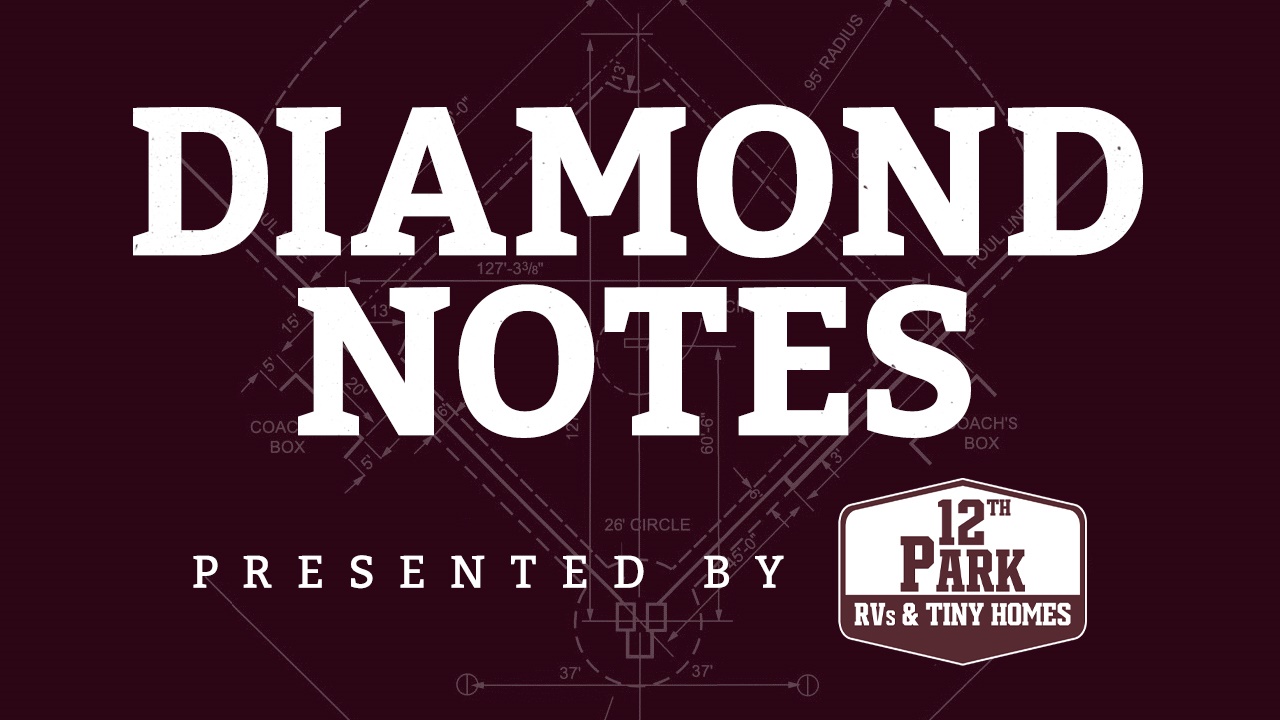 Texas A&M Baseball
Diamond Notes: As postseason nears, Aggies need late surge in final two series
---
Here is this week's scattershooting around the baseball diamond, with news and notes, key stats and numbers as well as my thoughts and observations following A&M's 2-2 week that included a 2-1 series loss to Mississippi State over the weekend at Olsen Field at Blue Bell Park.
The big storyline of the week was A&M's decision to completely change up the lineup heading into last Tuesday's game at Sam Houston State. The key piece to the new-look order was Braden Shewmake moving out of the three-hole for the first time in his career and hitting leadoff. The reasoning behind it was two-fold: To change it up and give the top-third a different look and feel, and to allow A&M's second and third most talented hitters – Bryce Blaum and Zach DeLoach – to better protect Shewmake by hitting immediately behind him instead of immediately in front of him. The switch worked to perfection in Huntsville. Shewmake went 4-for-4 with two RBI and three runs and reached base in all five plate appearances, and the Blaum-DeLoach duo combined for three hits, two RBI and three runs.
But then came the weekend, along with the elite level starting pitching that Mississippi State has displayed nearly the entire season along with the offensive dynamo that they have become under first-year head coach Chris Lemonis. Facing arms like Ethan Small and JT Ginn, the lineup didn't have nearly as easy of a time against the Bulldogs as it did against Matt Deggs' Bearkats. Here are the numbers of the starting lineup – the same names in the same order for all three games of the series (the first time all year that the Aggies have written out the same exact lineup in consecutive games) in three games vs. MSU:
Shewmake: 1-for-9; 0 RBI; 1 run
Blaum: 1-for-9; 1 HR; 1 RBI; 1 run
DeLoach: 1-for-9; 2 double; 1 RBI
Hoehner: 2-for-9; 1 double; 0 RBI; 1 run
Blake: 1-for-6; 1 triple; 1 RBI; 1 run
Foster: 0-for-8; 0 RBI
Frizzell: 1-for-7; 1 RBI
Coleman: 3-for-7; 0 RBI
Condel: 2-for-7; 0 RBI
The top three in the lineup hit .111 vs. MSU and .206 last week at Ole Miss... There is no possible way to gloss over numbers like this.
Shew, Blaum and DeLoach each went 1-for-9 vs. State pitching in the series. A&M got two RBI combined from the top three in the order and one combined RBI from middle-third. The combined numbers of the top four? 5-for-36 (.139), two RBI and three runs. I realize that Shewmake hit a bunch of balls hard and didn't have much to show for it, and Hoehner did the same a time or two, but the top three in the lineup hit .111 vs. MSU and .206 last week at Ole Miss. That's a six-game sample size. There is no possible way to gloss over numbers like this.
There's paltry, then there's meager, and then there's whatever we've seen from the top of the lineup vs. the Mississippi schools. And that's with DeLoach's game-winner on Saturday thrown in there. That was a critical moment and a great piece of hitting, but it was Zach's only hit in the series. Blaum's homer was huge in game three to get the Aggies off the mat, but that was his only hit all weekend. And we're not even talking about Logan Foster's last two conference series, in which he's a combined 1-for-20 (.050). These are veteran bats that are being asked to lead from the front for a team in a desperate quest to remain in the conversation to host a Regional. But frankly, if the Aggies find themselves traveling on opening weekend of the NCAA Tournament, it's because this offense has had very little attack in 2019 and hasn't gotten it done consistently to offer enough support to an absolutely spectacular season from the pitching staff.
I do think that A&M is playing the right nine guys though. There aren't a lot of viable options sitting on the bench right now that have proven they're ready to step in and do much better – at least not until Hunter Coleman returns here in a week or two. Other than possibly inserting Allonte Wingate in at third base for Ty Coleman (who has played much better defense over the last month or so), I believe the current lineup is A&M's best defensive lineup. That's vital for a team built around it's pitching. The Aggies committed seven errors last weekend in Oxford but made just two against MSU. They made nearly all of the routine plays and mixed in a few wow moments as well. So I fully expect Rob Childress, Will Bolt, Justin Seely and Co. to roll with this exact lineup at Alabama this weekend and hope they find a way to kindle a little magic and grab a little spark with the bats down the home stretch.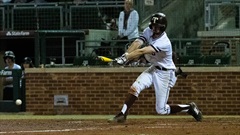 Jackie Ysaquirre, TexAgs
I want to take a second to give MSU's arms a ton of credit for how they pitched in the series. They only used four guys all weekend and held A&M to just four runs on 12 hits with only three walks and 17 strikeouts. That's 42 strikeouts and six walks in the last six SEC games, all against Mississippi schools. Ole Miss was outstanding on the mound vs. A&M, but MSU might have been even better. Small left with a no-hitter after seven innings on Friday having thrown 108 pitches. Jared Liebelt closed it out with two innings of scoreless relief, allowing just one hit on a ball that was nearly caught by Jake Mangum on a diving attempt in center field. JT Ginn and Peyton Plumlee were nearly as dominant as Small in the double header on Saturday. They each threw multiple pitches for strikes, stayed ahead in counts, worked backwards by locating first-pitch strikes on off-speed stuff to keep the Aggie hitters off-balance and didn't leave pitches out over the middle of the plate. Make no mistake about it, A&M is mired in a season-long offensive dip, but I wanted to take some time to credit the Bulldogs for the dazzling mound performances that we saw all weekend.
The Aggies got their typical excellent outings from the 1-2 punch of lefties John Doxakis and Asa Lacy. Dox worked into the eighth inning and gave up just two runs in the first seven frames before tiring in the eighth and allowing two more. He struck out four and walked two, limiting the potent Bulldogs offense to just four hits. Lacy was even better, tossing A&M's first complete-game shutout since Kyle Simonds' no-hitter over Vanderbilt in 2016. The sophomore gave up just three hits and worked around significant early-game jams before settling down and going to work against the MSU lineup. The top five in the Bulldogs' order combined to go 2-for-14. That is a nearly impossible feat.
But then came game three, and while allowing just four runs in seven innings to MSU is certainly respectable, the arms weren't quite at the same level as what we saw from Dox and Lacy. There were a couple of key moments where the Aggie pitchers gave up runs that ended up looming large in the rubber match. For starters, right-hander Christian Roa just didn't have it in this one. He lasted just one out into the second inning and allowed five hits and a walk, throwing 38 pitches one time through the lineup. With Jake Mangum coming to the plate and the bases loaded in a shortened seven-inning game, Coach Bolt (sitting in for Coach Childress who left to attend his daughter's graduation from Nebraska) made the call to bring in a well-rested Chris Weber. The freshman lefty lost the battle to Mangum but got out of the jam without allowing more than the lone second inning run. Weber was very good, as he has been throughout his last 11 appearances over the past five weeks. But in the fourth inning, his command got away from him following an intentional walk to Mangum and it led to back-to-back walks following the Mangum free pass, the latter of which came with the bases loaded to add a "gimme" run to the MSU ledger.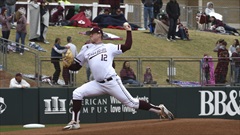 Elisa Schmitt, TexAgs
Freshman lefty Moo Menefee then came in and got A&M out of the fourth inning jam and proceeded to toss 2.1 scoreless frames, allowing one hit and no walks with a pair of strikeouts. That included an incredible catch on a hot shot right back to him to end the sixth inning – a play that should have been a SportsCenter Top 10 play, but for whatever reason was not. Then in the seventh, after Blaum's solo homer got the Aggies going a little bit and made it a manageable 3-1 deficit, A&M closer Kasey Kalich came on and allowed a two-out homer to Justin Foscue to extend the lead to 4-1. With this A&M offense, there is a huge difference in trailing 3-1 vs. 4-1, especially in a shortened game and going into your final three outs of the contest. Of course, the Aggies got hot in the seventh and scored two runs, but the 4-1 margin heading into the seventh was too much to overcome.
When you look back on that third game, had Weber not walked two batters in a row after the intentional pass to Mangum to give MSU a run and Kalich not given up a homer in the seventh, we'd be talking about Olsen Magic on both ends of the double header to actually steal the series from MSU, even despite widespread offensive issues. To be clear, the offense deserves most of the blame for the 1-2 showing vs. State, but I felt that the pitching had moments in game three where it could have done more to keep the deficit even tighter heading into the last two frames when the bats finally woke up and did a little damage for the first time all weekend.
Speaking of Kalich, the Aggie closer has come down to Earth after an incredible start to his A&M career. The Blinn transfer looked like he'd make a run at winning stopper of the year nationally up until he allowed the two-run homer in the ninth inning against Missouri. Since then, the numbers haven't been bad, but you can see it out there when you watch him. He doesn't quite seem as sure of himself and his pitches as he was early on this season. Kalich is still grinding out saves but it's not coming quite as easy for him as it was pre-Missouri. Here is the breakdown...
Pre-Missouri homerun: 13.1 IP; 10 H; 2 ER; 4 BB; 22 K; 6 saves
Post-Missouri homerun: 13.1 IP; 14 H; 6 ER; 6 BB; 21 K; 4 saves
The Aggies have to have Kalich at his best to close out big games in high leverage situations the rest of the way in 2019.
Again, certainly not bad numbers since the Mizzou series by any stretch of the imagination. It just doesn't feel as dominant as it was early-on in the season. It hasn't been lights out the minute Childress calls for #31 to enter the game. But Kalich is capable of throwing up nothing but clean inning after clean inning down the stretch and into the post-season, and you can bet that he and Childress will keep working at it to get tuned up moving forward. The Aggies have to have Kalich at his best to close out big games in high leverage situations the rest of the way in 2019.
I said heading into the Mississippi State series that it'll take five more regular season wins over the last nine SEC series to build a resume worthy of hosting a Regional. I stand by that magic number coming out of the series with the Bulldogs and heading into the series at 'Bama this weekend. After earning just one win over MSU, the number in my opinion is now four. If the Aggies can win four more games, any way you slice it in the last six vs. 'Bama and Arkansas, that puts the A&M record in conference play at 16-13-1. I think that's a resume (along with the RPI which is at #16 today and could climb higher than that over the final two weeks of the regular season) that is good enough to host. Then go and win a couple of games in Hoover at the SEC Tournament and it would likely push it over the top. Do I think the Aggies are going to win four games down the stretch? I wouldn't predict it. I feel good about A&M going to Tuscaloosa and coming home with a series win, but Arkansas is going to be extremely difficult, and the Aggies would likely have to sweep the Crimson Tide in order to get to that four-win mark.
But hey, this is baseball. Things can change very quickly in this sport and anything can happen game-to-game and series-to-series. I put A&M's pitching staff up against anyone's, including Arkansas' stable of arms. I also think that the best defensive lineup is now being penciled in for each game, and soon the Aggies will get Hunter Coleman back, which should help the hitting situation quite a bit.
TexAgs will have live coverage on the boards and analysis pieces throughout the three-game series in Tuscaloosa, which begins on Friday. First pitches for the three games will be 6:00 on Friday, 2:00 on Saturday and 2:00 on Sunday.
---
Key notes from Justin Seely interview
Yeah, certainly. At the end of every year you can be playing for second place or last place. You can't make any more or any less of any game down the stretch. We don't have any midweek games so that gives us some times to let guys take finals and recover heading down the stretch.
We don't look at it from that perspective. When you're in the middle of it and things are going well it can change your perspective. I do that with the Rangers as a fan but I don't look at hosting like that with our club. We are out there physically taking care of it and you have to take care of it in the moment. Bottom line, we need to play good and the rest will take care of itself.
I thought Dox was really good. The difference to me in that game was that Jake Magnum makes two game-saving plays for them. That guy is a great player. It probably came down to Ethan Small and Jake Magnum. Saturday, those guys pitched like top 15 picks (Lacy and Ginn). Asa was great, he comes out in the 7th inning and throws off speed pitches for strikes to set the tone. The second game, the way we finished was good. What is frustrating is when you lose those games. We need to do a better job of spreading out our hard hit balls throughout the game.
When you are not scoring, it's easy to point to small things and keep score that way. We felt like (Weber) was the right match up and had great pitchability right there. I thought he was fine, and Kasey too. They squared up a ball and we had a chance to rob it. That was the difference in the game, they made a play and we didn't. But the pitching did more than their share of the work this weekend. If we aren't going good offensively then it's going to be a tight ball game. Our pitching isn't going anywhere. Offensively, you can get better. This time last year, Mississippi State was in our same spot when we took 2 of 3 from them on the road.
Shewmake in the leadoff has been good. I love the mindset it gives him and Blaum. I think he is capable of more than what he showed this weekend, the numbers don't look like the player that he is.
These games are all critical. Alabama will be fighting to get into the tournament. It's going to be very very critical on the road. They just got done playing their rival in Auburn. They won once but they really could have won two of those games. If we will play our best, then the scoreboard will take care of itself.
Never miss the latest news from TexAgs!
Join our free email list