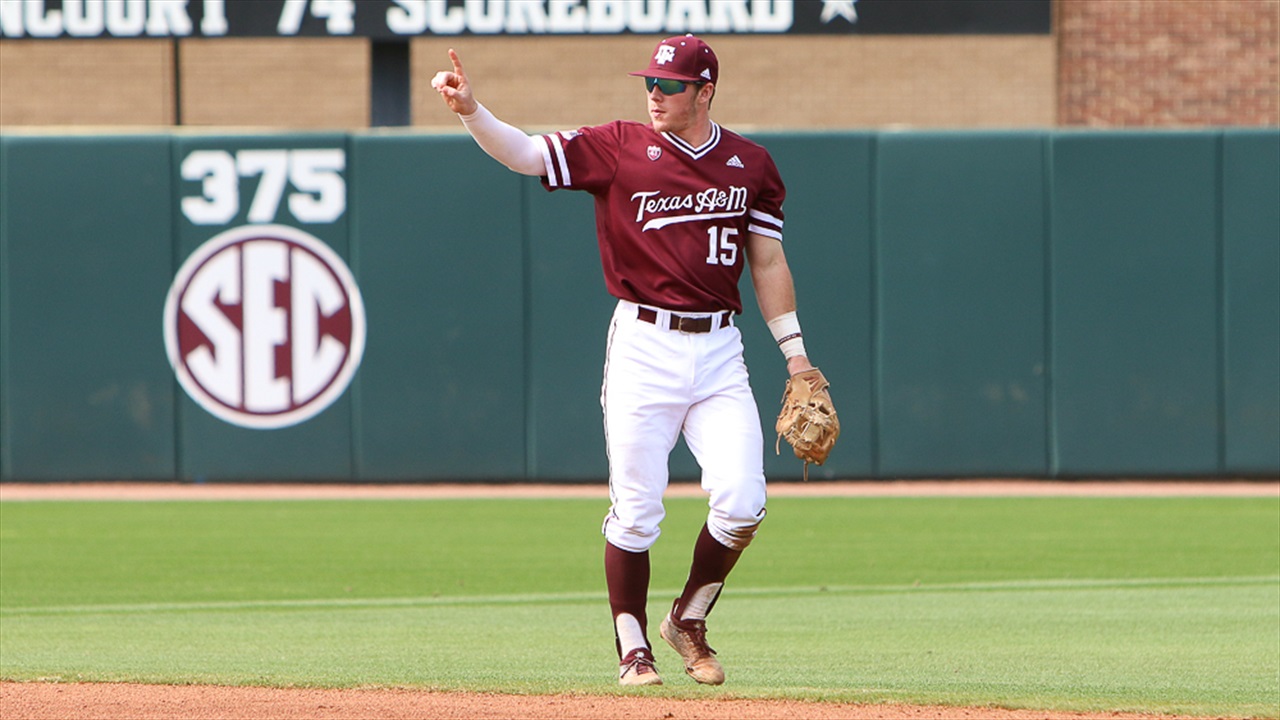 Photo by Mintie Betts, TexAgs
Texas A&M Baseball
Series Preview: No. 6 Texas A&M vs. No. 19 Ole Miss
---
Who: University of Mississippi (27-15, 10-8 SEC)
Where: Swayze Field – Oxford, Mississippi
When:
Thursday 8:00 p.m. CT (SEC Network)
Friday 6:30 p.m. CT (SEC+)
Saturday 2:00 p.m. CT (SEC+)
Pitching matchups
Thursday: John Doxakis (LHP, 5-2, 1.87) vs. Will Ethridge (RHP, 5-3, 2.54)
Friday: Asa Lacy (LHP, 6-2, 1.97) vs. Doug Nikhazy (LHP, 4-3, 3.77)
Saturday: TBA vs. TBA
Scouting Ole Miss
[Ole Miss] is one of the best, if not the best, offensive club in the SEC. They hit for average. They have plenty of power, and they are fast on the bases.
I look at the stats on paper and I'm wondering how this team has lost 15 games so far. This team is one of the best, if not the best, offensive club in the SEC. They hit for average. They have plenty of power, and they are fast on the bases. The pitching staff has a Friday night ace in Will Ethridge, a couple of capable middle relievers, and a solid closer. Their fielding is solid. It's a veteran team filled with a huge junior class that was rated No. 1 in the nation when it was signed three years ago. If there's one weakness, it's depth in the starting pitching. Otherwise, it's hard to see why this team is not atop the SEC standings or ranked higher than No. 19.
As far as offense, the Rebels have five starters hitting above .300, led by senior Ryan Olenek with a blistering .364. With that said, he's been in a mini-slump, going just 1-for-15 in his last four games. Junior Grae Kessinger is having a career year with a .349 average and 34 RBI. The grandson of famed Cubs shortstop Don Kessinger, the right-hander has been hot as of late going 8 for his last 18 at-bats with two home runs and five RBI. Switch hitter Thomas Dillard leads the team with a .541 slugging percentage, nine homers, and 36 RBI. Lefty Tyler Keenan is the biggest of several big run producers with a whopping 51 RBI.
The advantage at the plate versus Texas A&M is significant. The Rebels enter the weekend hitting .291 as a team compared to .261 for the Aggies. The starkest number comparison is slugging percentage. Ole Miss has five hitters with a slugging percentage over .500 – the Aggies have zero. In fact, there are only three hitters in maroon with a slugging percentage higher than .400. Ole Miss scores 7.5 runs a game. A&M plates 5.9 runs a contest. The Rebels have hit 47 homers compared to just 28 for the Aggies. Given the extra power numbers, it's surprising that Ole Miss and Texas A&M strike out about the same number of times (283 to 276). They also walk at a high rate, taking 223 free passes compared to A&M's 163. They have stolen 70 bases to the Aggies' 32. All offensive metrics clearly favor the Rebels.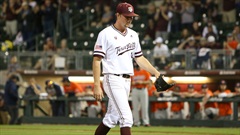 Mintie Betts, TexAgs
On the other hand, the pitching numbers favor the Aggies, as you would expect. Texas A&M's sparkling team ERA of 2.94 outshines the Rebels' 4.05. That doesn't mean Ole Miss doesn't have some arms that can shut down an offense that has struggled to produce most of the year. Junior Will Ethridge is the game one ace, as reflected in his 5-3 record and 2.54 ERA. As a reliever last season, the 6-foot-4, 240-pound right-hander dominated the Aggies at Olsen Field in two weekend outings.
Game two starter will be Doug Nikhazy with marginal weekend starter numbers – a 4-3 record and 3.77 ERA. He's a lefty though, and the Texas A&M lineup has had a very hard time with pitchers from the left side in 2019. The game three starter on Saturday has not been announced, but any pitcher who has started multiple weekend games this season has an ERA well north of 4.00. That's where A&M's advantage on the mound is most notable.
The top-end of the Ole Miss bullpen is pretty strong, led by closer Parker Caracci with eight saves and a 2.60 ERA. He has not allowed an earned run in his last 15 innings pitched. The bullpen's best arm is junior Austin Miller, and the intimidating 6-foot-7 235-pounder has a stout 1.89 and a team-leading WHIP of 0.92. He did get dinged for three runs in an inning of work on Tuesday against Mississippi State, however. Tyler Myers is another capable arm in the bullpen with a 3.25 ERA and a quality WHIP of 1.10. After that top group, the stat line drops off significantly. So as long as the top starters can be effective and absorb a lot of innings, there's enough firepower in the bullpen to close out games. If a starter gets knocked out early or one of their top 2-3 relievers is ineffective, then Ole Miss will have some issues as they get deeper into the bullpen.
Texas A&M storylines to watch
For the Aggies to win this series on the road, they will need dominant outings from co-aces John Doxakis and Asa Lacy.
The most significant storyline is very clear to see with this match-up. For the Aggies to win this series on the road, they will need dominant outings from co-aces John Doxakis and Asa Lacy. Solid or pretty good performances won't cut it this weekend against this Rebel offense. The statistics look great – both pitchers are under 2.00 ERA with high strikeout numbers. But both pitchers have struggled early in games, getting behind in the count and allowing free passes. The two are so talented that they can work out of these early jams without much damage, but with A&M's struggles at the plate, even a little damage hurts. For example, if you look at Asa Lacy's stat line from Saturday's 3-2 loss, he surrendered only two hits and the three runs. However, he walked five and hit two batters in six innings of work. In the first inning, he opened the game hitting the first two batters and then gave up a three-run home run. For a team that is struggling at the plate, to go down 3-0 immediately in a rain-shortened seven inning game is a kick in the gut and immediately killed any momentum.
When an ace comes out of the block and struggles, it affects the whole team. It hurt against South Carolina, but it will be suicide against a much better offensive club in Oxford. I can't say loudly enough that this team MUST get dominant outings from its two dominant starters… Period. Going back to Lacy, he either hit or walked the lead-off hitter in each of the first three innings against South Carolina. He actually started pitching out of the stretch midway through the game (even with nobody on-base) and settled in the rest of the way. It will be interesting to watch if he starts Friday's game pitching out of the stretch.
The other storyline is the recent uptick in hitting, especially with the long ball. The Aggie bats have scored 16 runs in the past two games and have belted four homers. Is this a turning point or was it just a short-term blip? To figure that out, watch three A&M hitters for the answer. The resurrection of Zach Deloach has been well-documented over the past week, and you could see him turning the corner several weeks ago. He's now in the No. 2 hole, so the stakes have gone up. This offense can't afford to see him go back into a funk. He's raised his average from .160 to .224 in the past 10 days. If he hits .300-.320 the rest of the way with some of the power hits we're starting to see, it'll be a huge development for this offense.
Also watch Bryce Blaum, who has been nursing some nagging injuries in recent weeks and saw his average dip into the low .280's. In the lead-off spot he was hitting way too many fly balls and not getting on-base. But he had a nice game on Tuesday, collecting two hits and reaching base three times. He needs to get on-base for this team to score consistently.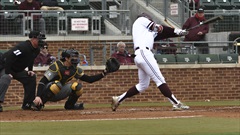 Elisa Schmitt, TexAgs
Finally, Logan Foster has been seeing the ball better the past week. On Tuesday, he hit the ball on the screws in every at-bat. One long gapper was run down on a nice catch by the UT-A fielder that robbed Foster of a double, but every other at-bat resulted in a frozen rope line drive. He also had a couple of long balls against South Carolina, and that's exactly what A&M needs from him. You can live with the strikeouts if he can squeeze in a couple of line drives or big flies. He's back in the clean-up spot, so I'm looking for a few big hits and RBI from him, and not worried about the batting average. If those three can show that their recent upticks in production are more than a temporary blip, then this offense may finally be what we all wanted it to be in February. If a newcomer like Hunter Watson can continue to pitch-in with a few hits at the bottom of the lineup, then things will get vey interesting offensively this weekend and down the homestretch.
What's at stake this weekend
All SEC series are important, but I have to say that with only four series left, this three-game road set against Ole Miss is probably the most important. If the Aggies can find a way to win this series, then the postseason possibilities are endless, including a possible national seed. After the weekend in Oxford, the only remaining road series is against last place Alabama. The other two weekends against Arkansas and Mississippi State will be in the friendly confines of Olsen Field. A 2-1 weekend in Oxford sets the table for a path to a national seed and makes hosting a regional very realistic, if not probable, barring a major stumble down the stretch. If the Aggies lose this series, a path to a national seed looks very uncertain and unlikely, barring a sweep over MSU or Arkansas and a sweep of Alabama. Most national experts feel it will take a 10-3 finish for Texas A&M to be in position to grab a national seed, so a pair of losses this weekend will be a huge blow to the team's chances of hosting in the Super Regional round. A regional host berth would still be on the table, but it forces the Aggies to win both series against the highly ranked Bulldogs and Razorbacks. Just win, baby!
Never miss the latest news from TexAgs!
Join our free email list