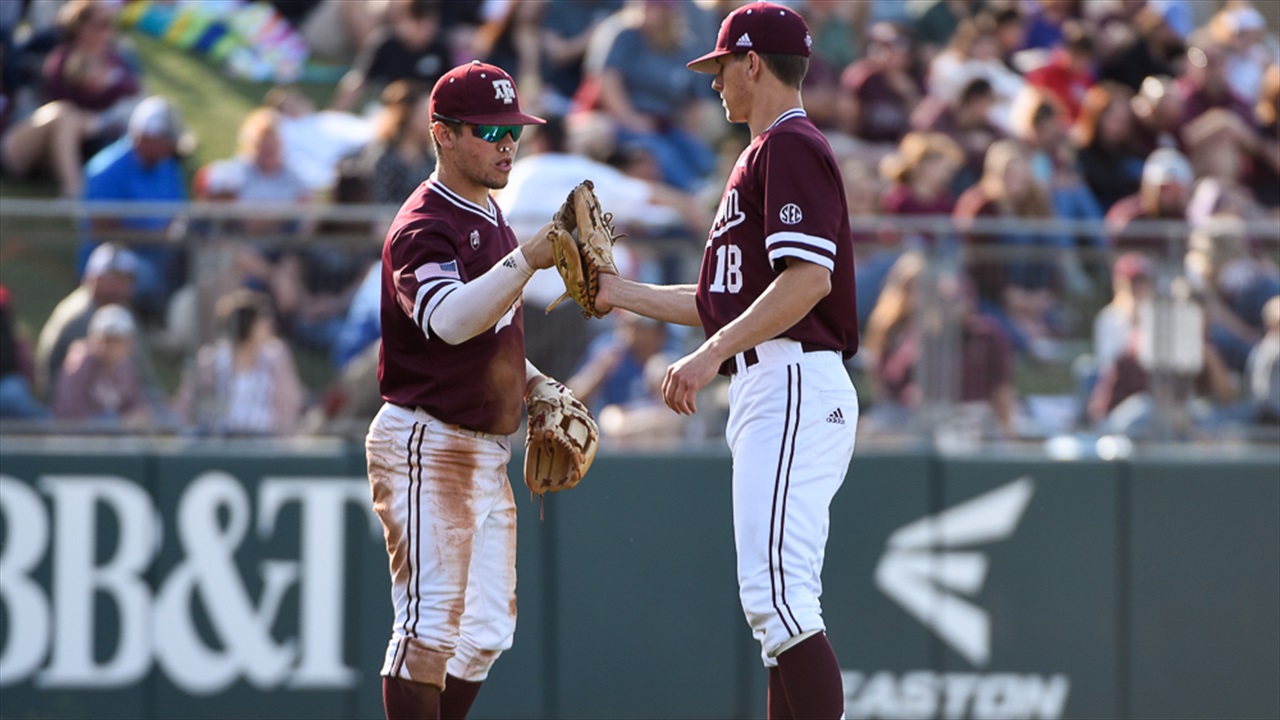 Rob Childress
Asa Lacy
Mikey Hoehner
Texas A&M Baseball
Aggies continue to struggle at the plate in blowout loss to Auburn, 7-0
---
Game #37: No. 22 Auburn 7, No. 10 Texas A&M 0
Records: Texas A&M (26-10-1, 8-5-1), Auburn (24-11, 8-6)
WP: Asa Lacy (6-1)
LP: Brooks Fuller (2-1)
Box Score
---
Asa Lacy's first subpar outing of the season combined with an abysmal day at the plate caused the No. 10 A&M baseball team to fall victim to No. 22 Auburn, 7-0, on Saturday night at Olsen Field.
The previously unblemished Lacy got a quick groundout in the first inning but struggled with his command as Kason Howell and Edouard Julien each smacked hits to put ducks on the pond. The southpaw then lost control of a fastball which scored Howell. Designated hitter Conor Davis then blasted a two-run shot to right center to cap a three-run first frame for the Tigers.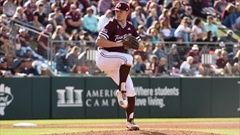 Mintie Betts, TexAgs
"They were more competitive all the way around than we were today and give all the Auburn hitters the credit," A&M head coach Rob Childress said. "With three at-bats the two, three, and four hitters got big hits with two strikes and all of the sudden we're chasing three runs."
Lacy didn't have his best stuff for the duration of the outing but was able to prevent the Tigers from plating any more runs in his 4.2-innings of work. The sophomore finished the evening with four strikeouts, three earned runs and seven allowed hits.
"They put some good swings on some balls on some of my mistakes early in the count and that just really got my fire going," Lacy said. "When you're in the SEC and playing a good team like this, they are going to make you pay for it."
Chandler Jozwiak replaced Lacy in the fifth and put together an impressive relief appearance. The Brenham-native kept the Aggies in the game, tossing three scoreless frames before running into some trouble in the ninth.
"[Chandler] Jozwiak certainly gave us a chance, going out there and hanging some zeroes for us," Childress said. "Both Lacy and [Chandler Jozwiak] did a nice job of hanging zeroes to get us into the ninth."
Auburn starter Brooks Fuller gave the A&M offense some trouble, allowing just four hits in 6.0 innings of work. The Aggies combined to go 5-for-29 (.172) on Saturday night with just four Aggie players notching hits in the game.
"We have to figure it out right now as a group, the guys that we have need to be more consistent."
"They were much more competitive from an offensive standpoint today, and it was obvious if you were at the game today," Childress said.
Mikey Hoehner led the effort with two hits. The catcher said that the Aggies are having trouble with consistency right now but doesn't feel like they are far off from being where they need to be.
"We have to figure it out right now as a group, the guys that we have need to be more consistent," Hoehner said. "When things aren't going well we have to adjust and we just have to make some little adjustments — zone in on one pitch and own it."
The Aggies will look to employ those adjusments and revamp their approach tomorrow afternoon as they host the Tigers in a series-deciding game three. That game will be televised on SEC Network+ with first pitch slated for 1:02 p.m.
Never miss the latest news from TexAgs!
Join our free email list