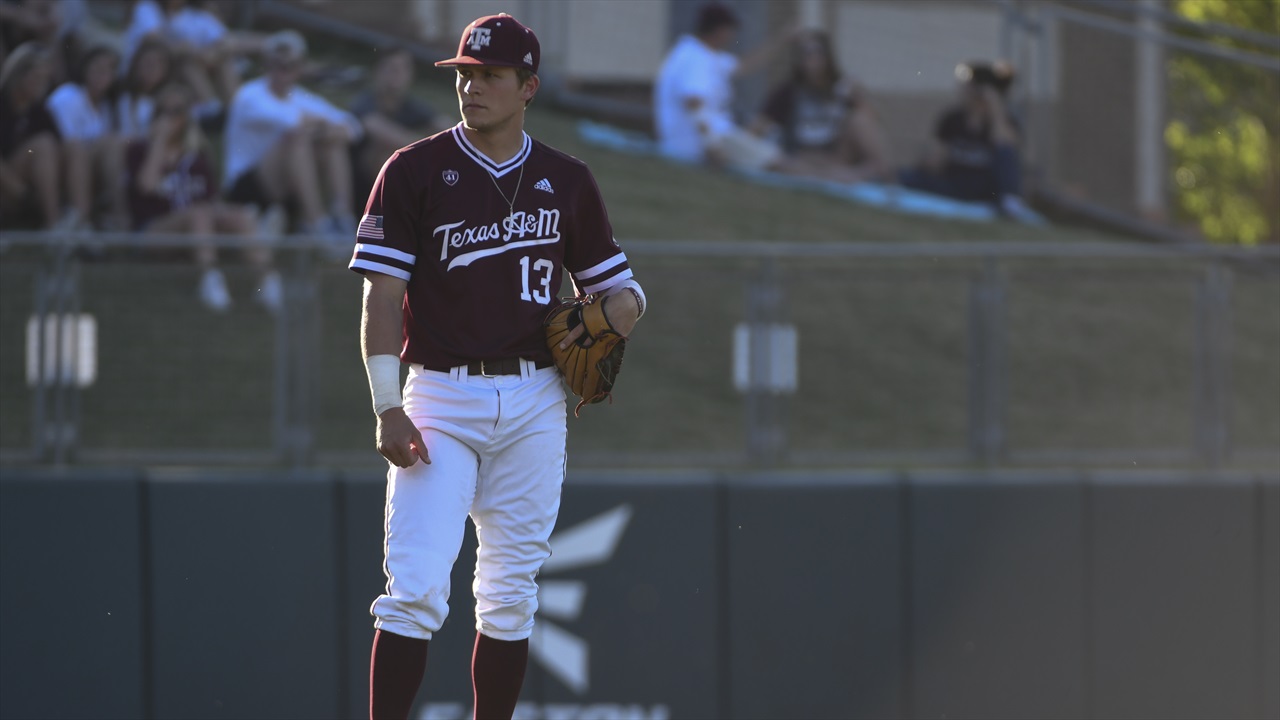 Rob Childress
Mikey Hoehner
Christian Roa
Texas A&M Baseball
Texas State upsets No. 10 Texas A&M, 5-3, behind five run first inning
---
Game #35: Texas State 5, No. 10 Texas A&M 3
Records: Texas A&M (25-9-1, 7-4-1), Texas State (21-12, 7-5)
WP: Brent Hebert (2-1)
LP: Dustin Saenz (2-1)
Box Score
---
In a disappointing night at Olsen Field, No. 10 Texas A&M fell to visiting Texas State, 5-3. On a night when starting southpaw Dustin Saenz had a chance to build upon his dominating performance over Texas, that chance fell by the way side in a lackluster performance.
The first inning couldn't have started any worse of the Aggie lefty. The very first pitch of the game bounced off the left field wall for a leadoff double, and after a sacrifice bunt and two walks, the bases were loaded with only one away. Saenz wouldn't retire another batter. Saenz panicked when the Bobcats bluffed a steal of home and balked, allowing the first run of the game to score. The bases were loaded again just two pitches later when Saenz walked the third hitter of the inning. Hope was fading fast.
Then it was snuffed out completely. On a 1-1 pitch that was left right down the middle, DH Will Hollis crushed a grand slam way over the left field wall. Hollis even took an elongated pause to admire his work – it was as if he knew that right there in the first inning, he had delivered a dagger that A&M would never recover from.
"It was incredibly disappointing start," said Rob Childress. "[Saenz] had an opportunity to validate a great performance last week against Texas... It's disappointing to say the least."
"[Saenz] had an opportunity to validate a great performance last week against Texas. It's disappointing to say the least."
The Aggies wouldn't allow another run in 8.2 innings pitched in an incredible effort from the bullpen. One of those arms was RHP Christian Roa, who made his first appearance in several weeks after an injury.
"[I'm] feeling a lot better, I just wasn't healthy the last couple of weeks," said Roa after the game. "Felt good attacking the zone, and just being back out there felt really good."
Childress and Roa both declined to specify the nature of the injury, only saying that Roa had been "unhealthy" the last couple of weeks.
Offensively, the Aggie bats couldn't muster much. What they were able to accomplish came in the 4th inning, an inning that has been somewhat of a sparkplug for A&M baseball this season. Singles from Menefee and Ducoff set the table for Aaron Walters to single in the first run. Bryce Blaum would send a sacrifice fly into center, and Chandler Morris would crack a single back up the middle to score the second and third runs respectively for the Aggies.
Despite an electric 4th frame and impromptu domination from a taxed bullpen, Texas A&M was unable to conjure Olsen Magic and dropped the midweek contest to the upstart Bobcats.
The Aggies don't have time to feel sorry for themselves by any means. They will face a very good Auburn Tigers team this weekend for a three-game set. First pitch from Olsen is scheduled for Friday night at 6:30 p.m. as John Doxakis will toe the rubber looking to get things back on track.
Never miss the latest news from TexAgs!
Join our free email list