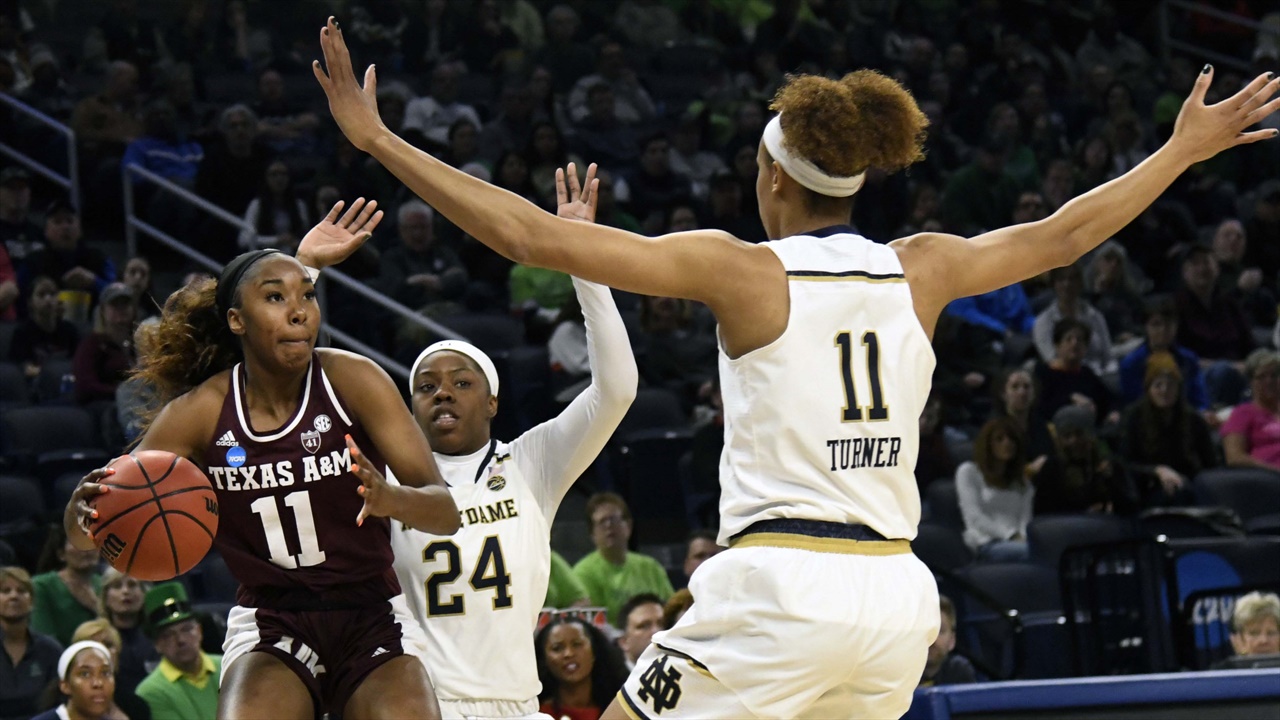 Texas A&M Women's Basketball
Aggies' luck runs out in the Sweet Sixteen, fall to Fighting Irish, 87-80
---
History has a funny way of repeating itself.
In almost the exact same fashion as last year's six point defeat, the 4th seeded Aggies squared off fell by seven to the first seeded Notre Dame Fighting Irish, 87-80.
The Aggies were defeated despite Chennedy Carter's career high 35 points. Arike Ogunbowale led the way for the Irish with 32 points and 5 rebounds while Jessica Shepard added 24 points, 6 assists and 14 rebounds.
Carter set the tone for the Aggies early with a pull up three from deep and then followed that up with a layup in traffic. Jessica Shepard did the same for the Irish, showcasing her versatility from both mid range and the post. Carter grabbed two fouls early on but waved off Coach Blair's attempts to sub her out. This call would prove correct as Carter ended the first quarter with 11 points compared to just seven from the rest of the team.
Notre Dame stayed balanced offensively with five different players scoring at least three points. However, this wasn't enough to maintain their early lead or the momentum. Lay-ups from Shambria Washington, N'dea Jones, Kayla Wells and Ciera Johnson lightened Carter's load and freed up the sophomore to hit two deep triples from NBA range. Back and forth went the game and both squads went to the locker room at half all knotted up at 42 a side.
Notre Dame started the second half with a blitzing 10-2 run. The Irish's all time leading scorer, Arike Ogunbowale, scored 12 of their 23 points which was enough to give them the lead despite 14 from Chennedy Carter. A&M ended the 3rd quarter trailing the Irish, 65-62.
All-American Jackie Young came to life with 10 points and combined with Ognubowale's 12 the Irish were able to outlast the Aggies in the 4th and secure the victory. A one on one and one pull up jumper over Carter by Ognubowale signaled the end as this started a dominant 14-5 through the middle of the 4th.
The Fighting Irish continue their pursuit of back to back national championships against either Missouri State or Stanford.
A SPECIAL THANKS TO
Mac Resource Computers for their sponsorship of all women's basketball content produced throughout the season at TexAgs.com! For the seventh consecutive year, all WBB content will be available to you for free!
Never miss the latest news from TexAgs!
Join our free email list