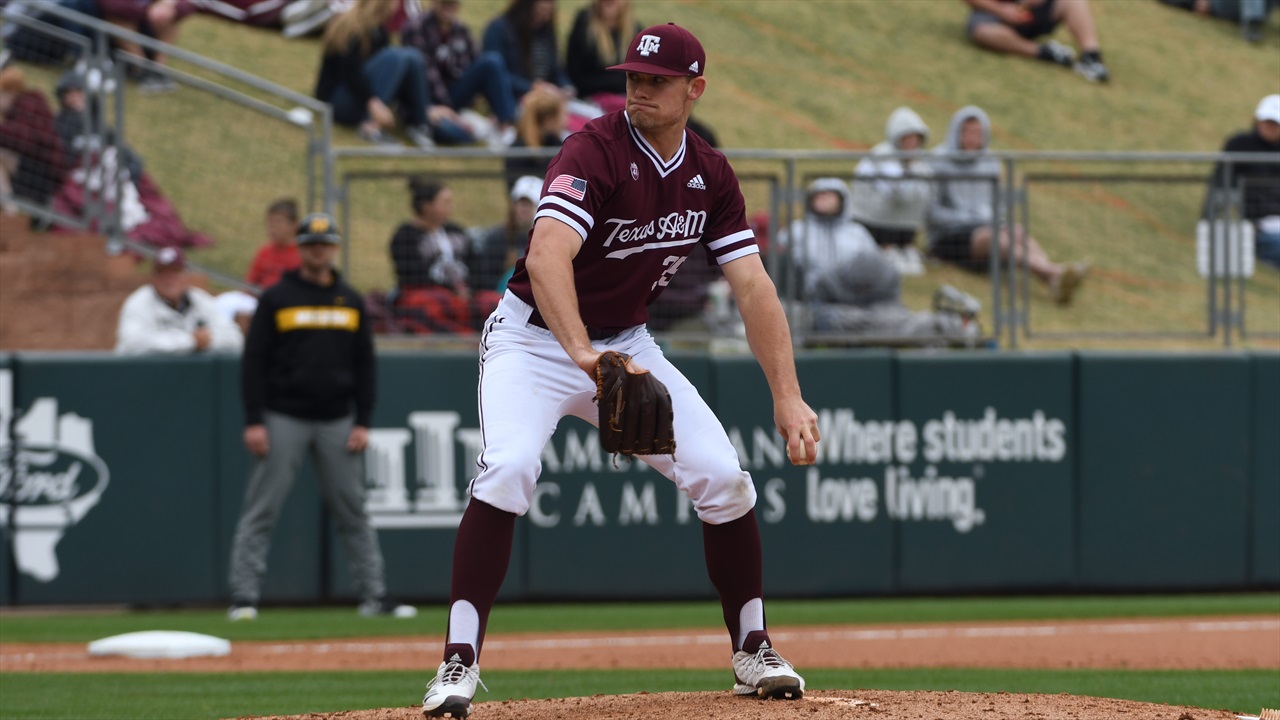 Rob Childress
Asa Lacy
Chandler Jozwiak
Logan Foster
Texas A&M Baseball
Lacy's gem goes unrewarded as Aggies fall, 3-2, in extra innings heart breaker
---
Game #29: Missouri 3, No. 10 Texas A&M 2
Records: Texas A&M (23-6, 6-2), Missouri (18-10, 3-5),
WP: Ian Bedell (2-1)
LP: Chandler Jozwiak (3-2)
Box Score
---
Despite a commanding performance from A&M left-handed pitcher Asa Lacy, the No. 10 Aggie baseball team fell to Missouri, 3-2, in 15 innings at Olsen Field on Saturday evening.
Missouri five-hole Mark Vierling broke the game open in the top of the 15th, singling to the left side, plating Chris Cornelius. Prior to Vierling's game-winning RBI single, A&M pitcher Chandler Jozwiak had tossed five scoreless innings but had a fastball hang up.
"It was supposed to be a fastball in and it came out a little bit and he just put it in the right spot," Jozwiak said. "Allonte [Wingate] was covering the bag at second but he just found a hole and got it done."
The Aggies came within a single strike of ending the game in the top of the ninth, however, Mizzou pinch-hitter Broyles blasted a two-run home run over the right field wall on a 1-2 count with two outs to tie the game up at 2-2.
Rob Childress shouldered the blame for the game-tying home run, citing regret for signaling A&M reliever Kasey Kalich to throw a slider.
"That was a poor pitch selection there on the home run," Childress said. "If I had to do it over again, I certainly wouldn't have called that pitch. That falls 100-percent on me and not on the guy who threw it."
Though he didn't notch a win, Asa Lacy put together arguably his best outing of the season thus far – allowing just four hits, no runs, one walk and fanning 12 in 7.2 innings pitched on Saturday. After a talk with the umpire in the second inning, Lacy switched his approach on the mound and pitched out of the stretch for the duration of the game.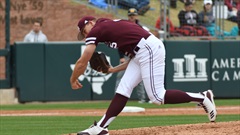 Bradley Countie, TexAgs
"I thought that he was outstanding, he certainly deserved the opportunity to win and that's my fault that we didn't," Childress said. "They [the umpires] said he wasn't coming in contact with the rubber which we have not had that called through seven weeks. I didn't want that to be a point of focus for him so we just went to the stretch."
The lefty strike-pumper tossed a career-high 119 total pitches in the outing and said that he is still getting more confident in his command.
"I think my command is continuing to get better which is good to see and we are still playing great defense behind me," Lacy said.
Mizzou southpaw Tyler Laplante got the start on the bump for the Tigers and though his fastball rarely reached the 90's, he gave the Aggies some trouble with his three-pitch mix.
"He was a lot like their Friday night starter in that he wasn't going to overpower us but he could definitely spot things up for all pitches," A&M designated hitter Logan Foster said. "In that situation, you just have to focus on your approach and keep your swing short and sweet."
After the loss, Foster stated that the message across the team is clear: leave the loss in the past and get back to playing their game.
"The first thing coach said after the game was 'we need to flush this and put it to bed as soon as possible'," Foster said. "A lot of guys need to unwind but we'll be ready to come out tomorrow and get back to it."
The two teams will collide again at Olsen Field tomorrow with the series on the line. Rob Childress did not name a Sunday starter after the game on Saturday. After only employing three pitchers in 15 innings, the Aggies will have options. First pitch of the series-deciding game is slated for 1:02 p.m. and will be televised on SEC Network+.
Never miss the latest news from TexAgs!
Join our free email list