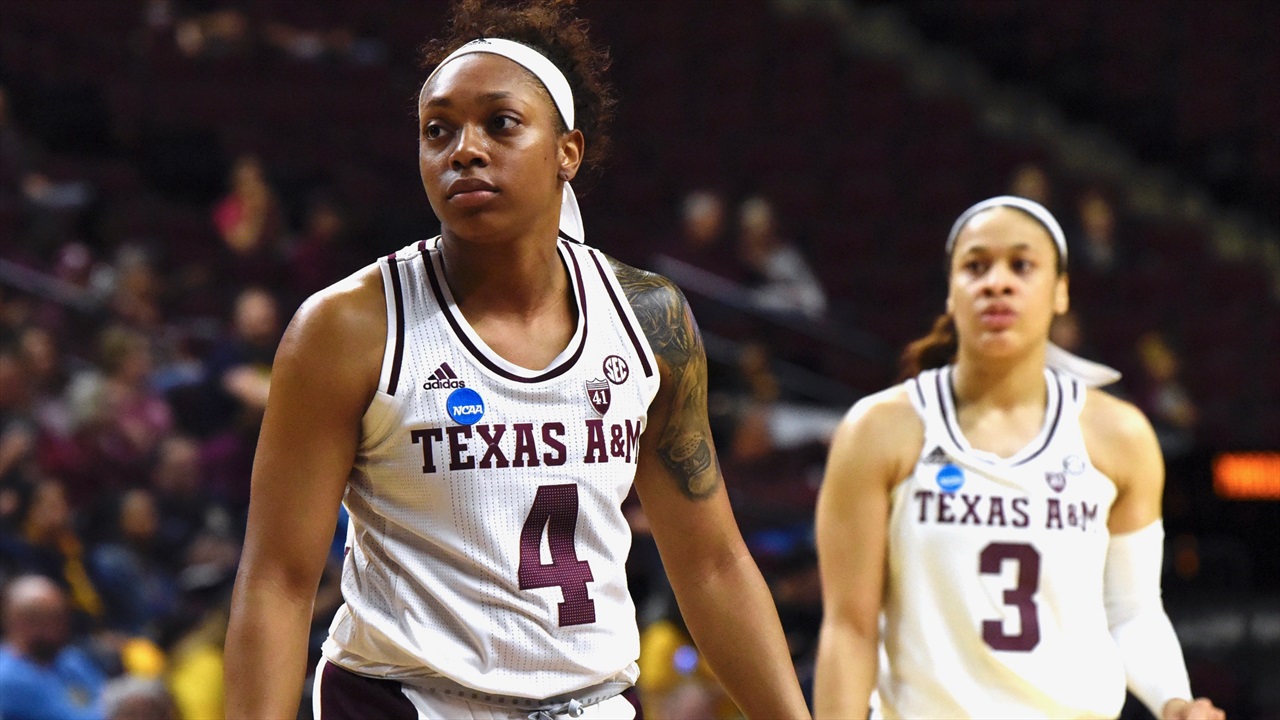 Texas A&M Women's Basketball
Texas A&M advances to Sweet Sixteen after defeating Marquette, 78-76
---
Two years as an Aggie, and two game-winning plays for Chennedy Carter to send her team to the Sweet Sixteen.
Last year, it was her heroic top-of-the-key shot with 2.8 seconds remaining to beat DePaul. This year, it was her steal on Marquette's inbounds pass with five seconds to play to seal a 78-76 nail-biting victory over Marquette on Sunday afternoon.
"That's Chennedy Carter having a nose for the ball," said coach Gary Blair. "She is such a great defensive help player. There is no telling how good she will be with how good she is becoming on defense. She made a great play and wanted the ball."
Marquette got off to a hot start, using three-point shooting and a pair of runs to lead the Ags midway through the first quarter, 16-8.
A slow Aggie start, partly due to the cold shooting from Chennedy Carter who shot 3-9 from the floor in the quarter, helped aid Marquette's early separation.
"Chennedy Carter is a great player. We had trouble shutting her down and stopping A&M's offensive rebounds."
Fortunately for the Aggies, early perimeter struggles were made up for by a strong inside presence. Ciera Johnson and N'dea Jones combined for 10 points and 6 offensive rebounds at the half to help keep A&M in the game.
A&M began the second half doing more of the same – crashing the offensive boards and getting second chance points. Johnson and Jones finished the game totaling 11 and 18 in those respective categories. Pair this with Chennedy Carter heating up, and the Ags looked to be in good shape.
"Chennedy Carter is a great player. We had trouble shutting her down and stopping A&M's offensive rebounds," said Marquette head coach Carolyn Kieger.
Carter finished the game with 30 points on 12-28 shooting, including 4-8 from three.
A back-and-forth game was temporarily thrown off course when Marquette erupted for a 10-0 run in a quick 2 minutes and 17 seconds span in the third quarter that forced an A&M timeout.
A&M came out of the timeout and fed Kayla Wells the ball for an open triple to return the contest to its exciting nature where neither team was quite able to capture momentum for significant amounts of time.
The Wells three helped A&M slowly climb back into the game, and the Aggies pulled within two points of Marquette heading into the fourth quarter.
The Aggies stuck to their game-plan of dominating inside until perimeter play highlighted the last few minutes of basketball.
A&M, who had been trailing Marquette nearly the entire game (leading only five minutes and 36 seconds of game time), took a 73-72 lead on a Carter three with 3:43 remaining.
Marquette recaptured the lead, a pattern seen throughout the game, and was in good position to close out a win after Amani Wilborn sunk two foul shots with 36 seconds remaining to elevate Marquette to a 76-74 lead.
A&M called a timeout to draw up a play as the Reed Arena crowd stood to their feet.
TexAgs
Carter, who typically would be taking a late game shot, faced pressure from multiple Marquette defenders and dished the ball to Shambria Washington on the wing who made a clutch three-pointer with 23 ticks left to give A&M a 77-76 lead.
"It wasn't the play," stated Shambria Washington. "Chennedy (Carter) just made a great read. She was getting tripled all night – she just hit me and I was open."
Washington had a great look on the wing because of Marquette's game plan in guarding her.
"She's (Shambria Washington) made 11 threes on the year. We didn't expect her to go 3-4 from three, and unfortunately it was her night. Give all credit to her," said Kieger.
Carter saw the Marquette defense giving Washington space on the perimeter as the play unfolded.
"I knew someone was going to come with me off the ball screen and I saw Marquette had been shagging off Sham all night. I've seen Sham in the gym all week, and she was open so I hit her."
An ensuing impressive defensive possession by the Aggies forced Marquette to call one last timeout with just five seconds remaining to dial up a play call. With Marquette inbounding on A&M's baseline, there was plenty of time for a dribble or two and a shot.
However, neither a dribble or shot were attempted, as Carter stole the loose ball off the Marquette inbounds pass and was immediately fouled.
She couldn't help but smile as she walked to the foul line, knowing a trip to the Sweet Sixteen had been sealed.
A SPECIAL THANKS TO
Mac Resource Computers for their sponsorship of all women's basketball content produced throughout the season at TexAgs.com! For the seventh consecutive year, all WBB content will be available to you for free!
Never miss the latest news from TexAgs!
Join our free email list