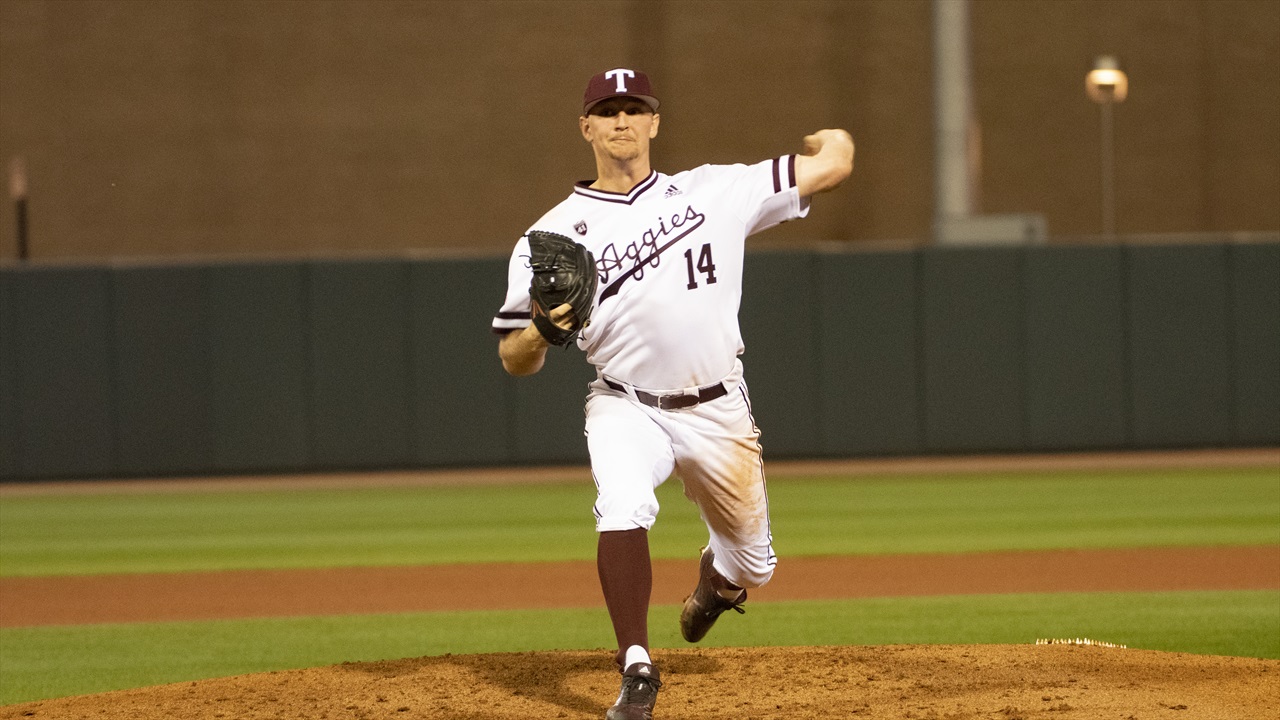 Photo by Tarah Cochran, TexAgs
Texas A&M Baseball
Series Preview: No. 19 Texas A&M vs. No. 1 Vanderbilt
---
Who: Vanderbilt University (14-3, 0-0 SEC)
Where: Olsen Field at Blue Bell Park – College Station, TX
When:
Friday 6:30 p.m. CT (SEC+)
Saturday 2:00 p.m. CT (SEC+)
Sunday 1:00 p.m. CT (SEC+)
Pitching matchups
Friday: John Doxakis (LHP, 3-1, 1.44) vs. Drake Fellows (RHP, 3-0, 5.82)
Saturday: Asa Lacy (LHP, 4-0, 0.38) vs. Patrick Raby (RHP, 3-0, 0.87)
Sunday: TBA vs. TBA

Scouting Vanderbilt
So how many superlatives do you need to describe the No. 1 ranked team in the country, and a program under Tim Corbin that has been one of the top 3-4 elite baseball programs over the past decade? Thanks schedule makers! Aggies know that once the SEC schedule begins, it's a brutal grind for 10 weeks, and it doesn't get more brutal than the powerhouse Commodores that will be strolling into Olsen Field this weekend.
But in a strange twist, since joining the SEC Texas A&M has had quite a bit of success against the titans of college baseball from Nashville.
But in a strange twist, since joining the SEC Texas A&M has had quite a bit of success against the titans of college baseball from Nashville. The Aggies lead the all-time series 9-7 including a home series win in 2016. To repeat that feat, Rob Childress and his team must figure out a way to score against a distinguished veteran starting rotation that is led by senior multi-year starter Patrick Raby who is currently 3-0 with an 0.87 ERA. Raby has seen it all and played on every national stage in his career, so the Olsen Field environment will not phase the 6-foot-3, 230-pound right-hander. He'll throw on Saturday, seting up a mammoth pitching match-up with sophomore phenom Asa Lacy and his 4-0 record and 0.38 ERA. Runs will be at a premium on Saturday. However, the most important match-up will be on Friday when John Doxakis faces junior veteran ace Drake Fellows. Doxakis (3-1, 1.44 ERA) was cruising through the 2019 campaign until he hit a snag last Friday against Gonzaga, giving up several runs and registering his first loss of the season. On the other hand, Fellows has been struggling by his high standards with a bloated 5.32 ERA despite an unblemished 3-0 record. He has been the beneficiary of the hot Commodore bats. And when you look at his season, he hasn't been sharp in any of his starts surrendering no fewer than five hits in any contest while only lasting no more than 5-6 innings. So that's Texas A&M's opportunity this weekend in terms of setting the table against Vandy's pitching staff.
Like the Aggies, the Commodores have not named a Sunday starter. They do have 3-4 quality arms in the bullpen. Three pitchers have garnered multiple saves (2) so far this year - Tyler Brown (1.74 ERA, .89 WHIP), Mason Hickman (2.50 ERA, 1.00 WHIP), and Jake Eder (2.70 ERA, .65 WHIP). Vanderbilt's bullpen isn't quite as deep as it's been in the past, and the numbers tail off after these first five arms. Overall, Vanderbilt's pitching staff has a team ERA of 4.24 and have surrendered 75 runs in 17 games versus A&M's staff giving up just 53 runs in 19 contests. Their staff walks significantly more batters than A&M (73 vs. 47). However, the number that should worry Aggie fans are the 12.2 strikeouts/game. That leads the nation. The Aggies aren't far behind at 11.2 strikeouts/game (8th in the nation), but with an offense struggling at .261, the hitters must be patient with a high strikeout/high walk opposing staff.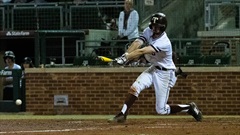 Jackie Ysaquirre, TexAgs
While the Aggies can match and even exceed Vanderbilt's pitching numbers, there is no comparison in the offensive numbers. The Commodores lead the SEC in team batting average (.328), on-base percentage (.438), and are second in runs scored (152).
In comparison, the Aggie offense has scored 121 runs playing two more games to date. Leading the way is mark Austin with a sizzling .481 batting average and .582 on-base percentage. Veteran J.J. Bleday is the leading power source in the lineup hitting .397 with six homers and 21 RBI. Senior infielder Paul Ethan is hitting .415 with a team high 22 RBI. In all, Vanderbilt has six starters hitting above .300. The Aggies have one. This will be by far the biggest challenge of the season for Texas A&M pitching, and will tell us a lot about just how good this staff is against elite competition.
Texas A&M storylines to watch
There's nothing complicated about Texas A&M's storylines for the weekend. When you are playing the best team in the land, the team will be exposed one way or the other - good or bad. We've talked almost a month about Texas A&M's elite starting pitching at the top of the order, and ace John Doxakis is coming off his first sub-par outing on Friday. How he comes out and performs tonight on the the most important stage of the season will tell us a lot about the junior lefty, and it will tell us a lot about this team in SEC play. If Doxakis can establish his dominance against a struggling but talented Drake Fellows and come away with the win in a quality performance, then all will be right in the world of Aggie baseball. If Doxakis struggles, or Fellows finds his groove and simply out-duels his counterpart for the Vandy win, that puts a ton of pressure on Asa Lacy and the struggling offense going up against all-American candiadte Patrick Raby. Win Friday and the team can play loose on Saturday knowing that the pitching match-ups and depth will favor Texas A&M on Sunday. Friday night is always labeled the most important game of the weekend, but multiply that by a factor of 10x tonight. This game is critical.
On offense, the lineup continues to take two steps forard and one step back. The bats looked to be awakening last Saturday before shutting down on Sunday against Gonzaga and on Tuesday against Dallas Baptist.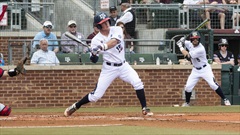 Tarah Cochran, TexAgs
Other than Bryce Blaum, nobody is hitting the ball hard with consistency, and there's no clear danger for an opposing pitcher looking at this lineup. If the batting order can't produce runs at a better clip, the staff must start looking at how to more efficienciently manufacture runs with more speed in the lineup. We can talk all season about the need for Braden Shewmake to truly beak out and start becoming a difference maker, but until we see signs of it happening over a 3-4 game stretch, it's becoming harder to rely on hope that it will happen. SEC play is here. It gets real starting tonight. It's time for experienced veterans to step up and produce. Along those lines, I will be interesting to see if Allonte Wingate gets back into the starting lineup after last weekend's nice performance at the plate. He did not draw the start on Tuesday which turned some heads, and Vanderbilt will be starting two righties on Friday and Saturday. Will Coach Childress go with the lefthanded hitters in a platoon situation, or did he see enough from Wingate to give him a starting spot in the batting order full-time? At this point, I don't know. The answers aren't clear at this time. If we had the answers, we wouldn't be talking about it so much. What we do know is this offense must put some runs on the board because it's unreasonable to expect the Aggie pitching staff to blank an explosive vanderbilt offense all weekend.
What's at stake this weekend
It's opening weekend to the SEC Conference race and the No. 1 ranked team in the nation is coming to Olsen Field. Everything is at stake. Everything is on the line. Win the series and this team grabs a big guzzle of momentum and shoots up the rankings. Struggle at home and lose three games, and the Aggies will have a tall hill to climb trying to get back to .500 by stealing several SEC road games. It's imperative that you win home series in the SEC because road games are so difficult to steal. While winning one game certainly isn't ideal, it's not the end of the world losing a pair to the top team in the nation.
So, winning two or three games and the Aggies shoot up the rankings and every SEC and postseason goal is clearly within reach. All will be good in Aggieland. Winning one game this weekend will sting, but it won't put the Aggies in a bad spot this early in the season. But losing three at home will not be good. That scenario will put a big strain on the team to make up those three games against a lot of upcoming, ranked SEC opponents. You never want to start off the SEC season 0-3. So a lot is on the line this weekend. Texas A&M can't come out flat against the No. 1 team and expect to survive. Aggies must pitch efficiently, play excellent defense, and find a way to get some runs across the plate. There's a lot of opportunity this weekend, but there's some risk as well. Play ball!
Never miss the latest news from TexAgs!
Join our free email list