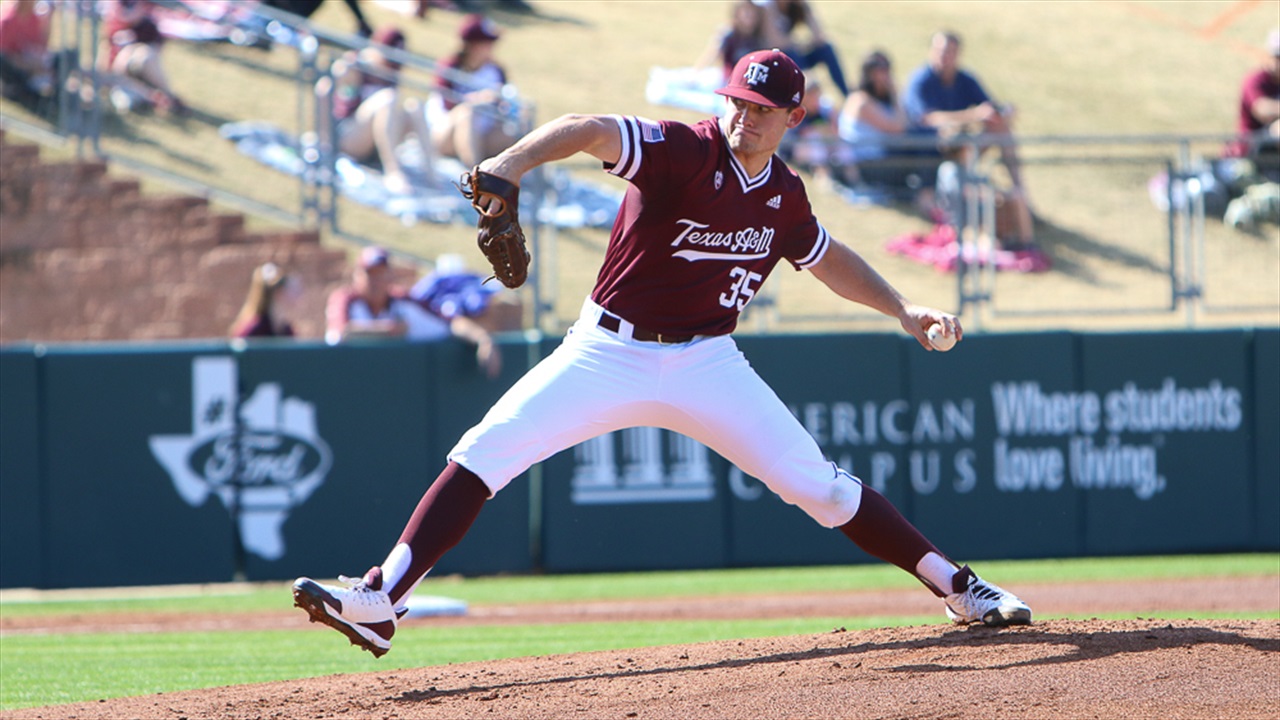 Photo by Mintie Betts, TexAgs
Texas A&M Baseball
Lacy's expanded arsenal providing Aggies with a second dominant southpaw starter
---
Asa Lacy put an exclamation point on a solid freshman season during last year's SEC Tournament, shutting out No. 7 Georgia for a career-high six innings and striking out eight. That was his first collegiate outing where he was stretched out in a big game, and he handled it with relative ease.
He has carried the momentum from that strong finish into his sophomore campaign, where he has won all four of his starts so far and boasts an absurdly microscopic 0.38 ERA. Opponents are hitting a paltry .118 against him and he has struck out 37 in 24 innings.
"I feel like I've really tried to go out there and give the team a chance to win," Lacy says. "I'm just happy that even when I haven't had my best stuff, I've been able to let the defense work and keep the damage to a minimum when they get runners on base."
Last May, it might not have seemed possible that Lacy could improve much from his dominance against Georgia in Hoover, but he has done just that.
"He's light years better than he was last year," says head coach Rob Childress. "Last year he was a guy with a great arm and two pitches, now he's a guy that knows how to pitch and still getting better with a four-pitch mix. He's extremely confident now, where last year he wasn't so sure. He had some good moments along the way, but now he's in control. He's going to keep refining as a pitcher and only get better."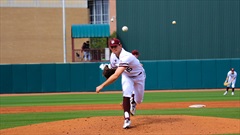 Angelina Alcantar, TexAgs
The biggest difference for Lacy this year is an explosive arsenal that has doubled since last spring. Strictly a fastball-changeup pitcher as a freshman with the occasional breaking ball, Lacy added a curveball while playing summer ball in the Alaska Baseball League.
"I was throwing a spiked curveball late in the season freshman year," Lacy says. "It was hit or miss. It always broke a lot, but it was tough to throw for a strike."
Playing for the Mat-su Miners, his pitching coach showed him a new curveball grip that Lacy immediately felt comfortable with. In nine appearances for the Miners, Lacy went 4-1 with a 1.79 ERA, striking out 47 and walking only 10 in 40.1 innings.
"I just got in the zone playing in Alaska − it was really fun," says Lacy, who was named the top prospect in the Alaska Baseball League by multiple publications. "We had a great group of guys in the clubhouse. It's kind of unusual for summer ball, but they really preached winning, and all of our coaches were really focused on developing us. I think Coach Childress gave them a really good plan of what I needed to do to come back and be what I needed to be this year."
He wasn't done adding to his repertoire, however. He also experimented with a slider in the fall, but it was inconsistent and acted as more of a cutter. Over Christmas break he watched video of big-leaguers Clayton Kershaw and Trevor Bauer throwing their sliders, made a subtle adjustment to his grip, and now he feels like he has four quality pitches with which he can attack hitters.
Lacy is the hardest thrower on the staff, typically sitting in the mid-90s with his fastball. In his last start against Gonzaga, he constantly touched 97 on the Olsen Field scoreboard radar gun. Add to that a devastating changeup – his best pitch – and a curveball and slider he continues to develop, and he has all the makings of an overpowering pitcher.
"I feel like mechanically I'm doing a lot more things that I want to do, I'm more dynamic this year."
"I feel like mechanically I'm doing a lot more things that I want to do," Lacy says. "I'm more dynamic this year, and I think that's translated into being able to maintain my location and my velocity."
Says sophomore outfielder Zach DeLoach: "Dominant, there's no other word to describe him. He's going to give you his best every time he gets on the mound. I think his big thing is staying consistent and not getting in his head too much.
"His command has definitely improved a lot. His velocity is a product of getting stronger in the weight room and being able to have confidence that he can throw it where he wants. He developed that confidence in the Alaskan League over the summer, and I think that's what's bringing him so much success."
Lacy's emergence as an ace-caliber pitcher gives the Aggies a nasty one-two punch with Friday night starter John Doxakis. The two southpaws have a close relationship that features a lot of discussion and also some healthy competition.
"We talk a ton about our mental preparation," Lacy explains. "We go back and forth on mechanical things because what he's good at is what I'm not good at, and what I'm good at he's not good at. We really feed off each other.
"It's fun watching him because with that slider, that's what I would ultimately like mine to be. The way he competes on the mound – he has the best competitive nature of anyone on the staff. Everything he does, he wants to win."
Lacy possesses that competitive spirit as well, and he will try to continue his excellence this Saturday when No. 1 Vanderbilt comes to Olsen Field for the first SEC series of the season. The Commodores are hitting .331 as a team, but they have not yet faced a pitcher as talented as Lacy, who is already projecting as a potential first round draft pick in 2020. No matter how much success he has in the rest of his collegiate career, he will probably not be able to surprise his head coach.
"I'm impressed but not surprised with how he's pitched so far," Childress says. "He's so powerful and he prepares the right way. He wakes up every day on a mission, and he's a great example not only for the pitchers but for the entire team."
Never miss the latest news from TexAgs!
Join our free email list