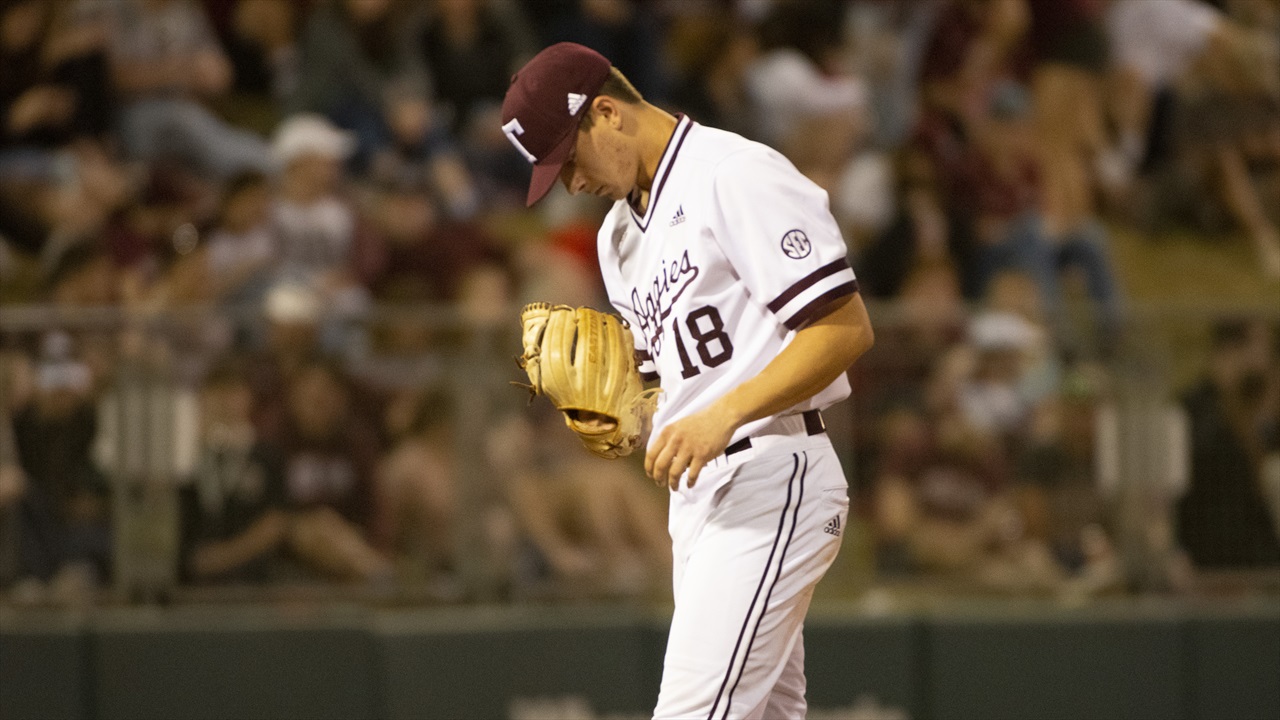 Photo by Tarah Cochran, TexAgs
Texas A&M Baseball
Series Preview: No. 20 Texas A&M vs. Gonzaga
---
Also included above is Diamond Talk with Gabe Bock, Ryan Brauninger and Scott Clendenin from Friday's edition of TexAgs Radio.
Who: Gonzaga University (4-6, 0-0 West Coast Conference)
Where: Olsen Field at Blue Bell Park – College Station, TX
When:
Friday 6:30 p.m. CT (SEC+)
Saturday 2:00 p.m. CT (SEC+)
Sunday 1:00 p.m. CT (SEC+)
Pitching matchups
Friday: John Doxakis (LHP, 3-0, 0.43) vs. Casey Legumina (RHP, 1-0, 1.89)
Saturday: Asa Lacy (LHP, 3-0, 0.50) vs. Mac Lardner (LHP, 0-2, 12.27)
Sunday: TBA vs. TBA
Scouting Gonzaga
It wouldn't be wise for the Aggies to look past Gonzaga this weekend with a big SEC opening series against Vanderbilt a week away. The Bulldogs have been to the NCAA regionals two of the last three seasons and have won a share of the WCC title in each of the last three seasons. The 2019 squad returns 20 players from the 2018 team that earned an NCAA bid and played in the Minneapolis Regional, finishing the season at 33-24. The Zags last visited Olsen Field in 2011, and stole a game from the Aggie team with Michael Wacha and Ross Stripling that eventually punched its ticket to the College World Series.
Gonzaga has had an up-and-down start to the 2019 campaign. They beat Minnesota, lost three of four to CSUN, and then last weekend won a pair of games on the road against then-No. 23 Southern Mississippi. The 4-6 record looks unimpressive on the surface, but all 10 games have been on the road, including a high profile tournament that featured Minnesota and Oregon State in the field.
The Aggies will have a significant advantage throughout the course of the weekend on the hill.
The Bulldogs have struggled on the mound so far, giving up an average of 7.1 runs/game. The staff has allowed 95 hits in just 89 innings. By comparison, the Aggie pitching staff has surrendered just 87 hits in 133 innings – that's fewer hits allowed despite throwing 44 more innings. So the Aggies will have a significant advantage throughout the course of the weekend on the hill. However, that won't necessarily be the case on Friday night. Gonzaga has a legitmate Friday night ace – Casey Legumina. Legumina received preseason national accolades by being voted to the All-American second team by Collegiate Baseball Magazine. He has backed up those preseaon honors with stellar results. The right-hander is 1-0 with just a 1.89 ERA. Opposing hitters have managed a paltry .147 batting average, and Legumina's WHIP is well-below 1.00 at 0.89. He'll pose a huge challenge to an A&M offense that is still sitting at a .249 batting average as a unit. Luckily, the Aggies will be sending to the mound their own All-American in John Doxakis. Tonight's game should be a great low-scoring pitcher's duel.
Aside from Legumina, the Bulldogs are scrambling to get some productive arms in action. Coming off an excellent 7-4, 2.95 ERA season in 2018, Saturday starter Mac Lardner has been hit hard in the early weeks of 2019. The lefty is 0-2 with a sky high 12.27 ERA. History indicates he'll eventually work back into form and have a solid season. Whether that happens this weekend against the Aggies is yet to be seen.
Gonzaga has not named a Sunday starter, but neither have the Aggies after the recent injury to freshman Jonathan Childress. With a team ERA of 6.27, head coach Mark Machtoff will be forced to go with a pitcher with limited success so far in 2019.
On offense, the big stick for the Bulldogs is Ryan Sullivan, who leads the team in most categories. The 6-foot-5, 229-pound infielder/DH has impressive numbers across the board, leading the team in bating average (.357), RBI (10), home runs (5), OPS (1.248) and slugging percentage (.810). The only other regular starter hitting over .300 is Guthrie Morrison at .317. Machtoff has started playing a couple of younger players in the past couple of weeks with positive results. Ernie Yake has started the last seven games and is hitting .294. As a unit, Gonzaga's offense is hitting .262 and scoring 5.8 runs/game compared to .249 and 6.4 runs/game for the Aggies.
The Bulldogs' defense is slightly below average by the numbers with a fielding percenage of .968. Most collegiate coaches strive for .975+ but will live with .970 and above.
Texas A&M storylines to watch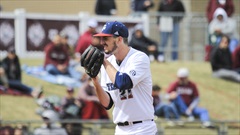 Angelina Alcantar, TexAgs
Unfortunately for Aggie fans, the biggest storyline for the weekend is finding a new Sunday starter after the tragic UCL injury to freshman Jonathan Childress, who was having a fabulous rookie campaign. Luckily for Coach Childress, he has a lot of hot arms in the bullpen to choose from on Sunday. The candidates to fill the spot include lefty Chandler Jozwiak (1.46), Bryce Miller (1.03), Christian Roa (4.32), or even freshman Moo Menefee (2.08). The odds-on favorite appears to be the veteran Jozwiak, but there are several options to consider.
As usual, most of the attention so far this season has been on a sputtering offense, and all eyes will be on the performance at the plate of key veterans like Braden Shewmake, Logan Foster, Bryce Blaum and Mikey Hoehner. Foster had his best game at the plate on Wednesday, crushing three hard line drives right on the button for a three-hit night. But Blaum is still the only A&M hitter batting over .300, and that is pretty shocking at this point in the non-conference schedule. Shewmake has shown a few signs of breaking out of his season-long slump, but he's still being too aggressive early in the count and swinging at pitches out of the zone. Aside from monitoring the performance of the veterans at the top of the lineup, this team must find a clean-up hitter that provides some pop and run production. Frizzell has the frame and stature to be that guy, but after 15 games he's struggling to produce at all – much less the type of numbers you expect from the four-hole hitter. Coach Childress experimented with Menefee in Wednesday's game, replacing Frizzell midway through the contest. Menefee looked more aggressive at the plate, and his bat speed appeared quicker than Frizzell's. He made good contact in his first two plate appearances and then ripped a bases-loaded gapper to clear the bases and put the game out of reach for Abilene Christian. It wil be interesting to see if Childress goes back to the veteran Frizzell on Friday, or if he rolls the dice with the freshman Menefee.
Finally, another storyline to follow is the 1-2 elecric punch of John Doxakis and Asa Lacy. Can they keep this dominant streak going? For Doxakis, it may be a necessity after being matched up against the All-Amerian Legumina. It will be interesing to see how he rises to the occasion for what looks on paper to be an elite pitching match-up. But let's back up and look at the combined sats of Doxakis and Lacy: They are a perfect 6-0 with a combined ERA below 0.50. They've given up just 14 hits in 39 innings while striking out 62 batters and walking only 9. Those are insane numbers. It's hard to think they can keep up this level of performance, especially with SEC play approaching, but these guys are in the process of exceeding what Wacha and Stripling did in 2011. It's possible that they may be becoming the best 1-2 punch in program history.
What's at stake this weekend
For now, the key for this weekend is to play solid baseball and answer some glaring issues at the plate.
Sweeping the Shriner's Classic and following those three wins with two mid-week victories has put the Aggies back on track as far as overall record and season résumé. That was a serious issue going into last weekend, and a lot was at stake. That won't be the case this weekend against Gonzaga. Every win matters, and the Aggies will be looking to sweep the Bulldogs, but a single loss won't be as damaging to the season résumé as it might be had A&M struggled last weekend and lost a pair of games. For now, the key for this weekend is to play solid baseball and answer some glaring issues at the plate. With Vanderbilt on the horizon, A&M fans would like to see the bats come alive up-and-down the lineup and put these early season offensive struggles to bed once and for all.
Never miss the latest news from TexAgs!
Join our free email list