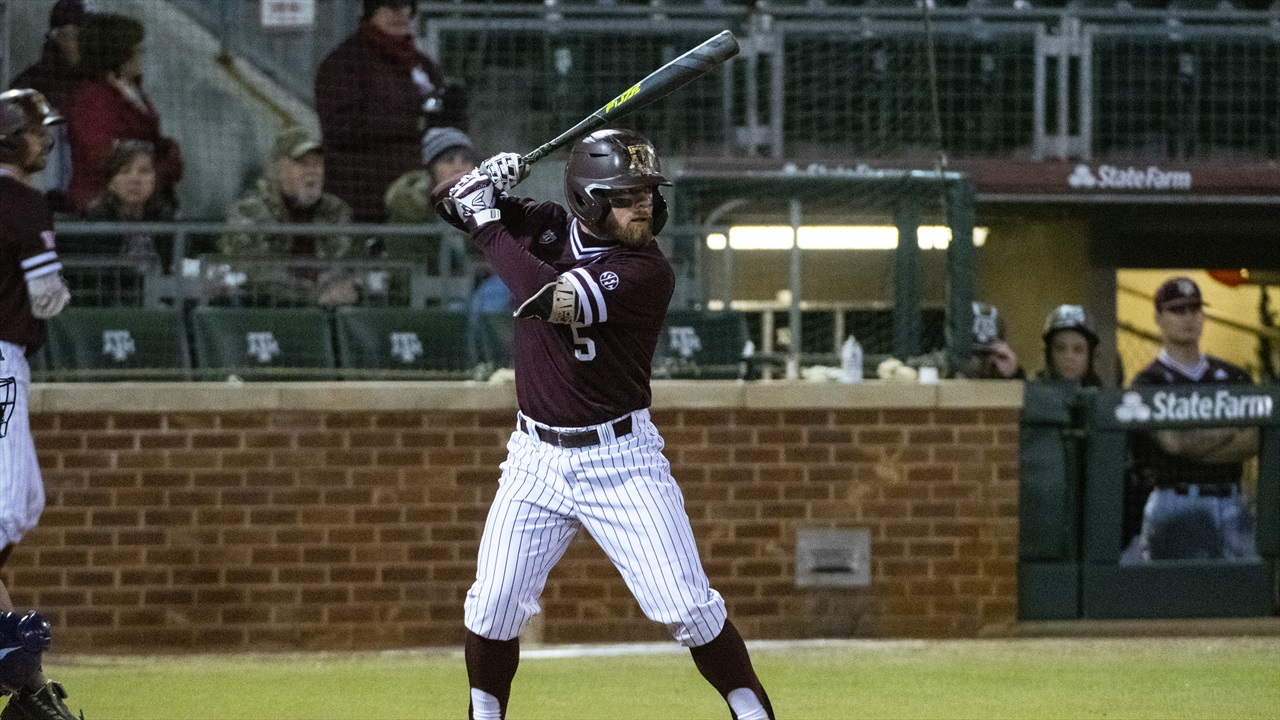 Rob Childress
Chris Weber
Hunter Coleman
Joseph "Moo" Menefee
Texas A&M Baseball
Offensive firepower lifts No. 20 Aggies over ACU, 9-3, in midweek matchup
---
Game #15: No. 20 Texas A&M 9, Abilene Christian 3
Records: Texas A&M (13-2, 0-0), ACU (7-6, 0-0)
WP: Chandler Jozwiak (1-0)
LP: Brock Barger (1-2)
Box Score
---
The No. 20 Aggie baseball team asserted their dominance at the dish en route to a 9-3 win over Abilene Christian on Wednesday night at Olsen Field.
The Aggie bats wasted little time finding their stroke as the maroon and white strung together a five-run bottom of the first inning. Bryce Blaum and Logan Foster reached base on hard line drives and Braden Shewmake drove both of them in with a two-RBI double to start the bottom of the frame. A Wildcat fielding error allowed Shewmake to score and Cam Blake to reach base. Hunter Coleman then launched a moonshot to left field, his first of the season.
"It felt good — it was definitely the best ball I have hit all year," Coleman said. "The bats in front of me, we had three hits in a row. Just wearing them down and knocking the starter out in the first inning, we had them on their heels from the word go.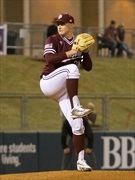 Bradley Countie, TexAgs
Left-handed pitcher Chris Weber got the start on the mound for the maroon and white and pitched 4.1 innings allowing three hits, one earned run and fanning six Wildcats. With freshman Jonathan Childress — who had started every Sunday game this season — sidelined for the season with a UCL injury, the start was especially important for Weber.
"Everyone is going to have to step up. That's the thing about this team — you can pick out any of those guys to fill in the role and we're going to do it," Weber said. "I felt pretty good just going over and trusting the pitches that were called to throw strikes."
A&M head coach Rob Childress utilized a pitcher-by-committee philosophy from there with five different pitchers coming in after Weber. Jake Nelson, Colson Geisler and Brandon Birdsell carried the torch in the last three innings and the trio combined to strike out six wildcats in the span.
"I was really proud of those last three guys that went out there and hadn't pitched in a while," Childress said. "They were ready and they were on the attack. I know they are all leaving here feeling pretty good about themselves as well they should be."
Childress again utilized the midweek matchup to diversify the at-bat opportunities across the roster as 16 different Aggies dug in at the plate. Freshman Joseph "Moo" Menefee — who has made five appearances on the mound for the Aggies — notched his first collegiate plate appearance in the game and smashed a three-RBI double to right center field, plating Shewmake, Blaum and Hoehner in the bottom of the sixth.
"That guy is just a baseball player, and we said for a couple weeks we were trying to find opportunities to get him more at bats."
"That guy is just a baseball player, and we said for a couple weeks we were trying to find opportunities to get him more at bats,"
A&M head coach Rob Childress said. "We were able to do that tonight, and he certainly had the big hit to get the game back into balance for us."
The Aggies will open a three-game series against Gonzaga on Friday night with a heavyweight pitching duel between A&M LHP John Doxakis and Gonzaga RHP Casey Legumina.
"They are a very, very talented team. They have a wipeout Friday night guy [Legumina]," Childress said. "They are an older bunch that's very left-handed dominant. It's going to be a great test for us much like the SEC is going to be."
First pitch is slated for 6:32 p.m. and the game will be televised on SEC Network+.
Never miss the latest news from TexAgs!
Join our free email list