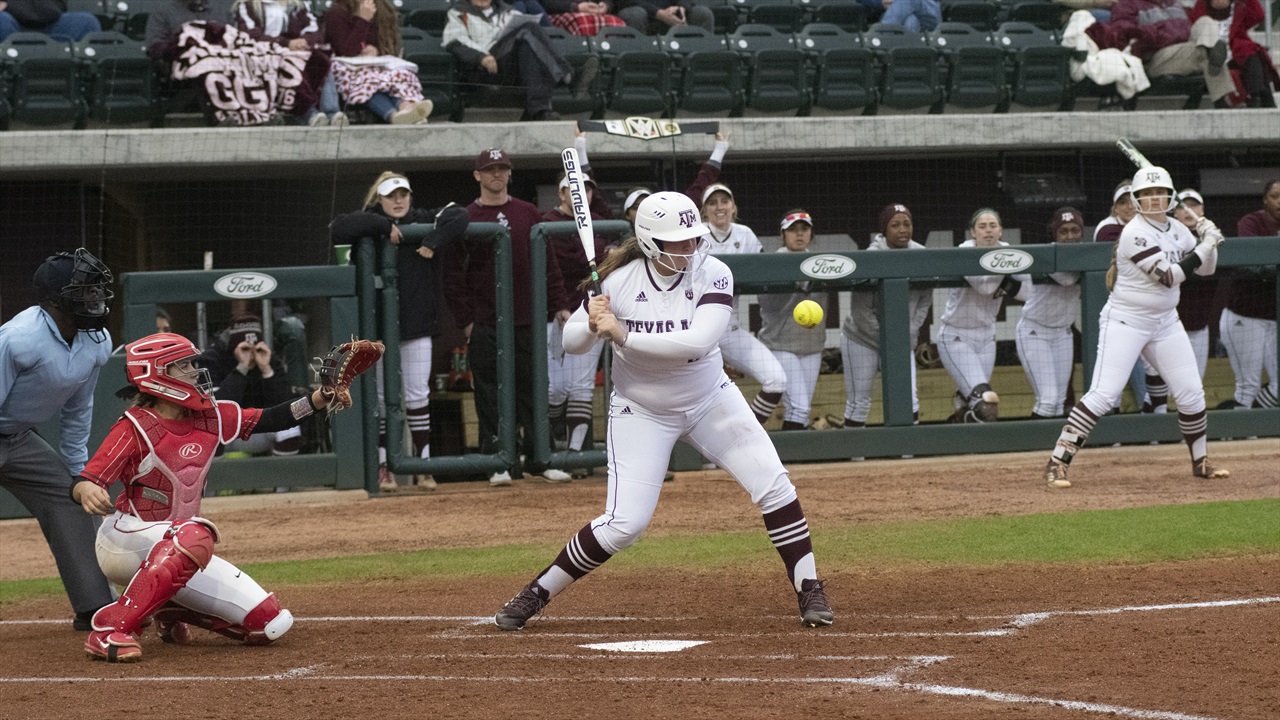 Photo by Elisa Schmitt, TexAgs
Texas A&M Softball
Texas A&M Softball run-rules A&M Corpus Christi 8-0 to open tournament
---
The Texas A&M softball team (10-6) bounced back from a tough mid-week loss in impressive fashion, defeating the Texas A&M Corpus-Christi Islanders 8-0 via run-rule. This game was the first of the Texas A&M Invite Tournament held at Davis Diamond, the Aggies' third home tournament of the season.
An efficient first and second inning would prove the difference for the Aggies today, as they posted 7 runs in the first two frames of the contest. Timely hitting was a major factor and helped propel the Aggie to the dominant victory.
The first inning would see two of the first three Aggie batters get walked. The Islanders struggled to get early outs in the game, and the Aggies would quickly load the bases in the first. Payton McBride proceeded to drive a ball up the middle of the infield, scoring Kelbi Fortenberry from third.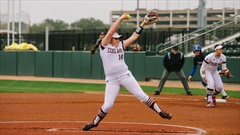 TexAgs
The Aggie bats came alive in the second inning, as they would go through the entire batting lineup and drive in 6 runs. A quick lead-off single by Blake-Ann Fritsch got the hits going for the Aggies. Ashlynn Walls then hit a 2-run homer over the right-field wall to bump the lead to 3-0. Taudrea Sinnie, Kelbi Fortenberry, and Haley Lee would all record hits of their own and add to the Aggie lead. A second at-bat by Fritsch saw her record her second hit of the game, and the Aggies would take a 7-0 lead heading to the top of the third.
A quiet third frame would see Baylee Klingler record her second hit of the game, but the Aggies stranded two runners heading to the fourth.
The fourth inning saw the Aggie bat for the final time in the game, but not before Fritsch would record her third hit of the day. An RBI single by Sinnie scored the eighth and final run of the game.
Hannah Mayo (1-0) notched her first win of the season after a shutting out the Islanders in 5 innings of work. She pitched a total of 78 pitches in the contest, striking out six batters while only allowing one walk.
The Aggies will look to continue the wins this weekend at Davis Diamond. The Texas A&M Invite Tournament will continue on Saturday Afternoon. The Aggies will face off against Lamar University on Saturday Afternoon starting at 12:15PM, and the second game against Longwood slated to start at 3PM. Both games will be streamed live on SEC Network+.
Never miss the latest news from TexAgs!
Join our free email list